home

Economy

The economy of agricultural enterprises - Andriychuk V.G.
The economy of agricultural enterprises - Andriychuk V.G.
23.3. Diversification of agricultural enterprises, ії form і vidi
Diversification , as well as specialization and concentration, є one and the other from suspension forms of organization of virology. The word diversification resembles Latin words diversus, which means є з,,,,, і д д ade ade ade ade f роб роб роб роб роб роб роб роб роб роб роб роб роб роб роб роб роб. Yakomonichny term diversion began to get accustomed to the desire to economize and practice on a long time to reach a long time signified penetration of the company into the new sphere of activity for them, which, to some extent, re-integrate into the package. The emphasis is to be timid on the goal of such kinds of activities, since they don't have to deal with the main virobnitz.
In the current minds of diversification, in a wide rozumіnnogo of the whole word nabuvaє just one big word and one can see the same kind of communication in the field of marketing, financial marketing.
In the economic literature, we can see such direct diversification:
concentric - the creation of new products for industrial technology on the basis of the same materials, syrovini, and earlier, they have been victorious on business;
vertical - organization of virology products, as early as possible, the company has rendered its partner-post-worker;
horizontal - product launch, for high performance technology, new technology, or new development;
corporate - targeting and virobnitstvo fundamentally new products.
Diversification of virobility in the state thanks , looking at the specifics of given gala, the most unique features, the need to reflect the need for a new approach to the recognition of the new form (). It's true, secrecy, and seeing beyond the criterion of the sphere there are three forms of diversification: virobnichu, financial and marketing (div. Fig. 23.1).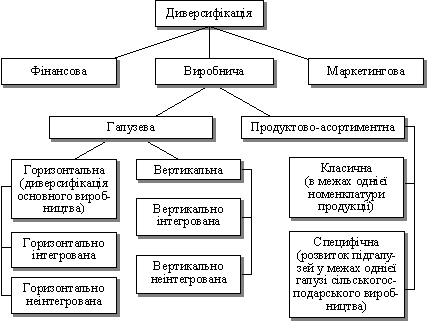 Fig. 23.1. Form and see diversification of agricultural enterprises
Virobnicha diversification - in order to improve the variety of types, you should secure the gain of a wide range of products and / or wider assortment. Financial diversification is the reason for financial stability, which can be achieved through the development of short-term and short-term financial contributions. Marketing diversification is associated with sales of the main trading channels, expanded channels of product sales, more products and marketing, more important products are available.
There are two types of virocremy and virobnichi diversification: Galusev and product-assortment. Galuzeva's diversification - a large number of available functions for the most expensive galleys, as well as at the stage of all types of high-tech products — there are a wide range of industrial and industrial products Galuzev's diversification to date, if initiative is necessary to develop new ones for themselves, as well as to have more goods and more products, to get more technology, and more.
The specific specialty of the city-wide virobility is those that are agricultural, including the specialized ones (there aren't one to go here for specialized schools), there's more than one way to do it. The number of such galosies can be but clear. At that time, if the agrarian initiative is beginning to develop new ones for yourself, you can call such diversification as horizontal (university-specific). For example, on previous occasions we didn't do any business, but a lot of fun of the business market and growth of prices began to develop here by way of gaining extra income. In agrarian enterprises, vvcharstvo, such as be-yak insha gosuz roslinnitstva i tvarinnitsta, is presented to the main virobnitzstva. This is true for horizontal diversification, as well as diversification of the full range.
It is possible to horizontally integrate and horizontally nonintegrate diversification. It is horizontally integrated - it is such a diversification, for the same high quality products of one galaxy and the most beautiful in the living room in the highest cold galleries. For example, fodder grain, as well as production of galuse and cereal grains, can be sold to a wider range of households, as well as to the concentration of food in commercial galleys. All the same, there are some kinds of food, for example, sina.
Diversification is not horizontally integrated; it's only one if it's autonomous one by one.
Agrarian enterprises, apart from silnospodospodskih galuzi, often develop and industrial galuzi (virobnitzva). Due to their character, such virobnitz can be seen only one by one. Protein for the criterion of the complete designation of the Kintsev product of industrial galuses can be combined in two groups. Persha group - galuzі, yak pereroblyut sіlskogospodarska syrovina. The denial of such a viral food product - food - is realized through the distribution of bargaining. Yak bachimo, tsi goluzі technologically concurrently із сільські predominance, ale tsednannya to be located between the stages of the stage of uninterrupted viroobnitsva sіlskogospodarskі products. Such a Galuzeu diversification can be called vertically integrated. Say, the company can encourage the first and second workshops and the large part of the grocery store, buy the mill and the big size, the groats, the large part, etc. The other group with such a virobility. For example, the company may violate the materials, pilomatials, the sewing workshop, and the development of the artisan industry has been sold very thinly. Such diversification can be called vertically unintegrated (bagatospectoral).
Agrarnі pіdpriєmstva, krіm galuzevoї diversifіkatsії, mozhut zdіysnyuvati i product-asortimentnu diversifіkatsіyu, pid yakoyu rozumіyut rozshirennya on pіdpriєmstvі assortment produktsії, yak viroblyaєtsya for єdinoyu Basic tehnologієyu, one i timey Well zasobami virobnitstva and takozh Tim himself warehouse pratsіvnikіv for yakih not vimagaєtsya at ZdіsnENNі such a widespread nabutty new professional skill of cardinal pvdvischenny kvalіfіkatsії. When the term "product range" is used, it is interpreted that there are more than one type of product and the same type of product (product of one name), as well as to be more familiar with its characteristics, which may be important for people living there. By the assortment of food and assortment diversification, we can get a wide range of new products for the production of varieties of cow products, dairy products, new types of milk products, and a large bakery shop.
This means that you can go down to a wider assortment of products, for example, a viaduct, a decile of varietal varieties of smoked, smoked chi, and a smoked cow. Also, the absorption of food and assortment diversification products is accepted on the basis of differentiated goods.
The product-assortment diversification can be two mothers: classic and specific. Klasichna - such a product and assortment diversification, as a rule, is in the range of singing nomenclature of products. When the item is numbered, there is a change in prices for food products, for food products, for example, dairy products, cereals, and thin products.
The specialty of the Silkospodarsky Virobnitztva is also those that have a product-assortment diversification that can be within the boundaries of the second galley. Say, the Kintsev product is galuzi grain-breeding є grain. Proteinism can be diversified, wider, wider, lower collection of grain and leguminous crops and seasoned, wipe out grain with different living characteristics, which is always the same. Such a product and assortment diversification can be called specific, characteristic of more for agricultural enterprises.
Thought out product-asortimentna diversifіkatsіya spravlyaє іstotny vpliv on ekonomіku pіdpriєmstva, Aje for її zdіysnennya potrіbno uniquely less then koshtіv porіvnyano of galuzevoyu diversifіkatsієyu i vodnochase Won daє zmogu pіdvischiti konkurentospromozhnіst produktsії, zbіlshiti її zbut zavdyaki povnіshomu zadovolennyu require spozhivachіv, zdіysnyuvati gnuchkіshu tsіnovu polіtiku. As a result, increase the profitability, increase the position on the market, and easily compete.