Types and sizes of pallets, classification and features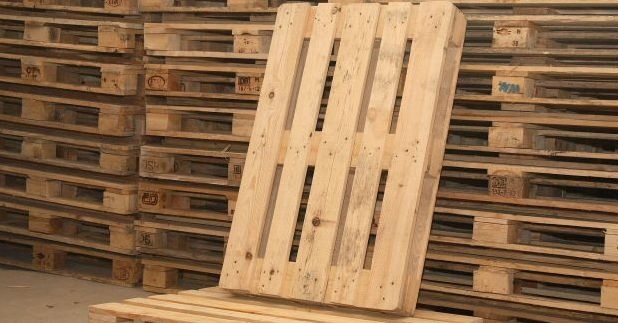 A pallet or pallet is a shipping container that has a rigid platform and sufficient space to create an enlarged unit of cargo used as a basis for collecting, storing, reloading and transporting goods. Designed for storing cargo and its movement by mechanical means. Goods placed on a pallet can be attracted to it with straps (fastening tape) or wrapped with shrink or stretch films.
Classification and features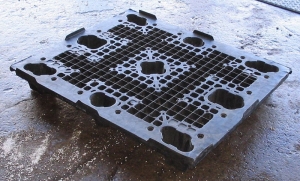 Distinguish between two-way and four-way pallets, the design of the first provides the ability to enter the forks only from two opposite sides, the second allow you to enter the forklift forks on four sides.
Pallets can also be single-faced and double-faced, that is, they have a platform for placing cargo on one or both sides.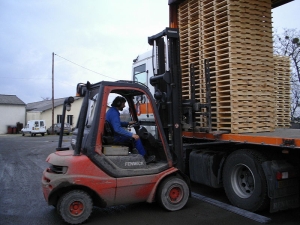 Pallets are divided into disposable, which, as a rule, are disposed of after use, and reusable, reusable.
Pallets are made of wood, metal or plastic. Also there are pallets made from recycled materials, such as cardboard. An empty pallet weighs 15–21 kg. On most pallets, the payload exceeds 1000 kg.
Dimensions of disposable pallets are usually not regulated. The dimensions of multi-turn pallets, the requirements for their strength and the designations applied to them are standardized. In Europe, the standard pallet EUR is commonly used (in Russia it is called the euro pallets, euro pallets), which has dimensions of 800 × 1200 × 144 mm.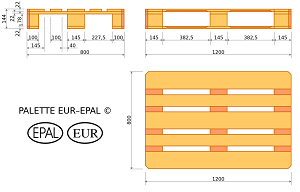 It is used mainly for retail trade, its size is determined by the internal size of the truck, delivering from warehouses to retailers.
The ISO 6780 standard defines pallets of six sizes, in particular: 1000 × 1200 × 144 mm (ISO2, the so-called "Finnish pallet", since this standard is common in Finland).
In some cases, pallets have removable or folding elements. An example would be pallets for storing and transporting car tires, which have foldable corner posts that allow the pallets to be mounted on each other without crushing tires. When stored in a folded (empty) position, they occupy 5-6 times smaller volume.
Certified euro pallet (EUR-pallet)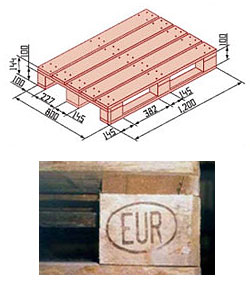 Linear dimensions: 800x1200x145mm.
The upper part of the europallet consists of five alternating boards: wide (145mm), narrow (100mm), etc.
The lower part consists of only three boards (narrow, wide, narrow) with chamfered.
The presence of chamfers at the corners of the europallet is obligatory, as well as the EUR brand in the oval scorched on the right supporting legs of the pallet. The remaining legs are also marked, but it indicates the manufacturer (PKP, FS, DB, etc.) and information about the series, and the year of release.
Certified financial pallet (FIN-pallet, Finnish pallet)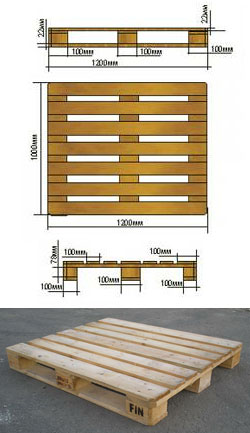 Linear dimensions: 1000x1200x145mm.
The upper part of the finpallet consists of seven alternating boards: wide (120mm), two narrow (100mm), wide, two narrow, wide.
The lower part consists of only three boards (narrow, wide, narrow) with chamfered.
It is necessary to have chamfers on the corners of the palpallet, as well as the presence of the FIN brand stamp in the rectangle, scorched on the right supporting legs of the pallet. The remaining legs also bear digital information indicating the manufacturer's code and release date.
American Standard Pallet - 1200 x 1200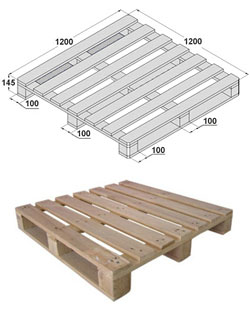 Linear dimensions: 1200x1200mm.
American pallets are manufactured in accordance with the fundamental principles of the International Plant Protection Committee of the ISPM15. This means that pallets are produced in accordance with the international code and can be used to transport goods across international borders.
Wood materials with a thickness of more than 6mm, from which they produce pallets, undergo compulsory heat treatment in order to prevent the spread of diseases of the tree and insects, which can adversely affect plants or ecosystems.
As the pallets are divided
Top grade
practically new, white, strong pallets;
no chips and cracks;
were used no more than three times.
First grade
white, strong pallets;
no chips and cracks;
have not been repaired.
Second grade
small pollution and darkening of wood from time to time are allowed;
small cracks and chips are allowed (but not more than 3 cm in width and 30 cm in length);
some of them may be after repair.
When conducting a Foreign Economic Activity, or in the case of using production lines with strict requirements for the pallets used, certified European or Finnish pallets will be needed. They are made in strict accordance with the standards adopted in Europe.
Any pallets are suitable for working in the domestic market.
The simplest and cheapest pallets are made of softwood and are often non-returnable containers that must be recycled with other packaging materials. These pallets have a simple construction that allows them to be lifted only from two opposite positions.
The unloaded pallet weighs 15-21 kilograms. Most pallets can easily carry loads over 1000 kg.
Via algatrans.ru & wiki