Secrets of buying a beautiful and fresh bouquet - tips from florists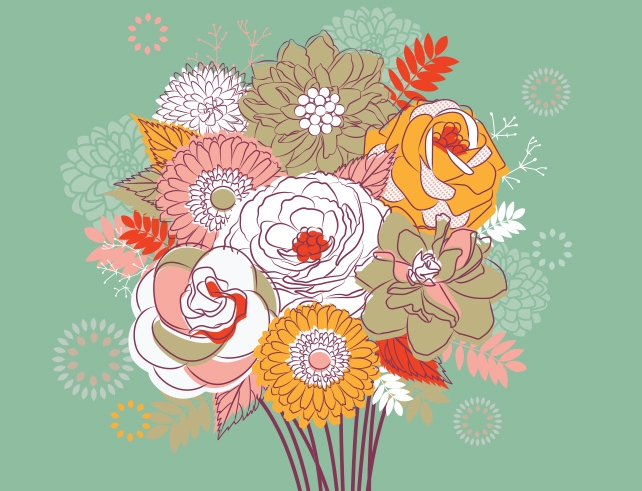 Flower bouquet is a universal gift for any celebration. Today, no flowers can do without an anniversary, or a wedding, or a celebration of the birth of a baby. However, for each specific case, it is important to choose the right floral arrangement, because, for example, a bouquet for the boss and flowers for a romantic date will radically differ from each other and this should certainly be considered when choosing a gift.
Choosing a bouquet is not an easy task for both men and women. Not too decent florists have many tricks to force us to buy substandard material. And it's a shame when the gift bouquet on the second day does not look festive at all, but on the third it can be safely thrown away.
For men, this turn of events is doubly more offensive, because the saying has long been known among the people: "If the flowers quickly wilted, then they were presented without love." In our article, we will reveal the secrets of choosing quality bouquets of fresh flowers. Such a miracle will delight for a long time with a beautiful view and wonderful aroma.
When and where is best to buy flowers
"Freshly cut" flowers is a great exaggeration, even tulips from Russian greenhouses fall into store vases only 2-3 days after the cut. And large roses travel to Kiev from Ecuador for at least a week. It happens that another week they lie in the refrigerator of the wholesale warehouse.
The best place to buy is at wholesale stores, shops, or pavilions that have a refrigerator room. Taking flowers on the street with hands is a big risk, they can be frostbitten. On Women's Day, you should not even go to online stores: they are so overloaded that they are unlikely to deliver your order by the right time, and attention to the quality of flowers and bouquets on the days of the rundown is reduced. Do not pay shipping in advance. It is very likely that flowers from a prepaid order will not be of the best quality.
It is best to buy flowers 1–2 days before the holiday. At this time, there is still no hype and there is an opportunity to choose the best price and quality. You can save the gift until the moment of delivery in the garage, cellar, refrigerator with a temperature of 2 to 8 degrees. Roses and chrysanthemums must be put in water. And it is better to store onion bulbs dry (just like that, in a sleepy state, wholesalers transport them after cutting).
Ask the store for those tulips that have not yet been exposed to the water and have not yet woken up. Wrap them in paper by pulling it with a stapler or scotch tape and place in a cool place. Then, a few hours before delivery, without removing the packaging, cut the stems with a sharp knife and place in a bucket of water. When drunk, the tulips come to life. In the warmth, they open up and will delight at least 5-7 days.
The main rules for all types of flowers - do not take unusually cheap (always discount low-quality goods). Do not take flowers with yellowing or dry foliage, spots or cracks in the petals: these are signs of old age, illness, injury.
The principle of choosing the right bouquet for the event
Here are a few basic principles, observing which you can avoid annoying mistakes when choosing a bouquet:
For young girls, it is preferable to choose elegant flowers of delicate shades, bouquets of lush and vibrant flowers are best left for ladies of a more mature age. Lilies, fragile tulips and daisies are the perfect choice for a gift to a young lady.
When choosing roses, one should take into account to which event the bouquet will be timed. If this is a romantic date , then it is worth stopping at an elegant composition of 3-5 flowers or giving a single scarlet rose to a lady of the heart. If roses are intended for a gift for an anniversary , then the best option may be a bouquet made up of flowers, the number of which corresponds to the date. However, it is worth remembering that the bouquet should not consist of an even number of buds, and if the hero of the anniversary is 60 years old, for example, another flower should be added to the bouquet of 60 roses.
Bouquets for official celebrations should be restrained and elegant. Elegant compositions with bright decor at official events will look, at least, strange.
As for the wedding , the bouquet as a gift to the newlyweds must certainly be bright and lush. If the choice fell on exotic flowers, then it is important to observe moderation, even if the composition is dedicated to the wedding.
Bouquets for your favorite artists can also radically differ from each other. If the flower arrangement is intended for the master of the scene, then it should be decorated in an elegant classic style, but exotic compositions and elegant bouquets are best left for beginner artists.
It is also necessary to give the bouquet to the hero of the occasion correctly, otherwise all efforts to choose flowers will be nullified. Presenting flowers, it is important to express your good intentions, accompanying the gift with heartfelt wishes. The recipient of the gift should feel that this floral arrangement was chosen specifically for him, and was not bought in the first store he got.
If you doubt the correctness of your choice, or do not know which particular bouquet is best suited for this or that occasion, it is worth contacting professionals. They will not only help with the choice of flowers, but will also make up a floristic composition that best meets the preferences of the gift recipient and corresponds to the solemn moment, whether it be a wedding or an official event.
What to look for when buying flowers
Beware of taking ready-made floristic compositions exhibited on the trading floor. Bouquet "mix", consisting of several flowers of roses, is very likely spoiled. In such compositions, flowers that are very long standing are often used. And to give them splendor, the stems can be laid with cellophane. If you need high quality, choose flowers individually.
Too tidy packaging of the bouquet most likely indicates a low quality of flowers. Decorate with many ribbons and frills only stale flowers, unscrupulous sellers, thus, support the petals of the flower. Glitter sprays are also used.
In addition to packaging and sequins in the arsenal of florists there is a paint for flowers. It has a pungent odor, but it quickly disappears. To identify a colored flower, look carefully at the outside of its petals. If they are wrinkled and darkened, it means that they sprayed the top with paint. If you want exotic, then buy snow-white roses, and lower their trimmed ends into a container with water and blue. After a few days, the roses will acquire a rich blue tint.
Leaves also undergo various processing. There are special sprays for leaves, and if they are of good quality, then there is nothing wrong with using them. But often florists save and wipe the leaves with ordinary vegetable oil. Such a bouquet will probably not be too pleasant.
The cut of the stems should be fresh. And in the case of a rose, the stem should be cut obliquely, so water access to the stem will be better, since the cut does not overlap the bottom of the vase.
Professional florists collect a bouquet in a spiral. Of course, there are exceptions: designer, wedding bouquets or bouquets, for example, from hippeastrum. There should be no leaves in the place where the stems bind - this is a rule of good taste for florists and speaks of their professionalism.
Using a wire, it is permissible to support only gerbera stems, since they are hollow and fragile. Orchid extension cords are used only for orchids. Only in the worst bouquet can you find another flower in the extension cord.
Flowers are stored only in a cold room (5-7 ° above zero), so they must either stand in a refrigerated display case or they should be brought to you from the refrigerator.
Tips for choosing a rose
Neat roses, which have removed several outer layers of petals, the best? No - this means that the flower is rotten and the sellers performed a "plastic surgery" to hide its flaws. Ideally, if the rose has a "shirt" - the outer layer of rough petals with green and brown veins. This is a sign of quality, not wilting, as is often thought. Please note that there is a so-called "mother leaf" - the topmost small petal that protected the bud until the flower blossomed. This petal does not look very beautiful, but roses will stand with it much longer.
When buying roses and tulips, give preference to large, but half-closed buds. In the heat, they will quickly open up and will live long. Lush inflorescences seem more beautiful, but this is a sign of flower aging. When choosing roses, squeeze a little bud in the place where the petals are adjacent to the stem. In a young flower, this place should be dense. Sellers, however, do not like when customers pick up flowers. But checking at least one stem is very useful - do not hesitate to insist on your own.
Long roses that are hard to wear and have nowhere to put (try to find such a vase) are a thing of the past. Pity the one who will have to drag one, or even several, of these colors for several hours! Exactly the same number of short roses will look much nicer.
Real Dutch roses can only be bought at large chain stores. Often small shops give out flowers brought from Kenya and Kazakhstan for "real Dutch roses".
No need to focus on roses (and certainly burgundy!). There are so many beautiful flowers in the world. By the way, if you give a magnificent bouquet, and not 15-25-105 roses, then later it will be easier to store them at home. If one flower in a bouquet withers, it can be simply thrown out without arranging the flowers in different vases to observe an odd number of them.
Young tulips have succulent leaves that grow flush with a flower or slightly lower. The chrysanthemum needs to be lowered upside down and gently shaken: the petals and foliage should not crumble. And orchids, which are sold in plastic bags, should pay attention to three dangerous signs. There should be no watery spots on the petals, blackening of the tongue in the center of the inflorescence and in the packet should not be inflorescences that have fallen off the stem.
The highest quality roses are yellow and pink, and the worst ones are peach.
The tricks with which we are deceived in flower shops
Unnatural shades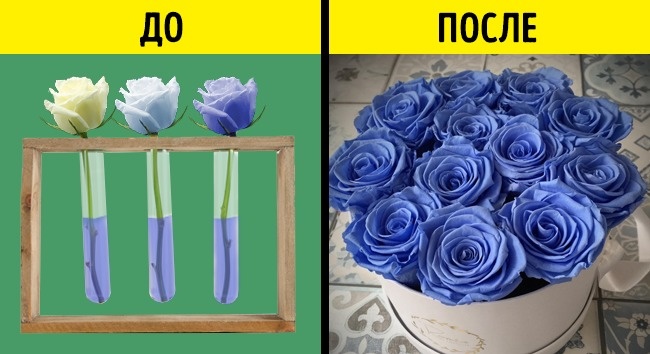 Coloring flowers is an effective way to hide small defects, ugly spots or wilted petals. Sellers do this in two ways: the first method is by "soldering" the flower in concentrated water with aniline dye, and the second by spray paint. The lifespan of such flowers at home is 2-3 days.
Sequined Petals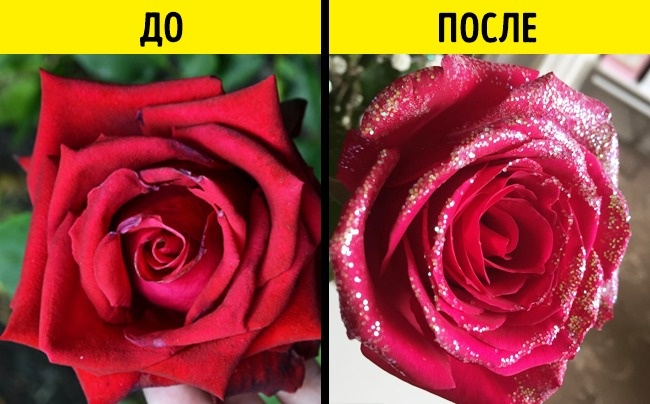 Flowers on which the edges of the petals are covered with glitter are most likely spoiled. Most often, sellers use this technique in light shades to hide withered edges or mask ugly spots. If you like sparkles, ask them to sprinkle on the bouquet they bought.
A lot of shiny packaging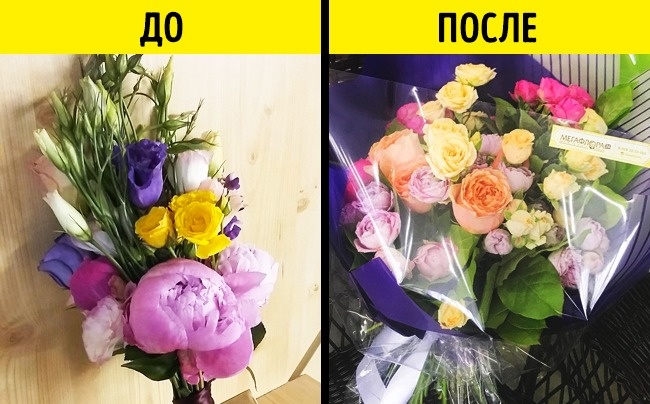 Bright packaging is the easiest way to distract buyers from low-quality colors. If you are offered to buy a bouquet in bulk transparent packaging, it is better to refuse it. However, sometimes customers themselves are asked to wrap a minimum number of flowers in transparent plastic packaging, in order to end up with a solid bouquet.
Excessive decor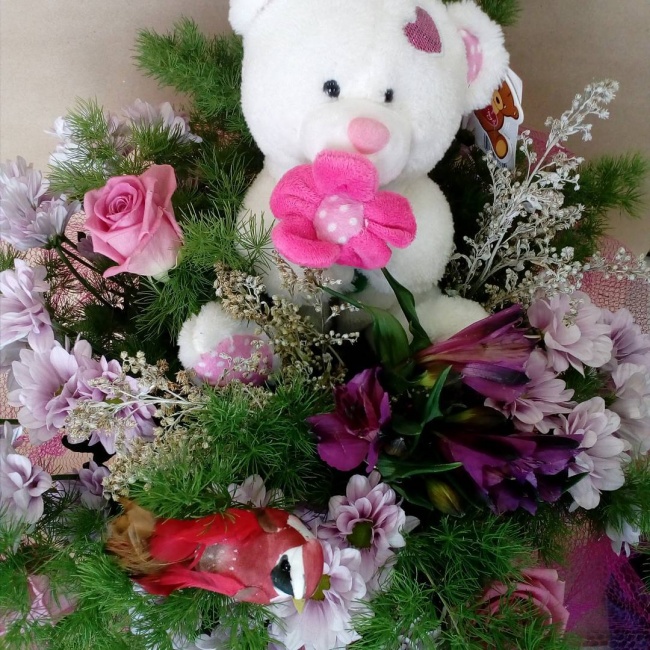 Decoration also distracts attention from low-quality colors. It can be unobtrusive butterflies or a huge amount of bright tinsel. Such tricks perfectly throw dust in the eyes of an unlucky buyer who is unlikely to want to throw out the bouquet he bought the very next day.
Buds collected from individual petals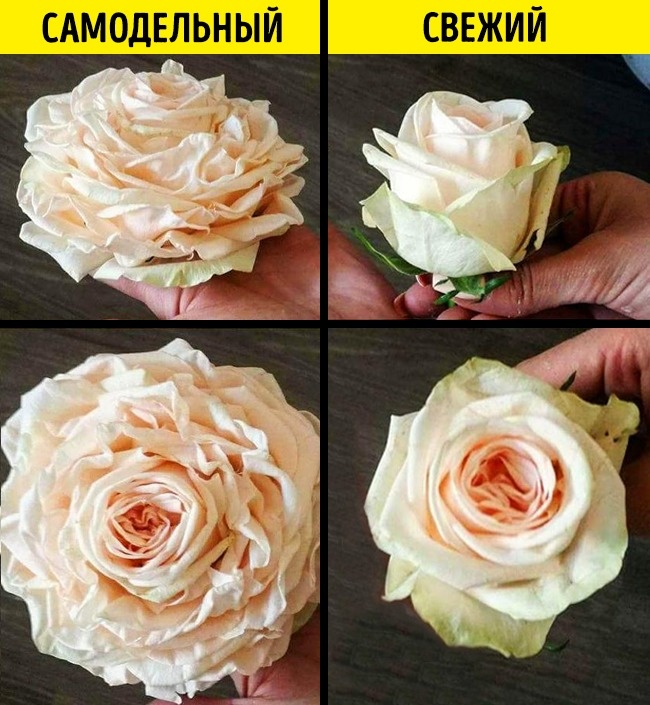 Of the fallen petals and special glue, a skilled craftsman will quickly make a beautiful bud and even a whole bouquet. More often, sellers resort to such tricks, from whom the percentage for substandard goods is calculated from the salary. However, it is worth noting that there is a special technique for glammel, in which professionals create unsurpassed wedding compositions.
Supporting Elements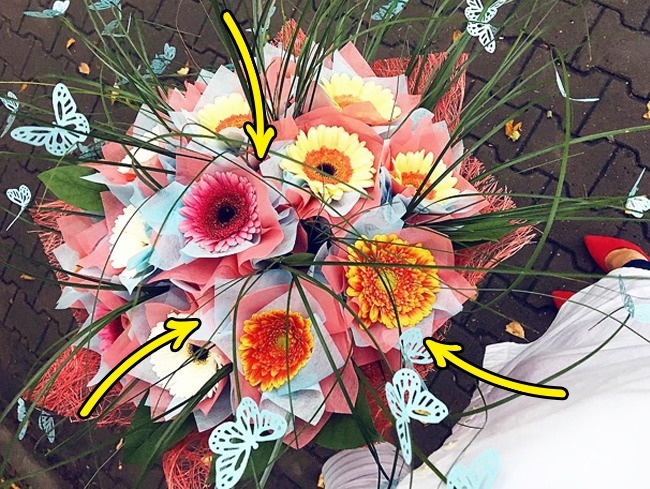 Such an artsy ensemble definitely attracts attention: it would seem that fresh roses, framed in an unusual packaging, can become a worthy gift. Or not? In fact, such "cilia" are a supporting element for wilted flowers. Similar structures are used to create buds from individual petals.
Wilted flower bud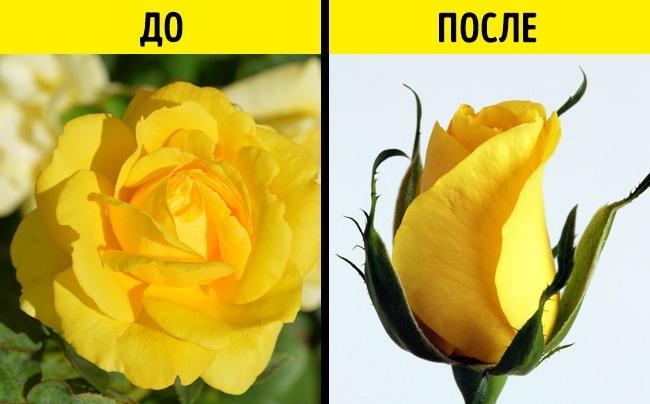 Many varieties of roses have a multi-petal dense base. And if you remove a few wilted or spoiled petals from such a flower, you get a pretty and "fresh" bud. An inexperienced buyer can take such a bud for not yet opened. However, there is a practice when, after delivery, the first protective petals are removed from the flowers. It's quite normal.
Broken plants flower baskets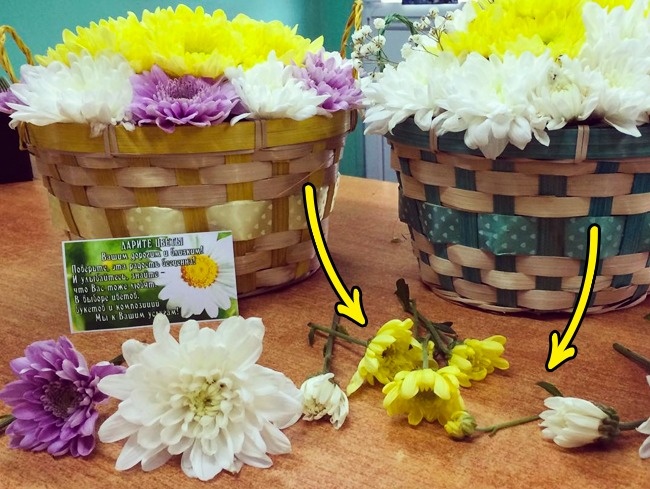 Often, flowers that are suitable only for disposal are used to create small baskets. For such purposes, multifloral plants, for example bush chrysanthemums, are suitable. If the seller sees a few low-quality flowers on a withering plant, then a basket will be made of them. You can distinguish unfit goods by the abundance of decorative elements.
Poor quality foundation - an oasis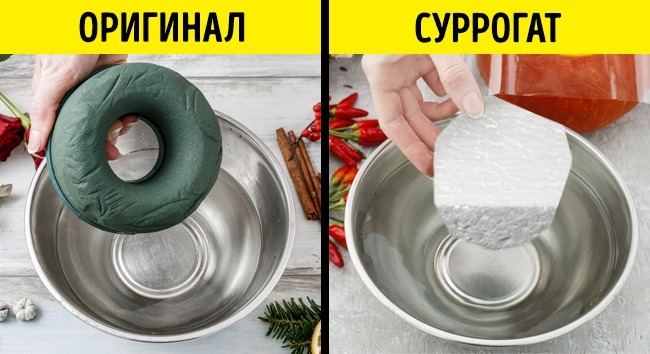 In the manufacture of floral arrangements, baskets or wedding bouquets, a porous composition is used - an oasis. This foam, which absorbs moisture well and holds the flower well at the right angle. Sellers who want to save money use low-quality foam and sand substitutes, which guarantee a shorter flower life.
How to keep donated flowers for a long time?
1
Leaves take away water from the bud! Before you put the bouquet in a vase, remove almost all the leaves from the stem, leaving only the top ones for beauty for beauty.
2
The water in the vase needs to be changed daily, this really keeps the flowers longer. The explanation here is very simple - the flower is killed by BACTERIA, which multiply very quickly in water. Me water every day, you stop this process.
3
Every day you need to trim the stems of flowers. Undoubtedly, this must be done before putting a bouquet into the water for the first time.
4
Put the bouquet in the COOLEST PLACE. Of course, it is difficult to find a room with a temperature of + 5 ° + 7 ° in the apartment, and storing flowers in the refrigerator is somewhat strange;) At least - do not put them near batteries and heaters.
5
A popular means of resuscitation of flowers - to lower them completely into the water DOES NOT WORK! After this procedure, the buds begin to rot, the procedure is suitable only for leaves. But why do you need leaves without buds?
Via elitbuk.ru & the-wedding.ru & adme.ru & aif.ru & Internet