The best retellings of "Little Red Riding Hood" in the style of different writers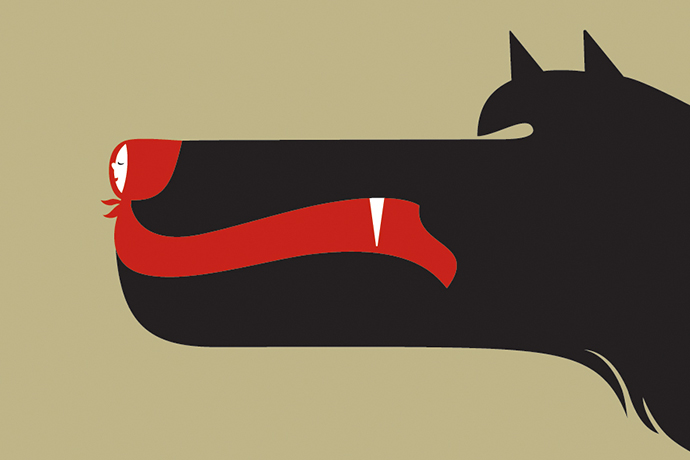 "Little Red Riding Hood" (fr. Le Petit Chaperon rouge; German. Rotkäppchen) is a folk European tale with a story about a little girl who met a wolf. Literally processed by Charles Perrault, later recorded by the Grimm brothers.
The most exciting interpretations of the famous fairy tale in the style of famous writers.
Erich Maria Remarque
"Come to me," said the Wolf.
Little Red Riding Hood poured two glasses of brandy and sat down on his bed. They inhaled the familiar aroma of brandy. In this cognac there was anguish and fatigue — anguish and fatigue of dying twilight. Cognac was life itself.
"Of course," she said. - We have nothing to hope for. I have no future. The wolf was silent. He agreed with her.
Jack London
But she was a worthy daughter of her race; in her veins flowed the strong blood of the white explorers of the North. Therefore, and without blinking an eye, she threw herself at the wolf, dealt a crushing blow to it and immediately reinforced it with a single classical uppercut. The wolf ran in fear. She watched him go, smiling with her charming female smile.
Guy De Maupassant
The wolf met her. He examined her with the peculiar gaze that the experienced Parisian libertine throws at the provincial flirt, who is still trying to impersonate herself as innocent. But he believes in her innocence no more than herself, and as if he already sees how she undresses, how her skirts fall one after another and she remains only in a shirt, under which the sweet forms of her body are outlined.
Gabriel Garcia Marquez
It will take many years, and the Wolf, standing against the wall in anticipation of the execution, will remember that distant evening, when Grandma ate as much arsenic and cake as would be enough to destroy a lot of rats. But she, as if nothing had happened, tormented the piano and sang until midnight. Two weeks later, the Wolf and Little Red Riding Hood tried to blow up the tent of the obnoxious old woman. With bated breath they watched as a blue light crawled across the cord to the detonator. They both plugged their ears, but in vain, because there was no rumble. When Red Riding Hood dared to go inside, hoping to find a dead Grandmother, she saw that there was more than enough life in her: the old woman in a torn-off shirt and a burnt wig rushed here and there, filling the fire with a blanket.
Haruki Murakami
When I woke up, Little Red Riding Hood was still sleeping. I smoked seven cigarettes in a row and went to the kitchen, where I started cooking noodles. I always cook the noodles very carefully, and I do not like when something distracts me from this process. Pink Floyd was on the radio. When I filled the noodles with sauce, the doorbell rang at the door. I walked to the door, peering into the room. Little Red Riding Hood was still sleeping. I admired her ears, one ear was highlighted by the morning sun. I have never seen such ears in my life ... Opening the door, I saw a Wolf. Sheep immediately came to mind ...
Vladimir Mayakovsky
If, comrade, you put on a hat, a red hat with meat up - go boldly: you are already *** go boldly, do not be afraid of anyone squeezing your grandmother's cakes, wolf up a hearty life!
Richard Bach
- I'm a seagull! - said Wolf.
"This is an illusion," answered Little Red Riding Hood.
Under the wing with a span of 10.17 "Cessna-152" with a horizontal four-cylinder Lycoming O-235-L2C engine with a volume of 3.8 l. and power of 1 × 110 hp at 2550 rpm, the blue tops of the magical forest flashed by. The plane landed at a house on the edge, made of white stone.
- Do you see the house? - asked Red Riding Hood, smiling slyly.
"We ourselves attract small houses and grandmothers into our lives," Wolf sighed.
Victor Hugo
Little Red Riding Hood trembled. She was alone. She was alone, like a needle in the desert, like a grain of sand among the stars, like a gladiator among poisonous snakes, like a somnabul in the oven ...
Edgar Poe
On the edge of the old, gloomy, entwined forest in a mysteriously tough veil, over which dark clouds of sinister fumes were hovering and the fatal sound of fetters seemed to be heard, in mystical horror lived Red Riding Hood.
William Shakespeare
To eat or not to eat, that is the question?
Sergey Lukyanenko
I get up. Color blizzard dip program subsides. Around the yellow-gray, dull and wet autumn forest. There is only one bright spot in front of me - a red cap on the head of a little girl, seven or eight years old. The girl looks at me in dismay. Asks:
- Are you a wolf?
"I can hardly," I answer, looking at myself, have I turned into a wolf? No, it doesn't. Normal naked man, covering the shame steamed birch besom. And what could I do when the virtual Sanduns exploded due to a stack overflow? Just group and wait where they throw me ...
"I go to my grandmother," the girl says. - I don't give her pies.
It seems that I was brought to some kind of children's server.
- Are you a person or a program? - I ask the girl.
"Grandma got sick," the girl continues.
All clear. The program, and even the most primitive. I stop paying attention to the girl, I look around. Where is the way out?
- Why do you have such a long tail? - suddenly asks the girl.
"This is not a tail," I reply and blush.
- Do not flatter yourself. I'm talking about follow-up programs that have boarded your channel, the girl kindly clarifies. Her voice is changing dramatically, now in front of me - a living person.
Patrick Suskind
The smell of the Wolf was disgusting. He smelled like the smell of a tanner's closet, in which corpses decomposed. From his dirty, gray skin, came the indescribable smell of carrion, sweet-bitter, causing nausea and disgust.
Wolf himself did not feel it, he was completely focused, he admired Red Riding Hood. She smelled of violet at dawn, that indescribable odor that occurs in flowers only a couple of minutes before dawn, when the bud had not fully opened.
Honore de Balzac
The wolf reached the grandmother's house and knocked on the door. This door was made in the middle of the 17th century by an unknown master. He cut it out of Canadian oak fashionable at the time, gave it a classic shape and hung it on iron hinges, which at one time might have been good, but they were creaking badly now. There were no ornaments and patterns on the door, only one scratch could be seen in the lower right corner, which was said to have been made with Celesten de Chavard's own spur - Marie Antoinette's favorite and grandmother's grandfather's maternal cousin. The rest of the door was ordinary, and therefore should not dwell on it in more detail.
Rudyard Kipling
- We're the same blood! Shouted Red Riding Hood after the wolf. - Good hunting!
Via samlib.ru