The organization of the dealer enterprise selling shell rock.
Today we are considering information on how to become rich and satisfied through working with building materials.
First, let's figure out what is easier to work with, what is harder, and what is better not to get involved with.
The market for building materials is quite large. It includes (in a simplified version) materials directly for the construction of buildings and materials used for decoration. The latter immediately dismiss. Cheap - too small, do not earn much, expensive ones require a special contingent that can afford them, but I know from my own experience that the most well-to-do people get worse discounts than the poor. Coming out of the next finish of the "furniture" district, one gets the feeling that I did not communicate with the owner of a restaurant in which a plate of borscht costs 400 UAH, but with a beggar with a porch in front of whom there is an unsolvable problem - buy bread or a pair of socks. Therefore, immediately proceed to the materials for the construction of buildings.
These include: Materials for roofing (woodwork, slate ...); reinforced concrete products (beams, floor panels); cement, sand and others like them; wall materials.
So, in order.
1. Materials for roofing work. As a rule, these materials are produced in sufficient quantities, or imported from abroad by large and small enterprises of all kinds and colors and information about their exact location is available to any client on the Internet. Comparative characteristics and advantages of some types of materials in relation to others are very relative and controversial, and proving to the client why it is necessary to purchase this particular metal tile, and not that one - the language can be erased.
2. Reinforced concrete materials. Of course, everyone needs them, but again, finding enterprises on the Internet that make them is not so difficult, but even if they were exclusive and rare, they still need so little to build a big house.
3. Cement, sand. They need not enough, but the problem is that they are in absolutely free sale on any prom. the market, and if you offer them from sand pits, the sand is still sold per ton, not pieces, and you don't have to wind a lot on a ton.
4. There are wall materials , and they are already interesting for earnings. Bricks of all colors from silicate to cladding, foam blocks, aerated concrete, shell rock (shell rock) are used from the basic ones in construction.
* Bricks are made and sold by factories, which can be reached via the Internet. The plant is a fairly large organization with a developed management vertical. To work quietly with the plant, it is necessary to conclude an agreement on dealership, which in itself is not very convenient. In addition, not all plants go for it because they have their own marketing departments, and you, on top of everything else, will have to register SPD, pay taxes accordingly, and spit once a year after talking with the pension fund. In general, not having earned one can already be overwhelmed.
* All this applies to foam / gas blocks. We don't even talk about the absence of any environmental friendliness of this product (but keep in mind, because the buyer doesn't really care what house his children live in), besides the factory units are mainly used for monolithic frame construction because require perfectly balanced foundation. If you make a mistake when conducting geodesy and sweeten it with a blunder when laying the foundation, a wall of foam / gas block will send a fiery hello to the builder in the form of a crack throughout the structure.
If after reading someone had a passionate desire to work with these materials, I'll give you direct telephone numbers of plants that are willing to cooperate.
And finally, shellfish, and here in more detail.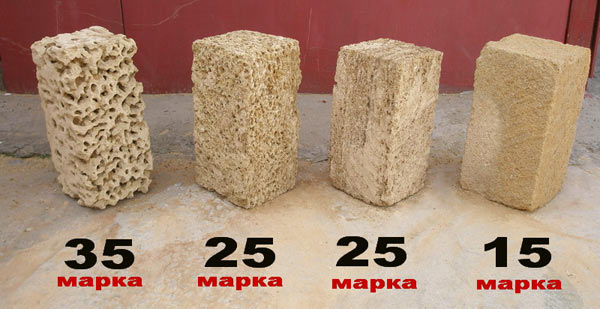 Rakushnyak houses make up 70% of the total number of buildings in most settlements, especially in the northern areas, which indicates its popularity and, therefore, its prospects. There are several reasons for this.
First , the average annual temperature in the rooms of shell rock during the construction of a half stone varies between 15 and 22 C. This is due to the presence of the so-called capillary mesh in the stone, which, of course, cannot be repeated in the factory blocks.
Secondly , in contrast to the foam / gas block, in the event of a foundation deformation (I'm not talking about a bias of half a meter), the cockleshell absorbs and saves the wall from cracks, and this is very important because 90% of shellstone is ordered not by professional builders, but by private individuals, i.e. ordinary men who wanted to make an extension, a warehouse, a house, a hive, etc. Specialists, as a rule, they do not attract, and if they do, they do, in part. Everything is basically done by hand. errors are possible.
Third , the shell rock is sold not in tons, not cubes, but in blocks, which makes it possible to make a wrap for each block from 10 to 70 kopecks, moreover, that there are 1,800 blocks in the car, occasionally 1,500. And if you consider that the machines per month 12 to 20 to calculate your profit is not so difficult, it is from 3-5 to 13-15 000 UAH. per month.
Fourthly , to order a stone, you need to go to the quarry, and here it is an opanka. A quarry is not a factory, not a workshop, it is a simple pit that has no office, no internet, no website, in general, nothing.
A person registers as SPD or LLC, purchases equipment, rents a rock, opens it and starts cutting a stone, but in order to sell it as air, people who have constant access to a computer can provide daily placement of shell rock advertisements.
And here we come to the essence of the business for which neither an office, nor registration in state bodies, nor a staff is needed, only a home computer, an internet connection and a mobile phone is needed for receiving calls.
How to organize a dealer company selling shell rock:
1. Contact the Crimean quarry.
Why Crimean? Crimean rakushnyak is the most affordable in terms of money, besides it is the most quoted on the market. Buyers from even the most deaf villages are interested in whether it is a Crimean stone or not. Generally, frankly, there is no particular difference. Just in the Crimea, by geological standards, the sea discovered shell rock layers relatively recently. This is considered a positive thing. There is nothing you can do. But this will not prevent us from working at all.
So, the first point, as I said, is to contact the Crimean quarry.
You call and say that you would like to give customers to buy a stone, and ask at what price the quarry can give you a stone. Immediately I say that the price is 1.80 - 1.90 UAH. per block is a good price. The overpayment is more, and if the quarries are offered less (1.50, 1.70 - this is zalipuh.) This means that the quarry has worked out a wall and it has "sand", a stone that is falling apart in his hands, and shoving his quarry somehow wants. This is not worth it. with the buyer there will be a "crap" above the roof and in most cases it will simply send this car ... and the quarry will then make a complaint to you since this is your customer.
2. Agreeing with a career , enter the Internet. Open any search engine - Yandex, Google, which one you like, and enter various variants of queries containing the words - shell rock, shell rock, buy, sell, Crimean (for example: sell shell fish, buy Crimean shell fish, etc.). The search engine gives you links to bulletin boards. You create on your computer a folder in which you take out all the links from the first page of the search engine. Continue to enter different variants of requests until you have 20 - 40 links with normal boards on which you can place declared. (Normal, because not all the links on the first page of the search engine will be displayed on the boards, some will be sites of different organizations.).
3. Having selected the appropriate links , write the ad: "I will sell, we will sell, and. etc. shell rock, shell rock ... ". In general, create declare in free form. Specify your contact details: phone, name, soap, some may not call you, but write, but mostly they call.
4. Register on the bulletin boards of your choice and place your announcements. If you register, it will be easier to post announcements, because On some sites, it will be possible to announce it just to update with one click of the mouse without re-posting. And if you work through Mozilla, then the placement will take about 10 minutes, because autosave works there with a bang.
Another nuance: When entering the bulletin board, fill out the posting form, create another folder and drop the link with the open form there. Do this with all links. If you continue to open such a link, the page will open immediately on the announcement form, which you will only have to fill out. It will not be necessary to enter sections, subsections, etc. again.
Then buyers will call you.
Operating procedure:
Note: With all the above and the following wisdom you will be introduced when you call in a career. They know that a person who wants to be a dealer doesn't understand anything other than work that's not in stone, so they will always be in touch to answer all the questions you may have during work. All this I am writing so that you have information before your eyes, as an instruction that you can always read.
So, the order of work:
1. To negotiate with the client:
· Exact location of unloading (this is necessary for calculating mileage and pricing);
· Quantity (again affects the price), min. number in the car 1500 pcs., max. 1800 blocks;
· Stone brand: M 15, 25 or 35;
· The date on which the client wants to receive the stone;
2. Payment procedure.
After the car is put to loading in a career, the client goes to Pravex Bank and with the help of the Pravex Telegraph service, transfers part of the amount that will be agreed (on average 50%) to the name that will be indicated to him. Then the transfer code is reported and the car leaves for it.
When the car comes to the client, he unloads his stone and gives the driver the rest of the money.
Notes:
* Unloading on the place is made by forces of the customer and at his expense. So everywhere. If the quarry will carry loaders across Ukraine, the price of the stone will be huge.
The price for each order is considered anew. How to calculate the price of the stone, you will be told by phone.
* The delivery time of the stone is 2 - 3 days, for example: ordered today, loading the machine tomorrow, the day after tomorrow (usually in the morning) the car comes to the customer.
* And one more thing: For a client YOU WORK IN A CAREER, YOU ARE NOT A MEDIATOR. In a career, if necessary, this will always be confirmed, since they are interested in you.
* Everyone can work regardless of gender, and age because in a career there is a position - a dispatcher, and there are both men and women dispatchers. (Regarding age, it is of course desirable that the age of 19-20 was, there is no upper threshold.).