Color: Indigo black - how to use and with what to combine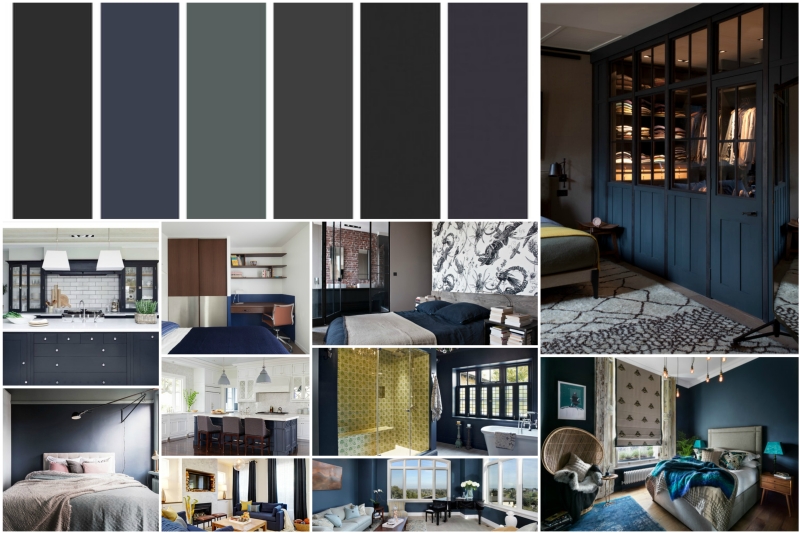 The shade of "black indigo" , which in the original version from Pantone is dramatically called black flame ("black flame"), promises to be one of the most popular in 2018 . We will figure out how to integrate it into the interior profitably.
Black indigo is a complex shade combining total black and deep sea blue, but it is neither black nor blue. As a result, we get a very textured color, more likely close to what we call gray-blue.
Color emotion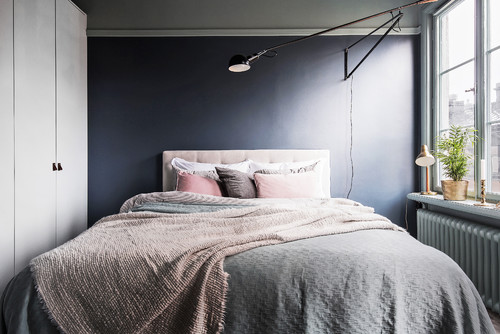 Colorists interpret this color as stable solitude.
The black subton symbolizes ultimate calm, the antipode of worldly unrest and chaos; blue is a way to escape from the intrusiveness of society and social networks in modern realities.
Well, as a designer, I see in him a great option not only for an interior background for those who are bolder, but also for a catchy accent - for lovers of complex colors and confident contrast.
Strengths - Romance and Versatility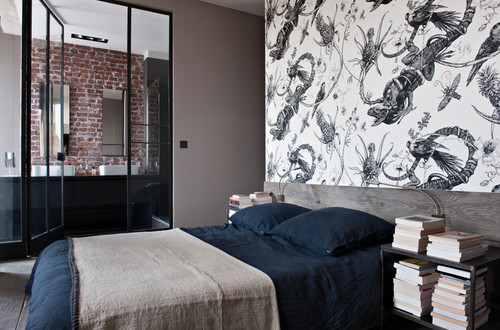 Someone sees a black indigo as a dark introvert, but I, like many of my fellow designers, work with him for more romantic images: a shade of charcoal in the barbecue, the color of asphalt before a summer thunderstorm.
Such blue can be attributed to chameleon colors that change tone depending on the lighting. Look how differently, but the black flame color on matte and glossy surfaces is equally good: glare does not spoil it, as it can happen, for example, with black or gray.
Black indigo still looks dignified and expensive.
Where black and blue is no place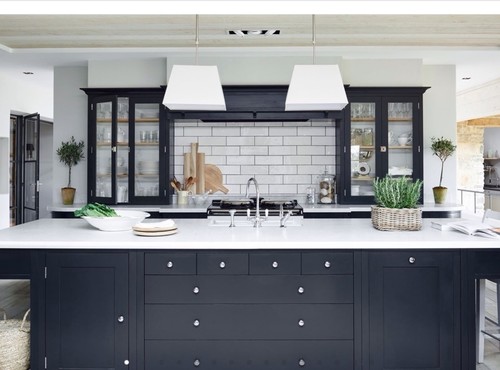 I will not touch on cases when black indigo is used in a minimal amount: in this form, it is quite acceptable in any context. But on large background planes, you should be careful with it.
In small rooms, rooms with one window or narrow windows. Unless you intentionally create a "box effect".
Pay attention to the interior with a photo: the kitchen is gigantic by Russian standards and that is why the presence of coal-black does not seem total.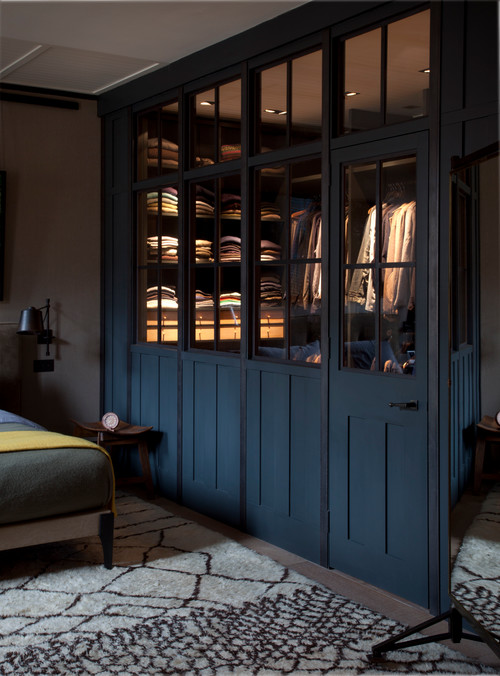 In the dining area. According to psychologists, such shades depress appetite (but all individually).
If there is a lot of it. Such a complex and accent color can actually turn a room into a gloomy movie theater if you do not balance it with bright antagonists or bright spots.
If you have not thought out artificial lighting. Any dark surface "absorbs" light and requires a carefully played light scenario.
If you like bright and airy interiors. Then this very dark and deep color will not suit you in large quantities. Although in the process of reading this article you may well fall in love and change your mind.
What palettes to look for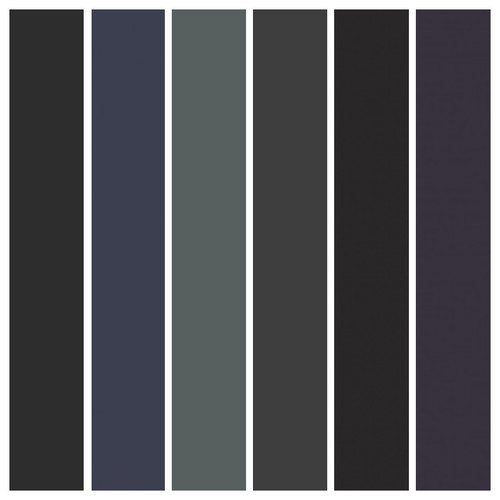 When choosing such a complex and soft shade in the palette of colors, it is not easy to find an identical one. So we focus on as close as possible.
On the collage from left to right:
Little Greene - Lamp Black (228).
PPG Pittsburgh Paints - Black Flame 545-7.
Tikkurila - N439 (Trench).
Tikkurila - Y498 (Midnight).
Farrow & Ball - No. 256, Pitch Black.
Designers Guild - DG155, Poivre Noir
What to paint and what to combine
The black flame color in the interior will definitely take root next to white, emphasize its depth - this is perhaps the classic and most win-win option.
But let's add more shades and see what happens.
Noir walls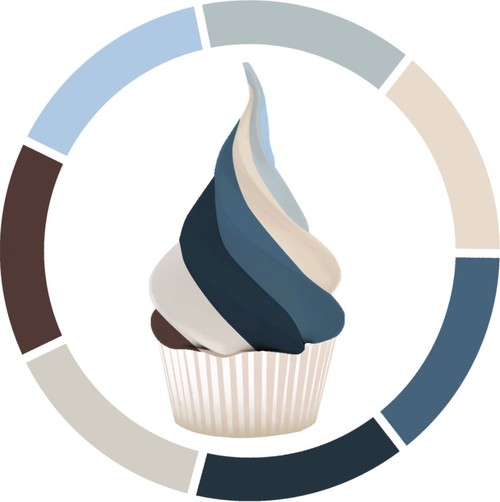 Walls in a shade of "black flame" and a snow-white dome of the ceiling, a lot of light - and you can add anything.
Dark accents in the form of a black piano and a dark wood table are very harmonious here.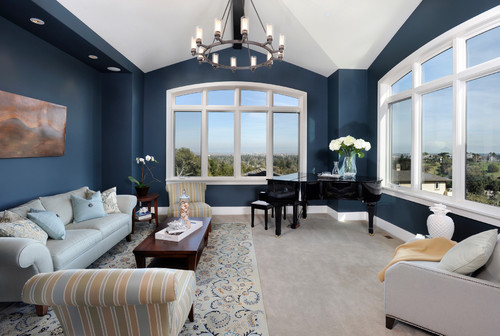 And of course, take note of the variety of light pastel colors instead of a single white.
Mustard Flavor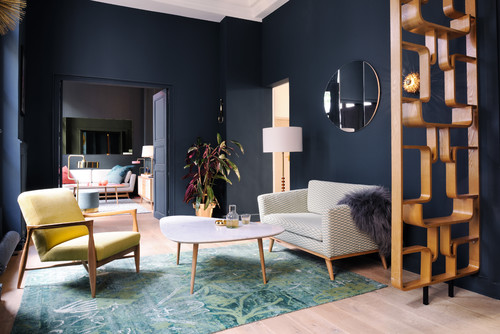 Here the formula is the same: dark walls, white ceiling.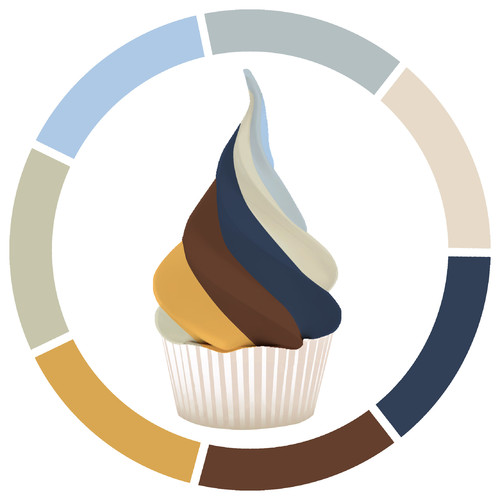 However, the juicy "mustard stain" added with the help of a shelf and an armchair creates a completely different image of space.
More blue ...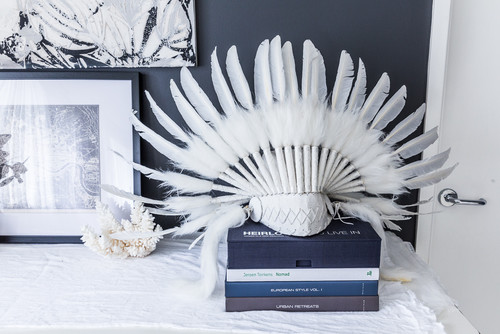 You can add other shades of blue to the walls.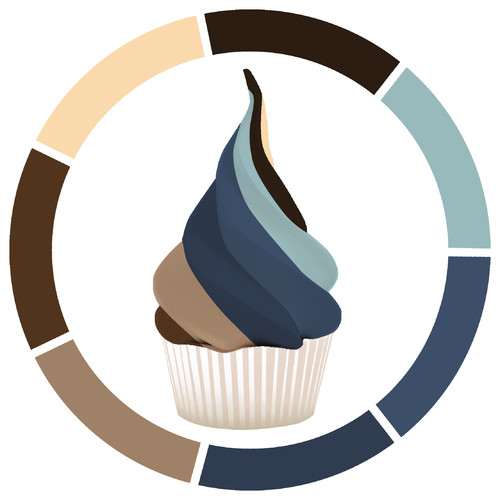 The main thing is to create a balance by diluting the blue with light and brown tones.
... and green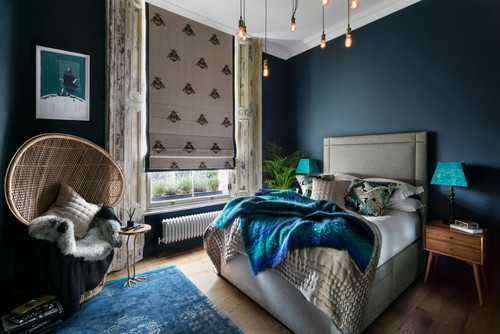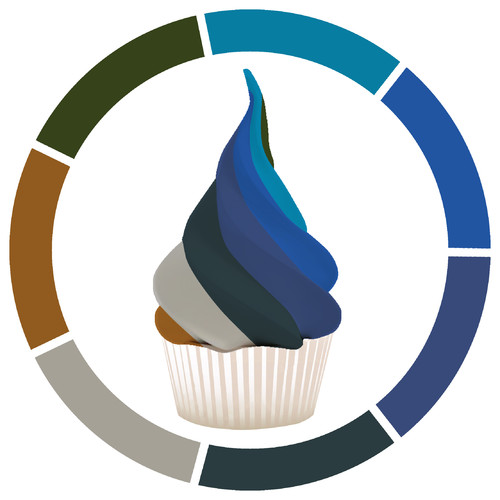 Sophisticated shades of the sea wave and vegetable cool will support the black indigo, adding to it an exquisite greenish undertone.
Dark ceiling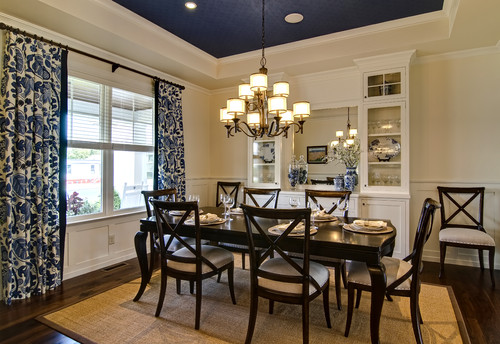 If you are not ready to act radically and paint the walls in black indigo, try applying this emphasis on the ceiling.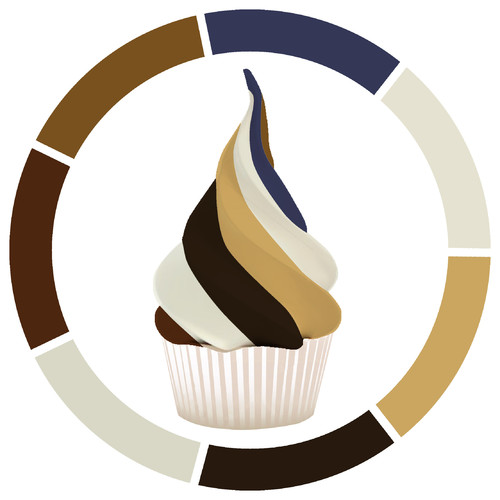 The dark blue "space" above the head in combination with light walls will make the room visually larger, creating the effect of unlimited space.
The winning combination is with shades of brown, especially in the context of a classic interior.
Casket room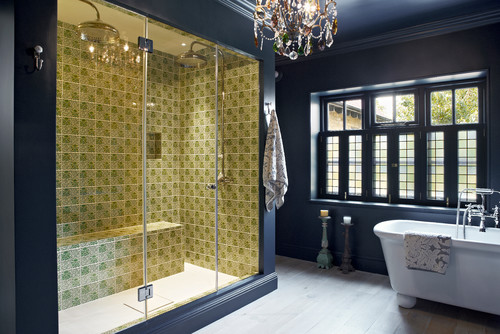 But a good example for the brave: the large window and the illuminated niche of the shower in a soft shade of yellow allow this bathroom, completely painted in black indigo, to look beautiful.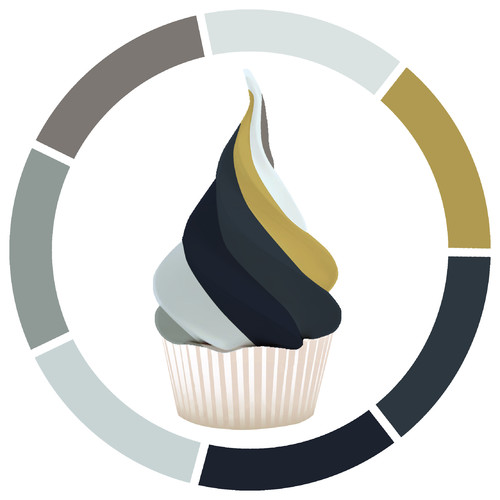 For aesthetics, add an Art Deco chandelier and a foot bath.
Children's for the teenager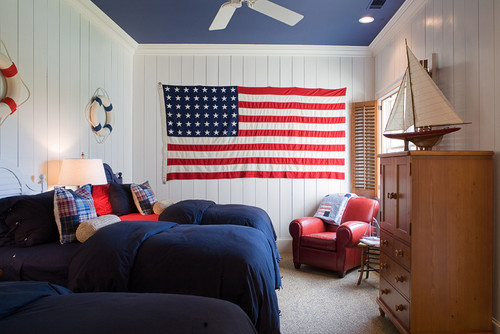 In a nursery, black indigo should be used locally and with the addition of another bright color, as in the photo.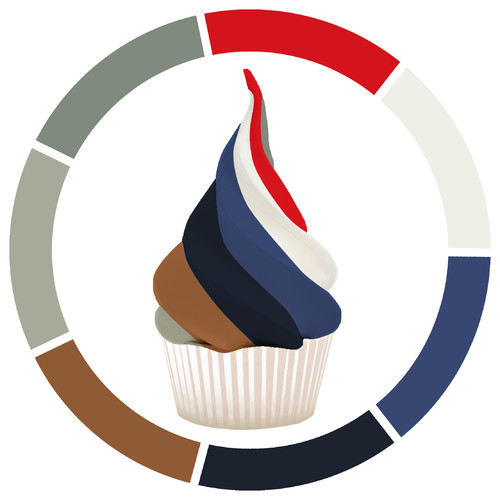 The designer emphasizes red accents and patriotism, and emphasizes the dark blue, which in large numbers for the nursery would be gloomy, even despite the white walls.
A lot of wood ...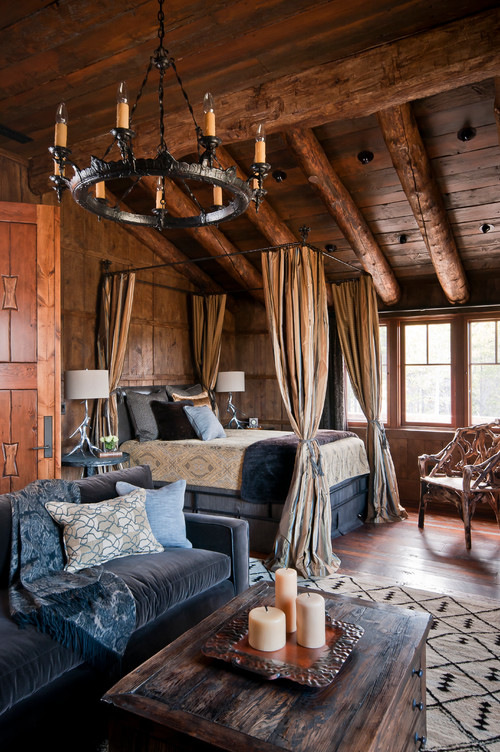 Black indigo is a great color for a sofa or chair: it makes furniture an interesting and fashionable accessory, but it does not look elaborate or too catchy.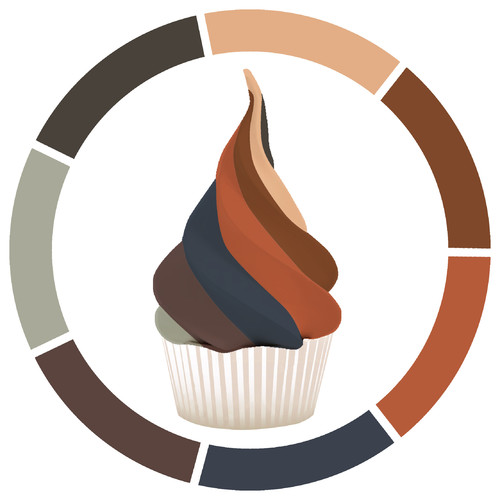 Especially good if you add a tree.
A lot of warm wood!
... and stone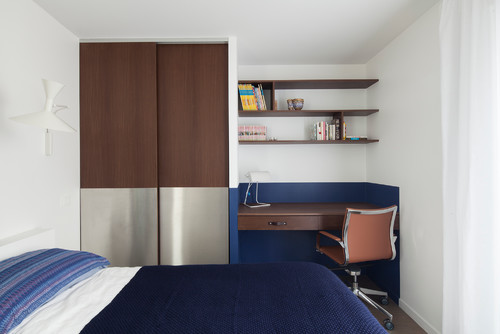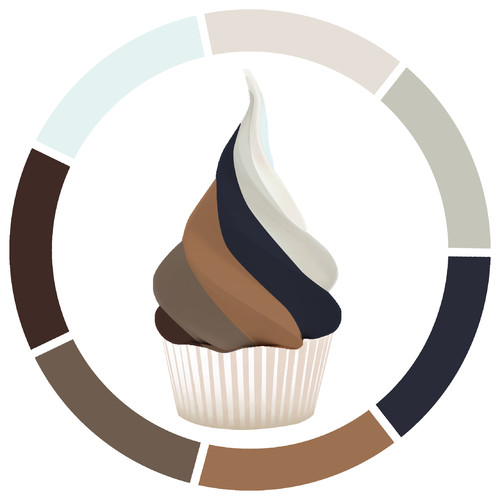 Add stone, brick or metal to the wooden background - our cold gray shade also feels comfortable in an industrial atmosphere.
On white background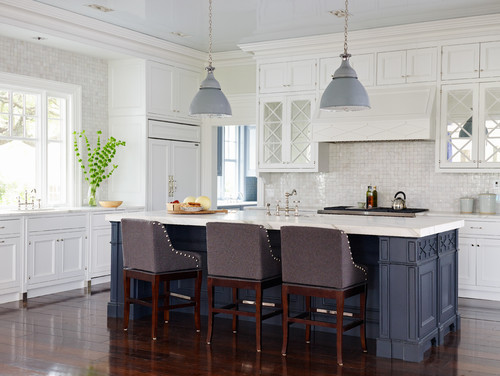 On cabinet furniture, the black flame shade also looks spectacular, especially if the paint is matte.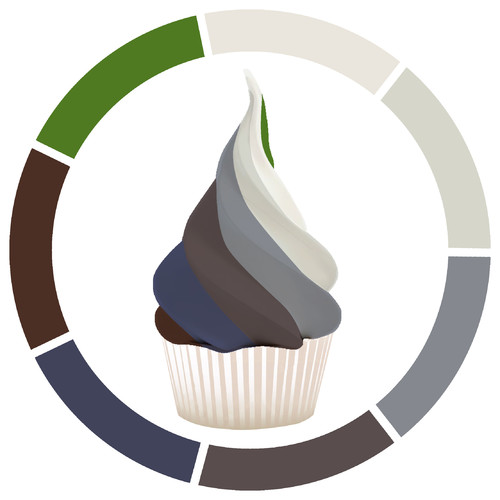 Add white, warm gray and a small flare of greens, like a parsley tail to decorate a dish - and get the perfect kitchen in the spirit of "nothing more."
Accents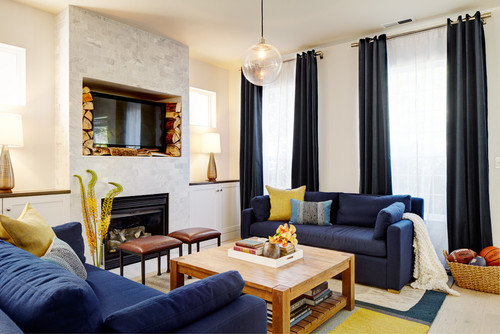 Wet ash curtains? - You are welcome!
Especially against the background of the walls in any of the off-white shades.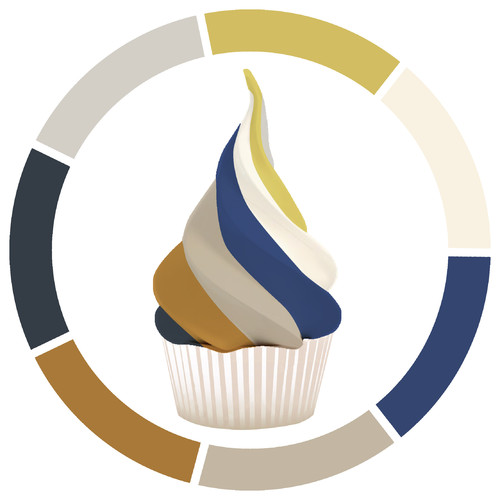 Here, the designer successfully complemented the already familiar gamut with yellow accents and a gilded mirror frame.
If you still think that black and blue can add drama to your interior design, use it locally.
Via houzz.ru