The best potato dishes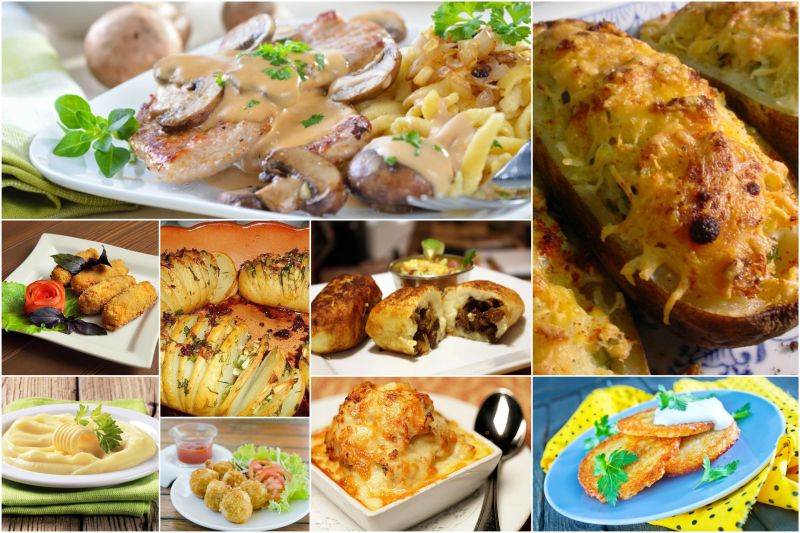 Potatoes, or tuberiferous passe (Latin Solanum tuberosum) is a type of perennial tuberiferous herbaceous plants of the genus Solanum of the Solanaceae family (Solanaceae). Potato tubers are an important food product. The fruits are poisonous due to the content of solanine in them.
The modern scientific name of the potato in 1596 was introduced by Caspar Baugin in the work "Theatri botanici", later Linnei used this name in his work "Species Plantarum" (1753). At different times, other scientific names were published by other authors, which now constitute the synonymy of the potato species. The Russian word "potato" comes from it. Kartoffel, which, in turn, comes from Italy. tartufo, tartufolo - truffle.
Potatoes are not for nothing called the second bread. But it is not as simple as it seems. After all, from it you can cook a huge number of dishes that can please both home and guests.
Potatoes with champignons in sour cream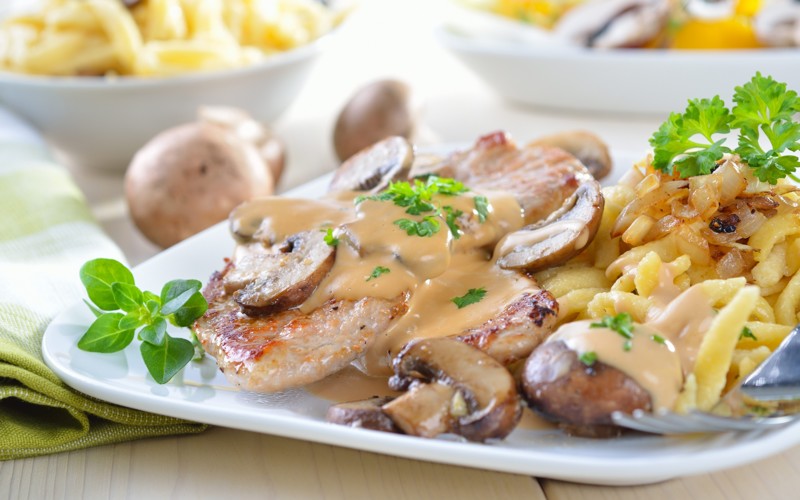 Products:
Potatoes - 8 pcs.
Champignon - 500 gr.
Onions - 1 pc.
Flour - 1 tbsp. spoon
Olive oil
Sour cream - 250 gr.
Salt pepper.
How to cook potatoes with champignons in sour cream:
Peel potatoes and cut into thin circles.
Finely chop the onion, mix with a tablespoon of flour and fry in olive oil.
Mushrooms cut into small pieces and fry separately from the onion.
Put the potatoes in shape. Add mushrooms, onions, spices and sour cream. Mix and bake everything for 40 minutes.
Potato Croquettes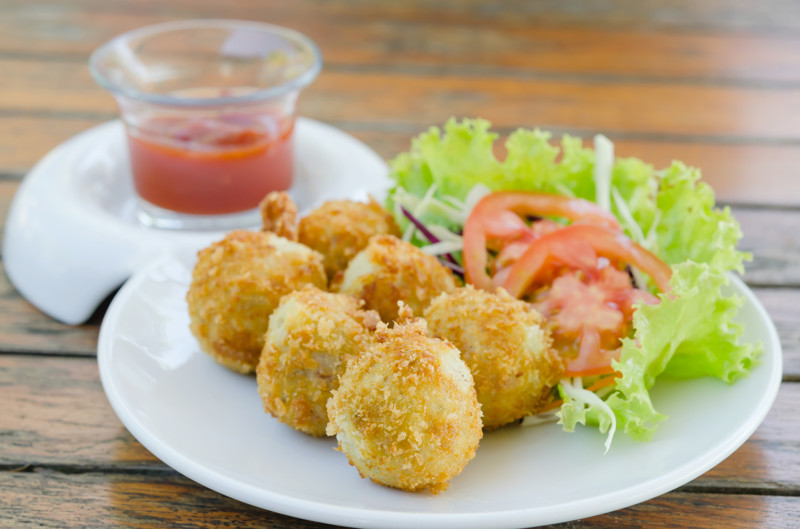 Products:
Potatoes - 2-3 pcs.
Flour - 2 tbsp. spoons
Butter - 1 tbsp. spoon
Egg - 1 pc.
Breadcrumbs - 2 tbsp. spoons
Salt, seasoning from herbs.
How to cook potato croquettes:
Boil potatoes in salted water and make mashed potatoes.
Add the yolk, butter and herbs seasoning, mix until smooth.
From mash roll balls.
Protein shake in foam. Roll the balls into the flour, then dip in the protein and roll in the bread crumbs.
The resulting balls fry in large quantities of sunflower oil until tender.
Dauphine Potatoes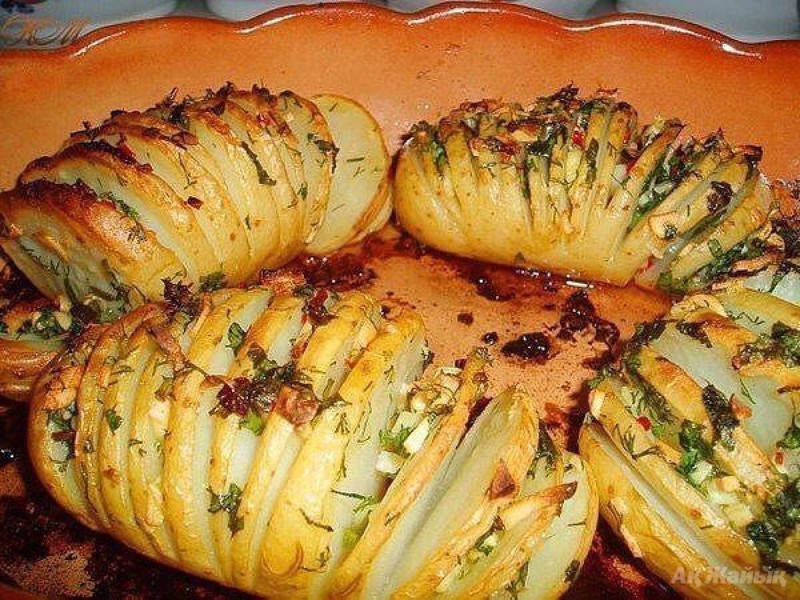 Products:
Potatoes - 9 pcs.
Butter - 9 tsp.
Cheese - 9 thin slices
Salt
How to cook Dauphine potatoes:
Wash and peel potatoes by cutting a small circle from one edge so that the potatoes can be put vertically.
Make cuts along the entire length of the potato, as for french fries, but not cutting to the edge about 1 cm.
Salt, pepper, put in a potato one teaspoon of oil, if desired, add garlic.
Put the potatoes in a high baking dish and lay the pieces of cheese on top.
Bake until golden brown.
Julienne in potato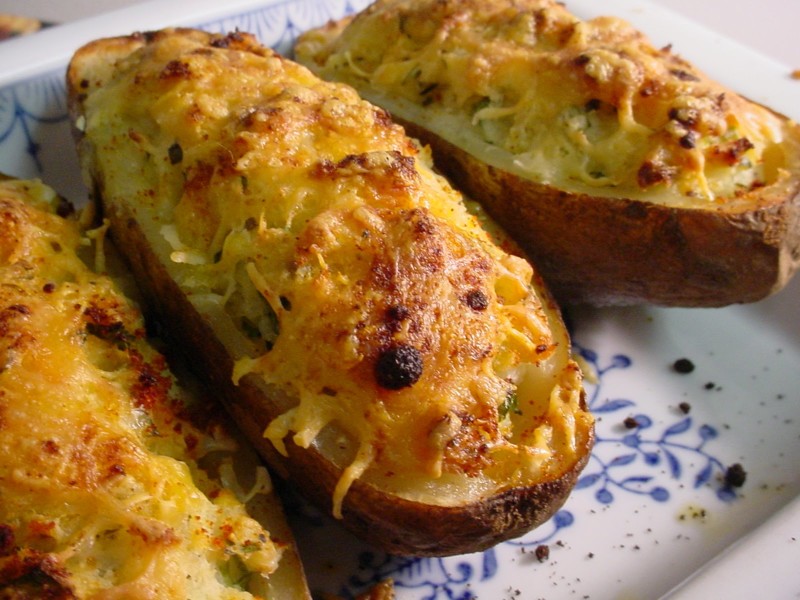 Products:
Large potatoes - 4 pcs.
Mushrooms - 400 gr.
Onion - 1 pc.
Butter - 100 gr.
Flour - 1/2 Art. spoons
Cream - 250 ml.
Grated cheese - 100 gr.
Salt pepper.
How to cook julienne in potatoes:
Wash potatoes, but do not peel. Each potato is cut into 2 equal parts and using a dessert spoon to remove the middle so that the edges are 5-7 mm.
Put the resulting boats into the water so that the potatoes do not turn black.
Then melt the butter and fry the mushrooms in it for about 5-7 minutes. Then add onions.
Then quickly stir the flour to thicken the mass. Add there cream, sour cream, salt, pepper and simmer another 3-4 minutes.
Put potato boats into heat-resistant dishes, add a small piece of butter to each one and fill with mushroom stuffing.
Bake for 15 minutes, sprinkle with grated cheese and put back in the oven for 15 minutes.
Potato pancakes with cheese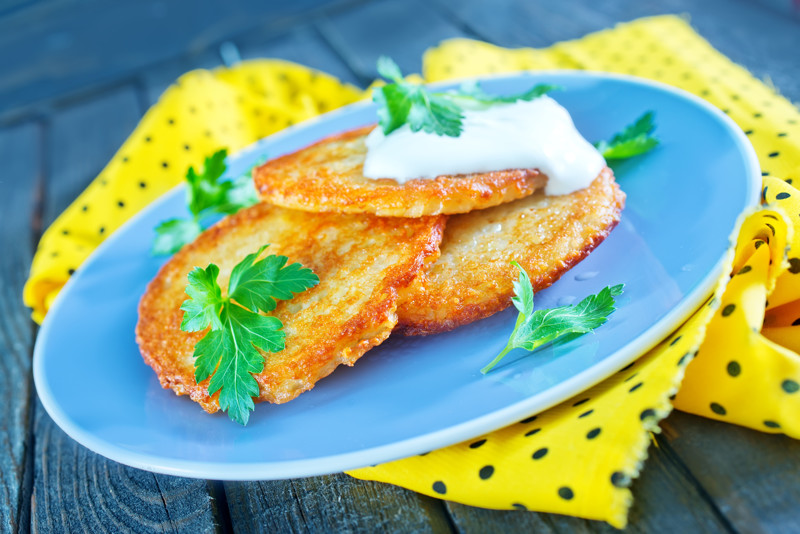 Products:
Boiled potatoes - 500 gr.
Garlic - 1 clove
Flour - 1/2 cup
Baking Powder - 2/3 tsp
Salt - 1/2 tsp
Feta cheese - 120 gr.
Green onions
Parsley and cilantro
Egg - 1 pc.
Milk - 1/4 cup
Pepper
How to make potato pancakes with cheese:
Grate boiled potatoes.
Finely chop green onions, grate garlic.
Mix flour, salt and baking powder.
Add egg and milk - mix everything. Then add a pinch of pepper, green onions, feta cheese and garlic to the dough and mix thoroughly.
Add grated potatoes, parsley and cilantro.
Heat the oil in a pan and lay out 1 tbsp. l dough, fry on both sides until golden brown.
Potatoes "Romanoff"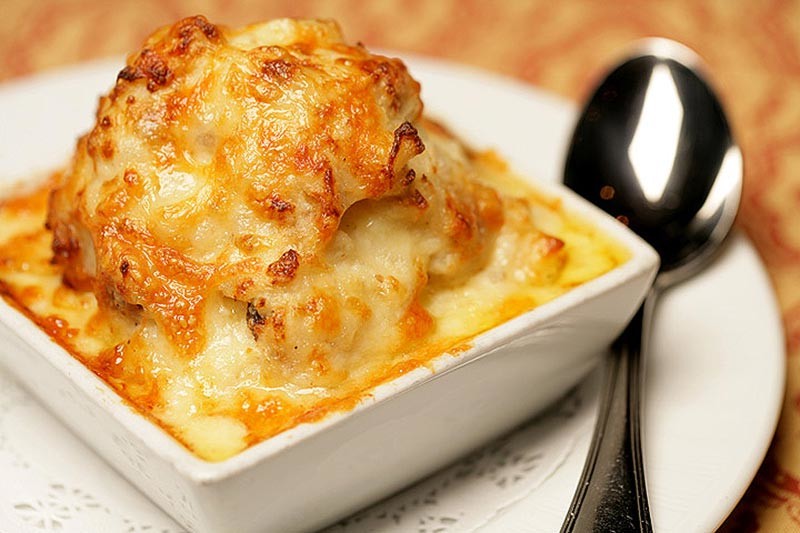 Products:
Peeled and grated potatoes - 1 kg.
Finely chopped onion - 1 pc.
Grated cheddar cheese - 300 gr.
Sour cream - 1,5 glasses
Salt pepper.
How to cook Romanoff potatoes:
In a large bowl, mix the potatoes, onions, cheese (1/4 part set aside), salt, pepper and sour cream.
You can take small forms for baking (4-6 pcs.), Brush with oil, put the potato mixture.
Sprinkle with the remaining cheese and bake in the oven at 180 degrees for 25-30 minutes.
Potato sticks with cheese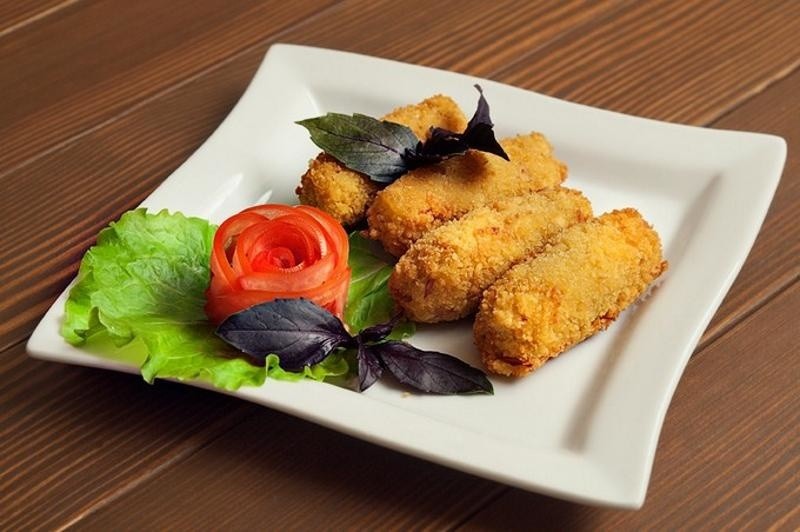 Products:
Medium boiled potatoes - 5 pcs.
Eggs - 2 pcs.
Breadcrumbs - 100 gr.
Hard cheese - 100 gr.
Flour - 2-3 tbsp. spoons
Vegetable oil
Coriander (optional)
Salt pepper
Spices (optional).
How to cook potato sticks with cheese:
Boil the potatoes in the uniform, peel, grate.
Add eggs, spices, salt, sifted flour and mix.
Chop the cheese into cubes and wet hands to form potato dough around them.
Roll in breadcrumbs and fry on four sides until golden brown.
Serve with any sauce.
Mashed potatoes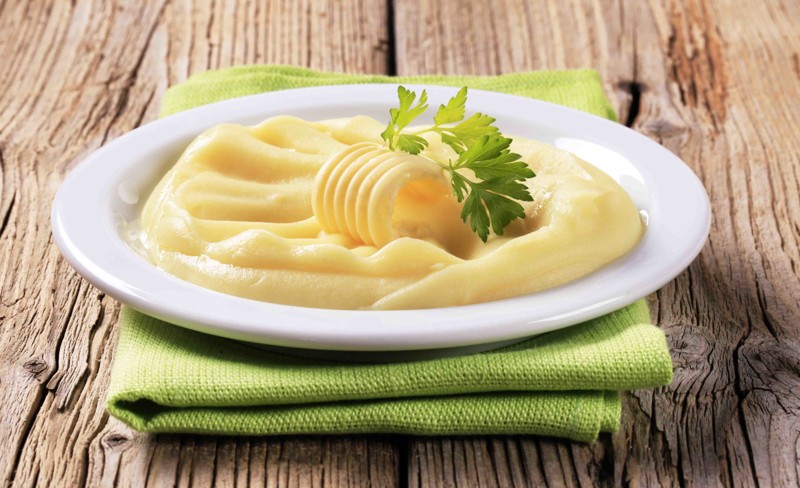 Potatoes 10 min. boil in water, then drain the water, pour boiling milk, bring to readiness and knead in mashed potatoes with the addition of crushed nuts.
Mash potatoes in mashed potatoes by adding boiling chicken broth. Beat well with a mixer.
Grate cheese of grades, grate a little, mash slightly with hot milk, add cheese and mix thoroughly.
Mash potatoes, add butter. Mix with chopped greens and garlic.
Potato zrazy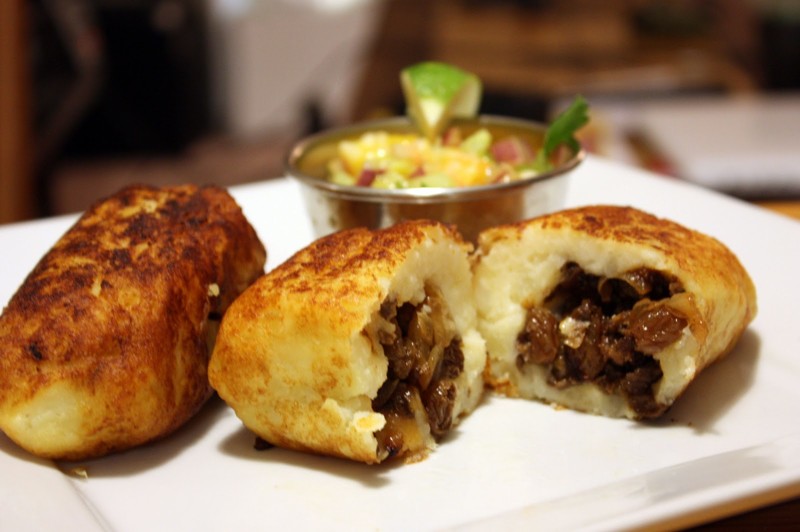 Products:
Potatoes - 7 pcs.
Minced meat - 500 gr.
Onions - 1 pc.
Garlic - 3 cloves
Egg - 1 pc.
Flour - 300 gr.
Salt pepper
Vegetable oil
Breadcrumbs.
How to cook potato zrazy:
Boil the potatoes and beat until mashed.
Add egg, salt, pepper. Gradually add flour. Dough should not stick to hands. Leave to cool.
In vegetable oil fry finely chopped onion and garlic.
Add minced meat, salt, pepper and fry until cooked.
From the potato dough form a cake, place the stuffing in the middle and connect the edges of the cake.
Roll the patty on all sides in breadcrumbs. Fry in butter until golden brown. Serve with sour cream.
Baked Potatoes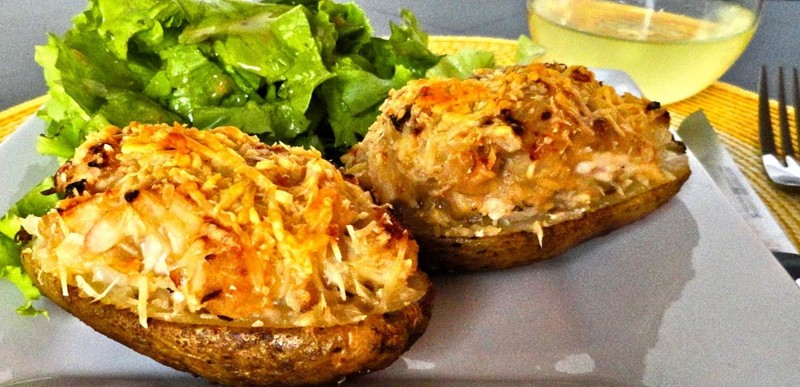 Products:
Potatoes - 4 pcs.
Garlic - 4 cloves
Butter - 100 gr.
Sour cream - 2 tbsp. spoons
Bacon - 4 pcs.
Hard cheese - 200 gr.
Dill
Green onions
Salt pepper.
How to cook potatoes baked in the uniform:
Preheat oven to 200 degrees. Wash and dry the unpeeled potatoes.
Grate each potato with plenty of olive oil and salt and put in the oven for 1-1.5 hours. Half an hour before the potatoes are ready, put garlic cloves, salt and pepper, add butter and olive oil.
While potatoes and garlic are baked, chop the bacon slices and fry. Remove the potatoes from the oven, cool, cut in half, remove the middle with a spoon and put in a large bowl.
Add to the same baked garlic, sour cream, olive oil, chopped herbs, bacon, grated cheese. To mix everything.
Using a tablespoon, stuff each potato half with minced meat, put a piece of butter on top and place on a wide baking sheet.
Bake until golden brown.
Enjoy your meal!
Via fishki.net & wiki