Ambulance Essential Oils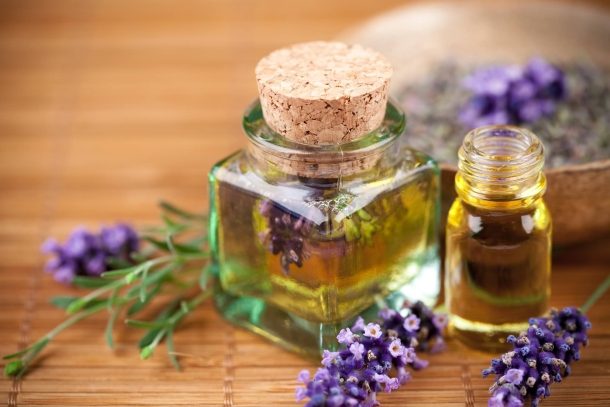 Essential oil is an odorous mixture of liquid volatile substances isolated from plant materials (distillation, extraction, pressing).
Most essential oils are highly soluble in gasoline, ether, lipids and fatty oils, waxes and other lipophilic substances and are very poorly soluble in water. The solubility of essential oils in alcohol strongly depends on its strength (it decreases markedly in the presence of water).
Folk recipes: essential oils for first aid!
Bruises
On the area of ​​the injury, make an application with a mixture of oils:
chamomile 2 drops
geranium 2 drops
lavender 1 drop
dissolve in one teaspoon of vegetable oil.
Burns
Treat the burn area with 1-5 drops of lavender oil and apply a sterile dressing.
Chills, fever
Dissolve in 600 ml of cold water:
eucalyptus 3 drops
peppermint 2 drops
lavender 2 drops
geranium 1 drop
Moisten a solution with a solution and put on the forehead, elbow bends, inguinal and popliteal areas for 10-15 minutes.
Repeat the procedure for an hour 4 times, until the heat subsides.
Cold
Rub the neck, back and chest with an oil solution of aromatic oils once a day:
eucalyptus 5 drops
thyme 3 drops
tea tree 2 drops
For one dessert spoon of vegetable oil.
Fractures
After applying the immobilizing dressing, moisten the bandage over the fracture site with an oil solution:
geranium 5 drops
thyme 3 drops
Lavender 2 drops dissolved in one dessert spoon of vegetable oil.
Headache
Rub the solution of essential oils into the temporal areas:
peppermint 3 drops
2 drops of lavender dissolved in one teaspoon of vegetable oil.
Insomnia
Mixtures of essential oils for aroma lamps and massage mixtures for active points (per 5 ml of base oil).
4k daisies, 4k. lavender
4k Neroli, 2k. geraniums
6k majorna, 2k. rosewood
Operability
Mixtures of performance enhancing oils:
2k. basilica, 1k. cypress, 2k. grapefruit
3k. grapefruit, 2k. ginger2k. rosemary, 3k. bergamot
2k. rosemary, 3k. bergamot
2k. mint, 1k. incense, 2k. lemon
Cough
Cough (a mixture of essential oils for aroma lamps and massage mixtures for rubbing (15-20 ml of base oil):
4k peppermint
3k. hyssop
2k. eucalyptus
2k. benzoin
2k. thyme
Dry cough
For 15 ml of base oil (for back and chest massage):
2k. tea tree, 2k. incense, 4k. orange
4k eucalyptus, 2k. lavender, 1k. pine trees
4k sandalwood, 3k. lavender, 3k. kaeputa
Wet cough
For 15 ml of base oil (for back and chest massage):
2k. pine needles, 2k. Sanadal, 2k. rosemary
2k. tea tree, 3k. eucalyptus, 2k. fir
2k. lavender, 3k. cloves, 3k. lemon, 2k. incense