Known first aid tricks that 90% of people do wrong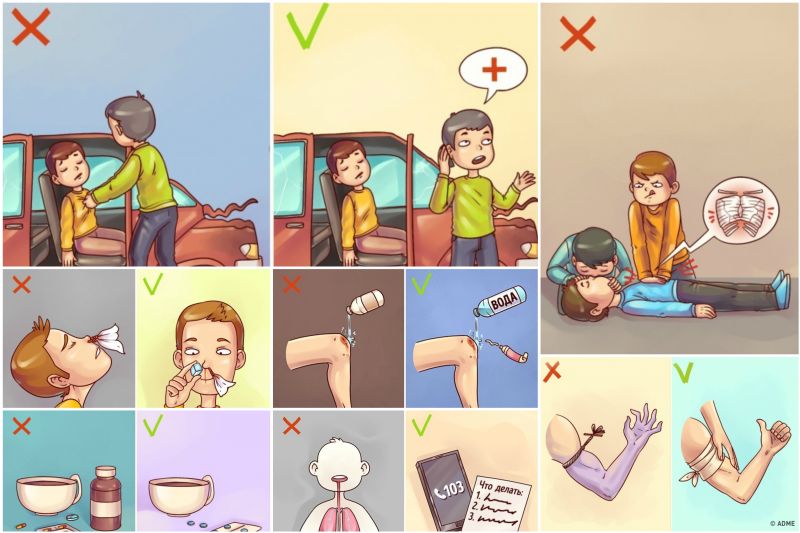 First aid - urgent medical and preventive measures necessary in case of accidents and sudden illnesses, urgent care measures for the wounded or sick people, taken before the arrival of the health worker or before the patient is placed in the medical facility.
Knowing the main steps in providing first aid to the victim is vital. It is also important that each action always has a reaction, because of which a person's life may be in even greater danger and you will be to blame for this. We at Shram.kiev.ua collected and described the main mistakes that people make when providing first aid.
Rinsing wounds with hydrogen peroxide, treating with iodine and alcohol can be dangerous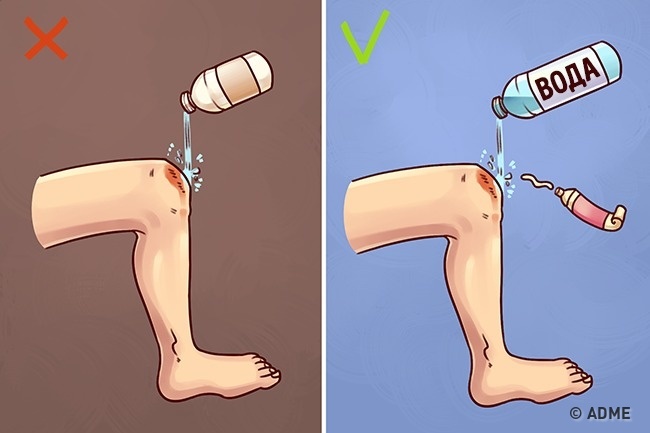 What's bad: hydrogen peroxide destroys the cells of the connective tissue, and the wound heals longer. Iodine, brilliant green, and alcohol burn healthy cells, and can cause pain shock and burns if they get on the wound.
How to: rinse the wound with clean drinking or boiled water, apply a healing ointment with an antibiotic. The patch and bandage do not need to be applied unnecessarily, otherwise the wound will become wet and heal longer.
Source: prevention.com
Indirect cardiac massage leads to rib fracture and lung damage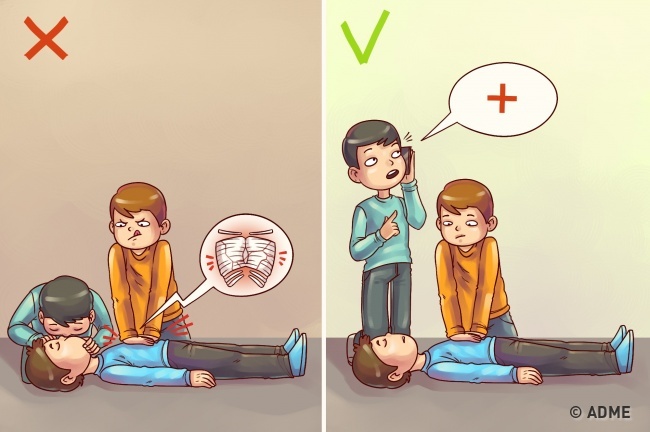 What's bad: when performing an indirect massage of the heart, the ribs of the victim are easily broken, and broken bones can seriously damage the lungs and heart.
How to: perform an indirect heart massage only after making sure that there is no pulse, the person is not breathing and there is no doctor nearby. While one person calls an ambulance, the second performs compression. The correct rhythm is 100 compressions per minute (per BeeGees Staying Alive song). Indirect heart massage for young children is done using fingers in a different rhythm. Artificial respiration is performed when the heart starts. Another option: 30 compressions and 2 breaths, then again 30 compressions and 2 breaths.
Source: firstaidreference.com, mayoclinic.org
Paracetamol May Cause Liver Problems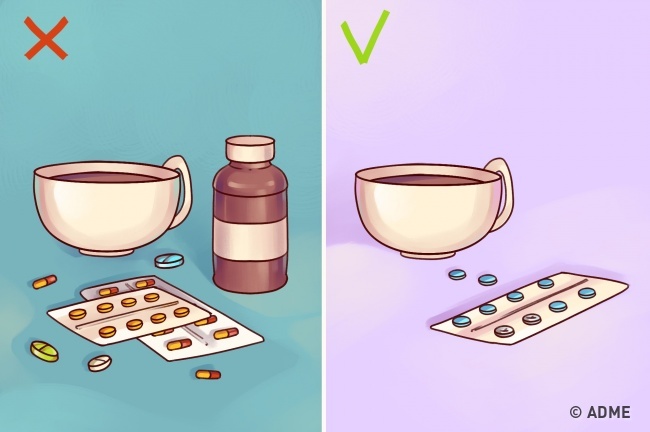 What's bad: paracetamol consists of acetaminophen. It relieves pain, temperature and soothes inflammation, is part of popular medicines. Exceeding the dosage leads to failure of the liver and kidneys.
How to: carefully consider the dosage. For adults, the maximum single dose is 1 g, the maximum daily dose is 4 g. Acetaminophen is contained in different drugs (mainly those that relieve cold symptoms and headaches), and as a result of the combination, you can easily exceed the maximum permissible doses, which causes poisoning.
Source: prevention.com, medicinarf.ru
When bleeding from the nose, you can not throw your head back and lie down on your back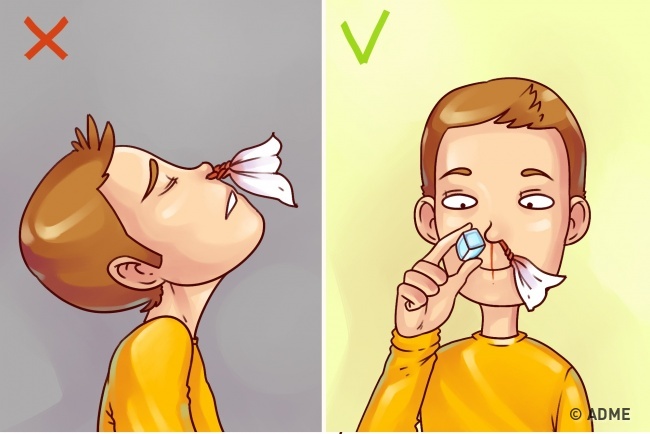 What's bad: if you nose back with your nose bleeding or lie on your back, blood pressure rises in the head. It is impossible to determine the nature and danger of bleeding, blood can enter the lungs, cause vomiting.
How to: keep your head straight to speed up the decrease in pressure. Apply something cold to your nose. With the help of the index finger and thumb, alternately close the nostrils for 15 minutes each, breathe through the mouth. If bleeding continues, repeat the action. Call an ambulance if blood continues to flow despite the effort or if bleeding is caused by an injury.
Source: webmd.com, prevention.com
With an accident, a person does not need to be taken out of the car, shifted to a more convenient position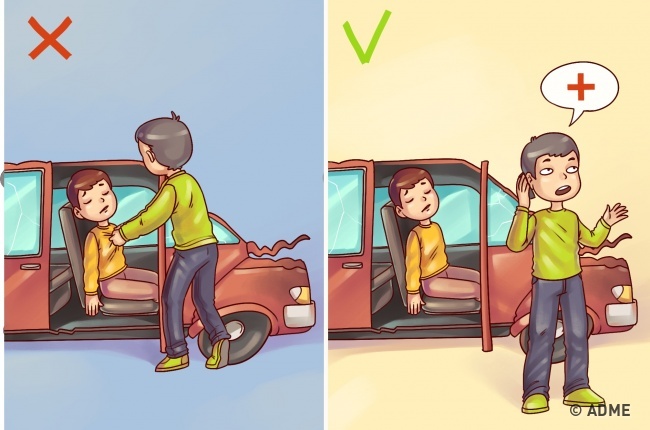 What is bad: most often death after an accident occurs due to an injury to the neck and spine. An insignificant movement to help the victim lie down more conveniently, can kill him or make him disabled for life.
How to: if a person is injured and there is reason to fear that the head, neck or spine are damaged (for example, he does not feel limbs, but there is no blood loss), then you need to call an ambulance and monitor the patient's breathing until the doctors arrive.
Source: prevention.com, redcross.org
In case of serious poisoning, do not drink vomiting medications.
What's bad: vomiting medications can cause burns to the esophagus and cause poisoned vomit to enter the lungs.
How to: if you suspect poisoning, you need to call an ambulance, describe the symptoms and a possible source of poisoning, write down the actions recommended by your doctor. You should not independently assess the degree of danger and seek advice on the Internet - an overdose of vitamins or alcohol poisoning can be no less dangerous than a glass of gasoline drunk in one gulp. Without the help of a doctor, death can occur within an hour.
Source: mayoclinic.org, redcross.org
Using a tourniquet to stop bleeding leads to amputation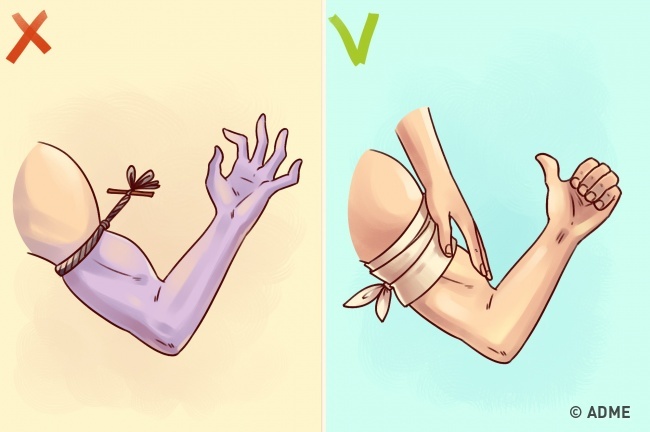 What's bad: improper or unnecessary application of a tourniquet can lead to crushing of the limbs. The tourniquet does not stop bleeding, but deprives the limb of blood circulation, which leads to tissue necrosis
How to: with a large amount of sterile gauze or clean tissue, apply a bandage to the wound and hold it with force. This is enough while the ambulance is traveling. The exception is heavy bleeding, in which the risk of dying is higher than the risk of limb amputation.
Source: realfirstaid.co.uk
You don't need to put a spoon in your mouth or take out your tongue to someone who has a seizure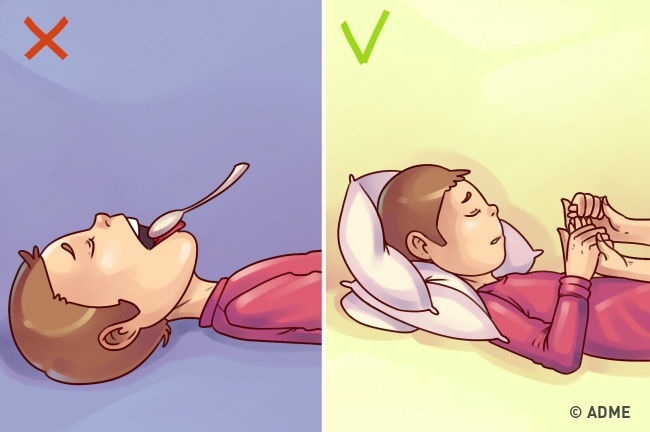 What's bad: during a seizure, a person can swallow or suffocate because of an object that is placed to protect his tongue.
How to: during an attack, a person can jerk sharply and even turn blue. But the attacks end on their own, and the body is not able to do serious harm to itself. The most important thing is to call a doctor, make sure that the person does not get hurt about something, and make sure that he is comfortable breathing. It is physically impossible to swallow the tongue, and it is not dangerous to bite. After the attack, you should lay the person on his side.
Source: epilepsy.com
With a bite of a snake, poisonous insects and arthropods, it is strictly forbidden to suck out poison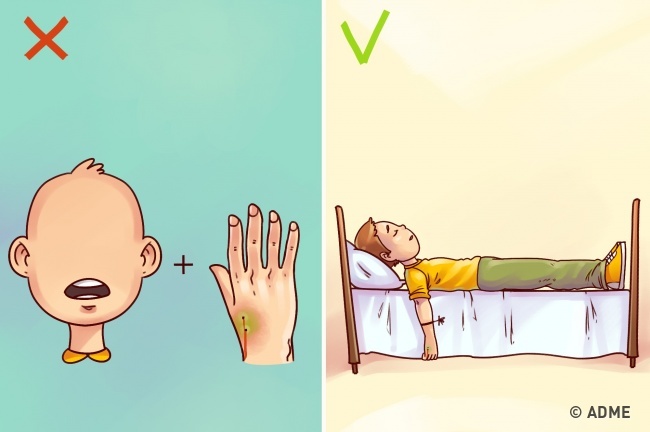 What's bad: poison mixed with saliva will fall into the mouth, creating another lesion. This will accelerate the poisoning of the body, can lead to pulmonary edema and cardiac arrest.
How to: if the bite fell on a limb, take a horizontal position in which the place of the bite will be lower than the heart. Call an ambulance, describe in detail the source of poisoning and drink plenty of fluids.
Source: healthline.com
Important: do not take the patient to the first hospital or the nearest hospital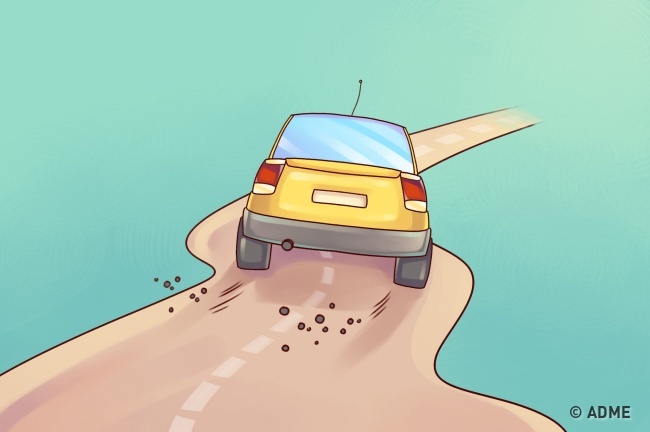 What's bad: take the patient or victim to the nearest hospital.
How to: call an ambulance, describe the situation by phone, so that the dispatcher, on the basis of this, says to which nearest medical institution the patient should be taken. Not everywhere there are the necessary drugs, specialists and equipment, and the new transportation may be too dangerous for humans.
Via adme.ru & wiki