Useful for the body properties of garlic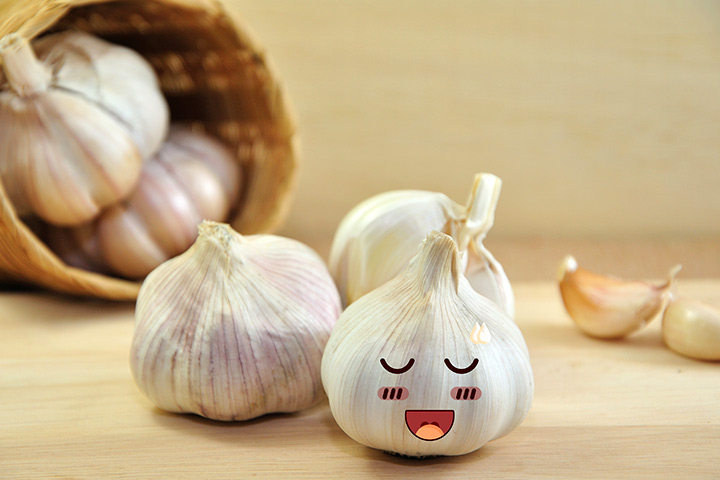 Garlic is very healthy, it has been known for a long time. In addition to its specific taste and the possibility of using it as a great flavoring seasoning, garlic has many useful and healing properties and for thousands of years has been widely used in traditional medicine for the treatment of many diseases and ailments. The composition of garlic consists of nitrogenous substances, sodium, potassium, calcium, magnesium, silicic, sulfuric, phosphoric acids, vitamin C, D, B, phytosterols, extractives, phytoncidi and essential oils .

Garlic (lat. Állium satívum) is a perennial herb; a species of the genus Amaryllidaceae of the family Amaryllisaceae (Amaryllidaceae) of the Onion (Allioideae) subfamily, previously housed in the now-abolished Onion family (Alliaceae).
Popular vegetable culture in many nations around the world, due to the sharp taste and characteristic odor associated with the presence in the plant organic sulphides (thioesters). The onion slices ("cloves") are used as a seed, eaten (raw or cooked, as a seasoning). Leaves, arrows and flower stalks are also edible and are used mainly in young plants.
Garlic is widely used in medicine due to its antiseptic effect.
Promotes the treatment of atherosclerosis.
Helps lower cholesterol.
Reduces blood pressure.
Helps with gout.
Helps with the treatment and prevention of influenza and respiratory infections.
Prevents the growth and spread of bacteria.
Helps in the treatment of tuberculosis.
Used in the treatment of purulent wounds.
Helps to treat trichomoniasis (sexually transmitted infection.)
Stimulates metabolism.
It prevents the development of cancer: intestines, gallbladder, rectum, breast, prostate.
Helps digestion.
Dissolves blood clots.
Increases appetite.
Kills worms and parasites.
Helps to treat cataracts.
Helps to treat arthritis.
Helps to treat diabetes.
It helps to treat staph infections.
Relieves toothache.
Treats acne.
Kills warts.
Helps to treat lichen.
Helps in the treatment of boils on the skin.
It has a calming effect on the intestines.
Phytoncides in garlic are used to treat asthma, chronic bronchitis, whooping cough.
Helps with insomnia.
Slows down the aging process.
Suppresses the growth of diploid fungus (Candida albicans.)
Strengthens the human immune system.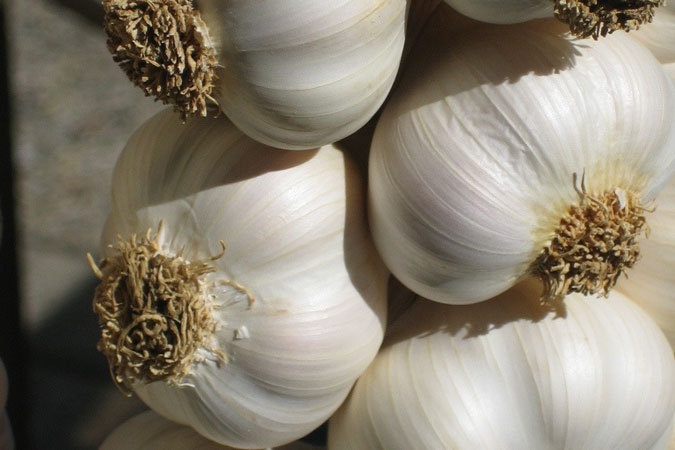 Garlic with toothache
Garlic is good for toothache. To do this: cut a slice of garlic lengthways and the inside with the hand in the place where the doctor probes the pulse. If the tooth is sore on the left, then a garlic clove should be tied to the left hand, and vice versa, after 15-20 minutes, the toothache disappears. Red spot of garlic smeared with petroleum jelly or oil.
Garlic to rejuvenate the body
Garlic has good anti-aging properties. Elixir of youth, remedy for shortness of breath, blood rejuvenation, remedy for insomnia: grind 350 g of garlic, squeeze the juice from 24 lemons. The mixture is placed in a jar with a wide throat, tie with a marleca, insist 24 hours. Shake before taking. Take 1 teaspoon of the mixture for 1/2 cup of water once a day before going to bed.
Fortifying agent recipe
300 g of garlic put in a bottle (wash and peel) and pour alcohol. Infuse for 3 weeks and take 20 drops daily for 1/2 cup of acidic, one-day acidification of milk or whey.
Garlic to cleanse the blood
To cleanse the circulatory system from all sorts of deposits, to lower the pressure, to cleanse the stomach, with spasms of cerebral vessels: 1/3 bottle filled with chopped garlic, pour vodka or 50-60% alcohol. Insist 14 days in a warm place, daily shaking. Take 5 drops to 1 teaspoon of cold water 3 times daily before meals.
With angina pectoris
For angina with dyspnea, it is recommended to take garlic with honey: 1 kg of honey, 10 lemons, 5 heads (not cloves) of garlic. Squeeze juice from lemons, peel garlic, grate. Mix everything and leave closed in a cool place for 7 days. Take 4 teaspoons once a day, with stops for 1 minute between each spoonful.
With scurvy
For scurvy, use garlic in all forms with food and separately with bread.
For expelling pinworms
To expel pinworms: 10 g of peeled and pounded slices pour 1/2 cup boiling water, fresh milk or whey, cool and strain. Enough for two microclysters that put on the night.
From warts
Daily wipe garlic warts. Or peel the garlic, crush, mix with pork lard and tie on the wart. To do daily.
Treatment of cold, sore throat, flu, cough
In case of sore throat gargle gargle : finely chop 1 clove of garlic, cover with 1 cup of warm boiled water, leave for 1 hour and strain.
For quinsy, runny nose and even whooping cough : cut 1 clove of garlic and repeatedly inhale the smell during the day.
For upper respiratory tract diseases : clean, clove, finely grind, 5 cloves, dilute with 1 cup of yogurt. Insist 30 min. Take in the heat of 1 teaspoon several times a day.
When coughing with sputum to improve its discharge, as well as a general tonic for pneumonia, bronchitis, catarrh for 1 cup of milk - 1 tsp garlic juice, sour milk or whey (one-day), warm, but not hot.
For the prevention of influenza, put a pounded clove of garlic on a cotton ball in the nose, after wrapping the gauze with the gauze (1 layer).
Cancer prevention
Garlic is able to prevent the development of many types of oncological diseases, including "smoker's cancer". It kills cancer cells in the mouth and bronchi. In terms of their impact, some researchers equate garlic with chemotherapy. Long-term observations of smokers have allowed us to make an amazing conclusion: if you eat 2 times a week for 1 head of garlic, the risk of developing cancer decreases by almost one third. It is also useful for people living in radioactively contaminated areas.
Heals "male" disease
Garlic and onions increase blood circulation to the genitals, activate testosterone production, increase potency and have a prophylactic effect on prostatitis. Standing out with urine, its nutrients disinfect the urogenital system, reducing the risk of inflammatory processes.
Well heals wounds
Garlic has bactericidal and bacteriostatic properties, so it perfectly heals wounds and ulcers.
Useful for gallbladder and liver
Garlic provides timely evacuation of bile from the gallbladder, which prevents its thickening and the formation of stones.
Via rus-health.info & inmoment.ru & wiki