How to make tinctures on moonshine at home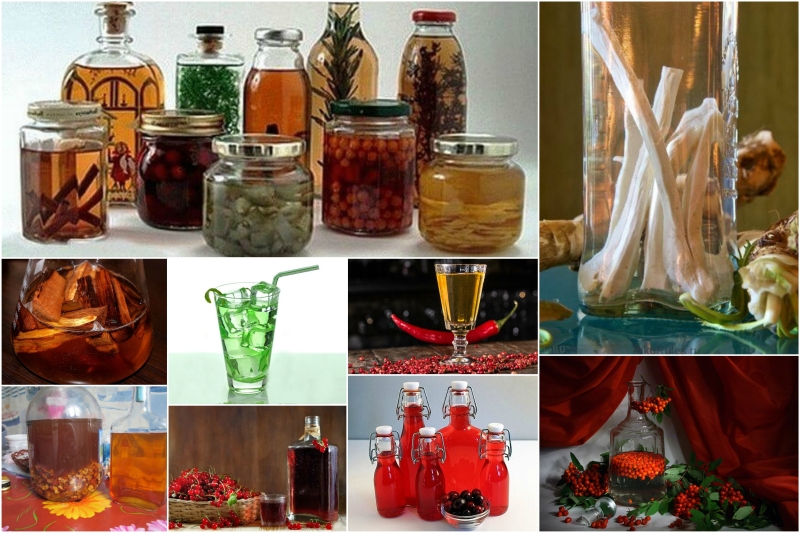 Tincture is usually an alcoholic drink, but it can also be an infusion of any liquids. It is prepared by insisting on alcohol on various fruits, bones, spices, fragrant and medicinal herbs. Just tincture can be considered, for example, tea, as infusion of infusion on the water
Home tincture on moonshine - a drink for the mood, which, if you try, you can prepare yourself in your own kitchen.
Sweet, bitter, with bright taste of berries and various herbs, it will help to relax during a festive feast or regain strength after a working week.
Advantages and types of home tinctures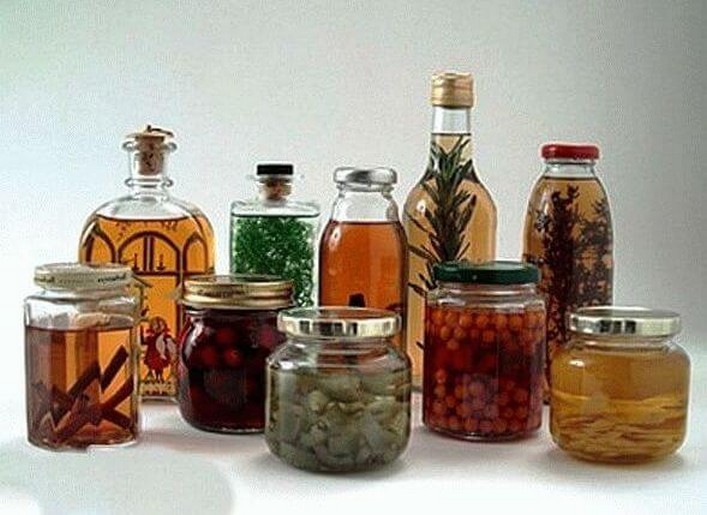 Fresh or dried fruits and plants insist in alcohol until the essential oils and biologically active substances are converted into alcohol.
The duration of infusion varies from 2 to 6 weeks, if necessary, the infusion time can be shortened to 7-10 days by increasing the temperature to 50-60 ° C. Tinctures contain up to 30% sugar at a strength of up to 45% vol. alcohol, they are less sweet, but stronger than liqueurs, have a pleasant taste and can serve both as an alcoholic beverage and as a medicine.
Preserve tinctures should be in tightly closed bottles of dark color.
Perhaps, not a single drink caused so much controversy about its usefulness and danger. It's about moonshine. About that drink, which in Russia has traditionally been used and continues to be used for cooking tinctures. They are cooked, as a rule, in the summer and autumn periods from fresh fruits and berries. Therefore, they taste rich and fragrant.
Types of homemade infusions on moonshine
sweet, they contain 100 ml of the drink from 16 to 25 grams of sugar;
Semi-sweet drinks contain from 2 to 10 grams of sugar;
bitter (or do not contain sugar, or contain a minimum amount).
Tinctures on moonshine - in the moonshine (berry, grape or fruit) and natural aromatic additives. It can be herbs, berries and fruits. For example, tarragon, cranberry, cowberry, cloudberry, currant, cherry. Let's consider in detail the recipes.
Tincture fruit and berry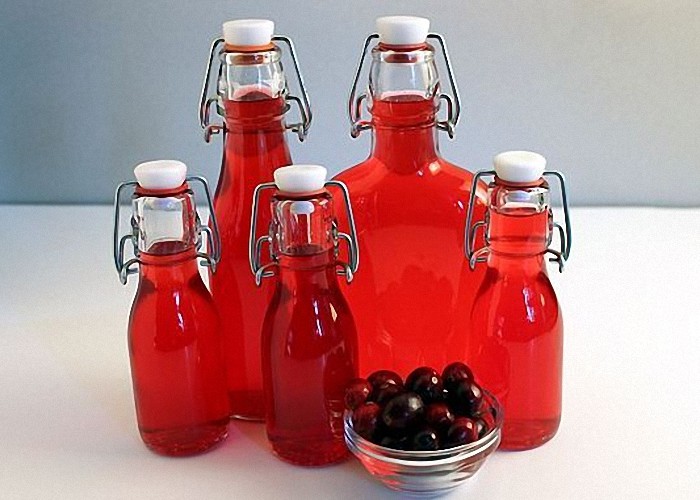 Required components:
moonshine (70 degrees) 1.5 liters;
cinnamon and cloves - 2 grams each;
red currant - 500 g;
cherry (pitted) - 1kg;
raspberry - 500 g;
sand sugar - 2,5 kg.
It takes 30 minutes to make the tincture, the calorie content will be 290 kcal.
How to cook?
All the berries, which are indicated in the recipe, crush, and then mix. The resulting berry mass for 5 hours to leave to make juice.
At the end of this time, squeeze the juice from the berries and dissolve the sugar in it, add the moonshine, cloves, cinnamon, (optional berry pulp). This drink is poured into a glass jar (bottle), tightly screwed.
Tincture is prepared for about 2 months, it is in a warm room, with every three days it must be shaken.
The finished product must be filtered. To the required degree of strength, you can dilute the tincture with boiled cold water. Keep it better in the refrigerator, take in a refrigerated form.
Tincture on northern berries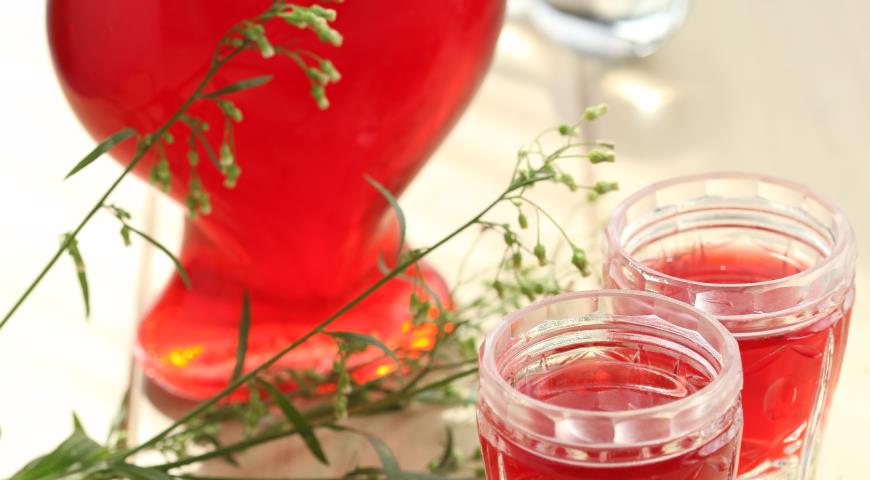 Required ingredients:
1.5 kg of berries (cranberries, cranberries and cloudberries) - together or separately;
1.3 liters of homemade moonshine;
sugar 1kg.
The cooking time is 30 minutes, 100 grams of the drink contains 250 kcal.
How to cook?
To prepare such a tincture, you need to pick berries, remove the natural debris (leaves, needles) and twigs. Add the berries in a colander, rinse under running water. To reduce the berries quickly, they should be spread on a cloth towel with a thin layer.
Slightly kneading, fold the berries in a deep container (opaque) with a tightly fitting lid.
Pour the berries with moonshine, lightly shake the container to mix the contents. Close the lid tightly. If it adjoins badly, then for reliability from above it is possible to wrap with usual food film. Leave the northern berries in home-brew for five weeks.
In the bottles, drain the brewer's infusion with berries, close and send to a cool place where sunlight does not reach.
From sugar and water, prepare the syrup. The recommended ratio is 3: 1. Put all the ingredients in a saucepan, put on fire, when the syrup begins to boil, reduce the flame and cook for five minutes.
Berries pour the syrup (hot), which must cover them completely, then mix, close the container with a dense lid and put in a cool room. The tincture will be ready in 4 weeks.
After the expiration of this time, the berry syrup, which has been brewed, is poured and mixed with the brewer's infusion. Pour into bottles, cork, put for 3 weeks in a dark cool room.
Tincture on the red currant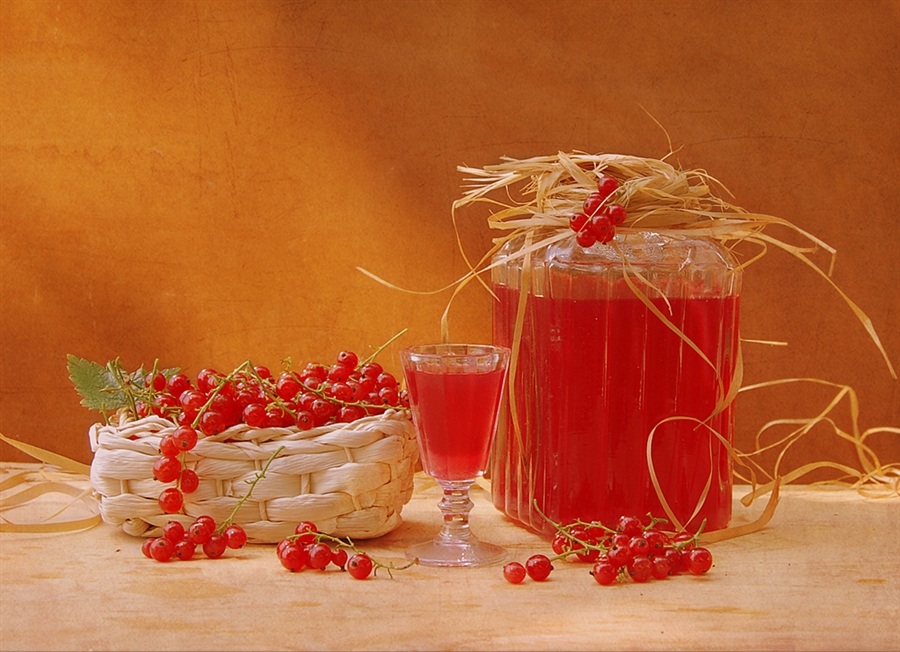 Ingredients:
500 ml of a good moonshine;
0.1 kg of granulated sugar;
0.2 kg of currant red.
Time of manufacturing: 15 minutes, in 100 grams - 164 kcal.
How to cook?
Prepare berries in advance, wash, peel off the twigs and spread on a towel so that the water absorbs.
Put the currant in a clean glass container, add sugar.
Pour in the moonshine, shake the container. Put for 14 days in a room in which not only cool, but also dark. These 2 weeks the bottle should be shaken periodically. Subsequently, the tincture is stored in the refrigerator.
Semisweet tincture on mountain ash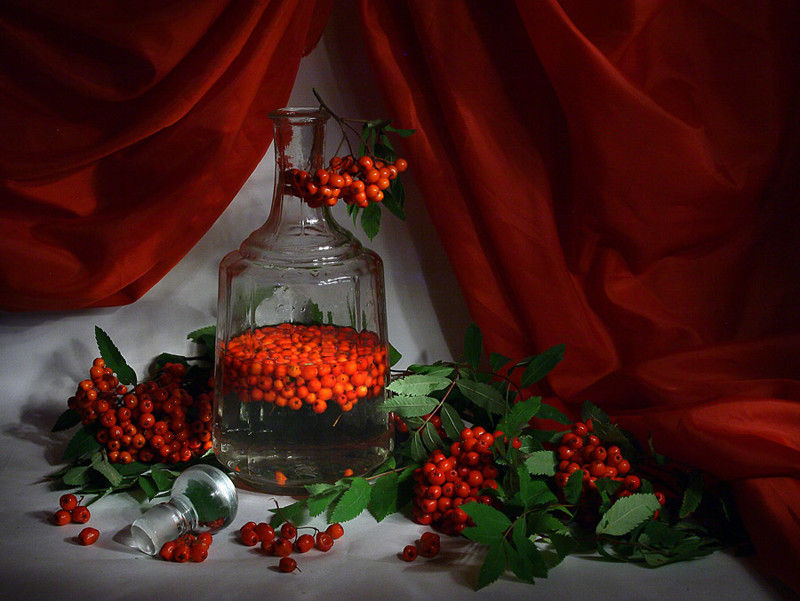 It will require:
sugar - 25 grams;
on the tip of a knife - citric acid;
rowan - 2 brushes;
moonshine - 0,5 liters.
The preparation of tinctures will take only 20 minutes, the calorific value will not exceed 160 kcal.
How to cook?
First remove the berries of mountain ash from the brush, rinse with water.
Then pour a liter of water into the pan, cover with berries, put on fire, when the liquid boils, the rowan should be taken out and sprinkled with sugar, citric acid, and thoroughly mixed.
Put the mountain ash in a clean container, pour in moonshine. Close tightly, press for 6 days.
Tincture on tarhuna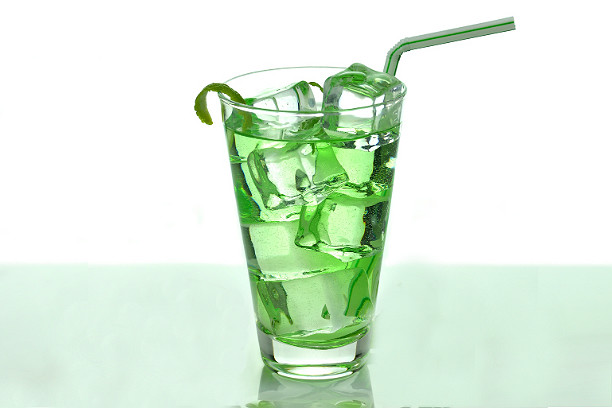 It will take:
fresh greens of tarragon - 50 grams;
0.5 liters of moonshine;
1 teaspoon of granulated sugar.
Time is 25 minutes, calories 170 kcal.
How to cook?
Cut through the branches of the tarhuna, removing the leafless leaves. Rinse with water, spread a thin layer on the towel. When the leaves dry, finely chop them, put them in a cup, sprinkle with sugar, mix. Tighten the film with a tarragon. To extract the juice, you need to hold the leaves under the film for 20 minutes.
Transfer the leaves of the tarragon into a bottle, pour in the moonshine, close and shake.
Infuse the drink for 3 days, periodically shake.
Ready tincture to drain. It is important that the strainer be small, otherwise the drink will turn cloudy.
Tincture on Kalina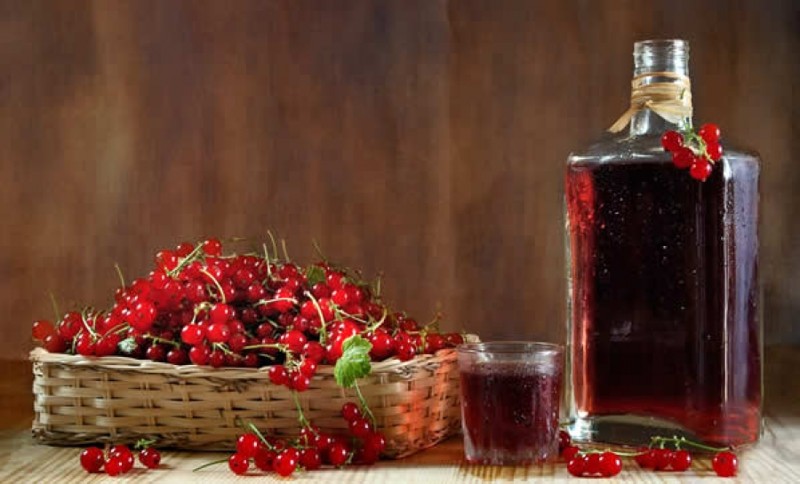 It will take:
500 grams of viburnum;
500 ml of moonshine.
To prepare the tincture, it takes time - 25 minutes, energy value - 170 kcal.
How to cook?
To sort out the berries of the viburnum, and small brushes are allowed to be used whole, but, and with large brushes it will be necessary to remove berries. Fold the prepared berries in a colander, rinse with water, spread on a cotton towel, leave to dry.
In a prepared clean and dried up canister to fold berries of Kalina, fill only half. It is not necessary to compact it. Pour the berries with moonshine so that they are completely in the liquid.
To obtain intense (bright) infusion, it is possible to fill the potassium tank not halfway, but fill it completely, but it should be borne in mind that these berries have a rich medicinal flavor.
Closed tight container for 21 days put in a warm place.
Tincture on hot pepper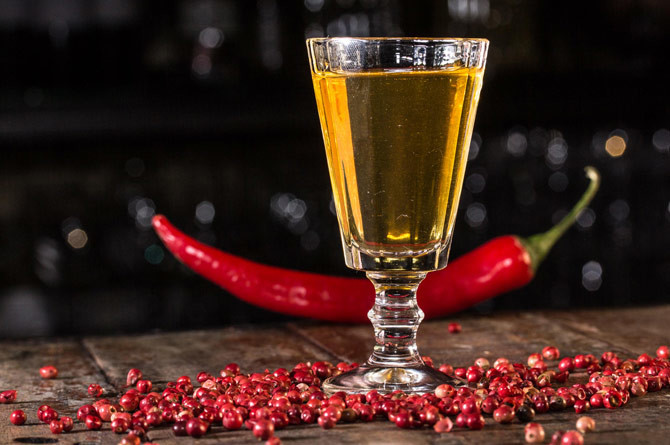 It will take:
red hot pepper - 1 large pod;
0.5 liters of homemade moonshine;
pepper spicy (red) - 1 small pod.
Bitter tincture can be cooked for 35 minutes, the amount of calories - 195 kcal.
How to cook?
Cut a large hot pepper, remove the seeds, and chop the flesh into random pieces.
Fold in a glass jar and pour moonshine.
The bank is tightly closed, left in the kitchen, it will be enough for 5 hours.
Then strain the moonshine through gauze or sieve.
Sharp pepper (small) and dry with a paper towel.
In the whole form put in a bottle, pour in moonshine, tightly twist.
Infuse for 5 to 7 days.
Horseradish tincture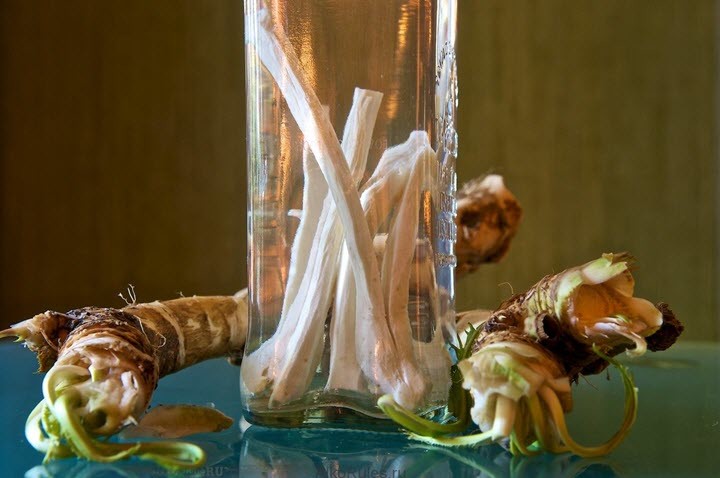 It will take:
moonshine - 0,5 l;
10 grams - natural honey;
fresh horseradish root - 10 cm;
1 lemon.
Cooking time: 25 minutes. Quantity of calories: 180 kcal.
How to cook?
The root of the horseradish is washed, peeled, and chopped into 4 mm circles.
Shredded root, honey and lemon juice (2 teaspoons) put in a glass container, pour in some moonshine. Stir well to dissolve the honey.
Add the rest of the moonshine. Close the container with a stopper (lid). Insist 4 days, from time to time shake the bottle (jar). Through the gauze cloth strain the finished drink into another bottle.
Tincture on walnuts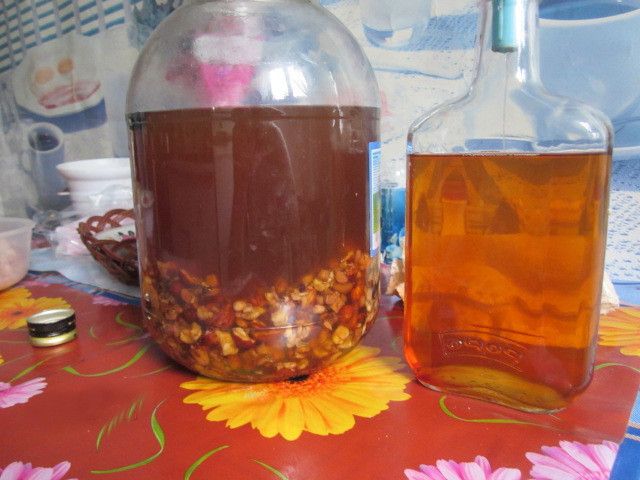 One of the traditionally favorite is a tincture on walnuts.
In the production of such tinctures, you can use both nuts themselves and its septums.
The use of partitions will only improve the final qualities of the tincture, since it is known that the partitions contain a large number of amino acids and nutrients.
The raw materials are taken in the following proportions:
1 liter of moonshine
1 tbsp. dry partitions or 1 tbsp. nuts
How to cook?
The resulting mixture should be kept in a dark warm place.
Noticeable changes will appear in the tincture the very next day.
The color will turn brownish, with each day more and more resembling cognac.
To get a characteristic and rich taste, tincture should be kept for at least a month. Then your works will not be in vain.
Tincture will acquire a beautiful color and pleasant taste, with a slight note of characteristic bitterness.
For the final use of the tincture, it is better to filter it.
As a filter, you can use ordinary gauze with a cotton stratum.
Tincture on oak bark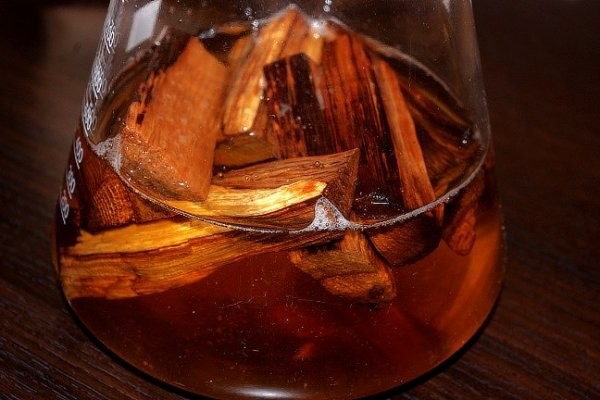 Another tincture, which by its smell resembles cognac, is a tincture on moonshine on oak bark.
The recipe for making such a tincture is simple, and giving the drink a variety of notes will help herbs and spices, which can be added to your liking.
How to cook?
The basis of the recipe is this: for 2 liters of home alcohol you need 2 tbsp. l. dry crushed oak bark (you can buy at the pharmacy).
To soften the bitter tincture will help 1/2 st. l. honey.
Further the process of preparation is standard: moonshine is mixed in containers (for example, a bottle or a jar) with oak bark, honey and other ingredients, if any.
All thoroughly mixed, covered with a stopper or lid and placed in a dark warm place.
In the absence of a warm place, room temperature is also suitable.
Insist tincture from 2 weeks to a month, periodically mixing the contents.
The finished product is run through a filter or several filters, cleaning the impurities of the bark.
Once the purity and transparency of the tincture suits you, you can use it for its intended purpose.
Tincture, cooked according to this recipe, will have a sharp smell and a bitter taste that not everyone can like.
To do this, they also muffle the characteristic aroma of the oak bark with various spices and herbs.
In this case, any spicy herbs and spices go: cloves, linden, oregano, cinnamon or coriander.
Home tincture on the bark of oak on moonshine is easy to prepare, which does not prevent it from having an excellent taste and smell. And it's not difficult to do it.
Herbal tincture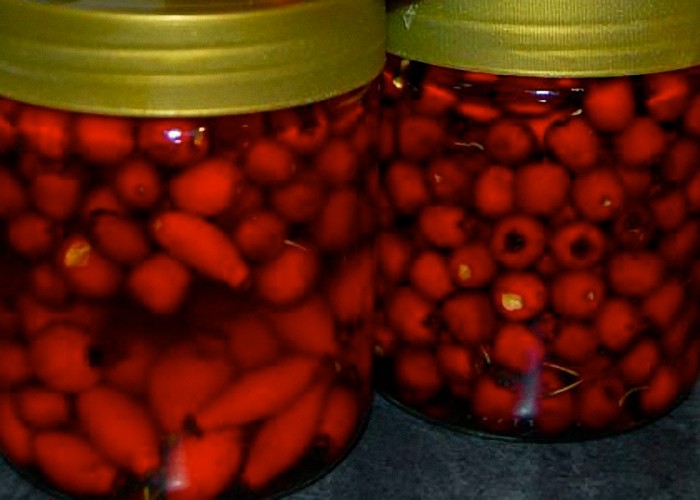 Rosehip is a source of vitamins, this is a truth that does not require proof.
That is why the spectrum of the dog rose is so wide.
It makes broths and teas, tinctures, and much more.
Home tinctures of rose hips on home-brew are also widely loved and popular.
In addition to medicinal properties, rose hips have sourish-sweet taste and pleasant aroma.
And this, in turn, gives the drink a unique taste. .
Mixing the same wild rose with other herbs and fruits, you can get a unique for their taste qualities alcoholic drink
How to cook?
The basis of the same tincture from rose hips is simple.
For 200 g dried hips, take 1 liter of alcohol.
Mix, close and hold for 2-4 weeks in a dark place at room temperature.
Ready tincture is filtered and passed through the filter, add sugar or honey to taste.
And that's it! Tincture from the hips on the brew is ready.
But, as in previous versions, the basic recipe for tincture has a pronounced taste and smell.
And this, in turn, not everyone likes.
Therefore, in the tincture on the dog rose add other ingredients to soften and improve the taste and smell.
One of the options tincture is tincture of moonshine on hips with an apple.
In the basic composition and amount is added one medium or large apple.
It can be cut into slices, or left entirely.
For this recipe suitable and dried apples.
Then they should be taken in the same amount as the hips.
The final product can be sweetened if the variety of apples was sour.
Ready tincture can be stored up to five years.
It will be a wonderful decoration for any table.
Tincture on pine nuts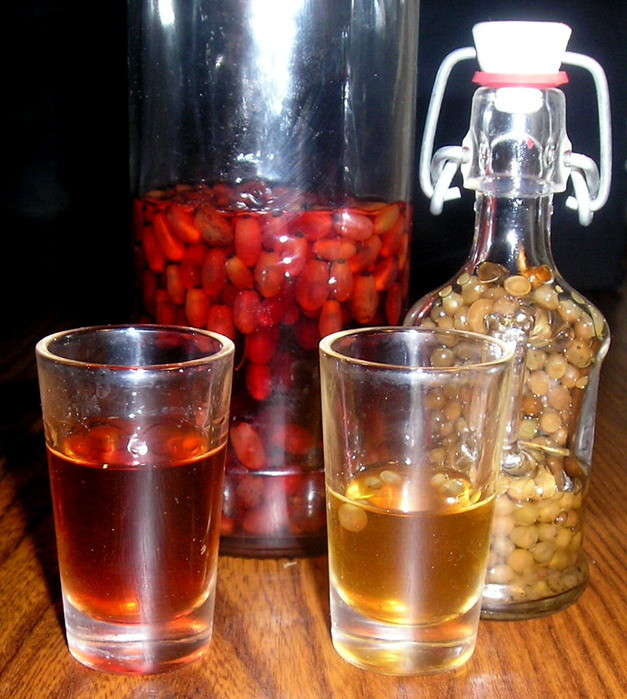 There is another recipe for moonshine, about which, for some reason, very little is said and written - tincture on sea-buckthorn.
How to cook?
About him I know from my grandmother, the whole process will describe how she did.
The berries of sea-buckthorn are crushed, and the juice is collected, which goes for jam, jelly and other delicacies.
From the skins of sea-buckthorn berries oil is choked. Its production is a separate topic.
In the end, there remains cake.
So you can dry it to use later.
And you can immediately take to prepare a unique tincture.
There was no exact preparation recipe, but 1.5 measure of moonshine was taken for 1 measure of sea-buckthorn cake (for example, a liter pot).
Everything was kept in a warm dark place for at least a month.
A month later the tincture on the sea-buckthorn was ready.
For ingestion, you could add other berries to give flavor and color.
However, this tincture was often used as an excellent rubbing for the prevention and treatment of many colds.
Mint tincture from moonshine
Helpful Tips
The bitter berry of viburnum is collected for infusions after the first frosts. At this time it acquires a sweetish taste. Tincture on the viburnum is used for colds and hypertension.
When using dried plants and herbs, they are poured with an alcoholic beverage, usually 20 days are insisted.
For fresh berries or fruits, soak is used - they prepare juice from the ingredients and pour in a strong moonshine. Insist up to 6 months, at room temperature.
In bitter tinctures to improve the taste put a little sugar. It can be replaced with an extract of licorice (just a few drops).
For the preparation of tinctures, with the exception of citrus fruits, all crushed ingredients are poured into the vodka and allowed to stand for 2 weeks, in a warm room, often shaking.
Contraindications
Tinctures on moonshine - one of the old drinks, and in the misfortunes of alcoholics these drinks are innocent. With the right attitude towards them, they can heal and delight. The main thing is to remember that homemade liqueurs are not drunk on home-brewing in order to get intoxicated, but in order to feel the taste of a drink in which berries, fruits or herbs are placed.
We will confine ourselves only to enumeration of diseases in which it is strictly forbidden to take moonshine liquors, because they can provoke an aggravation :
allergic diseases;
cardiovascular diseases;
gastritis and ulcer (in these diseases it is especially dangerous to use tinctures);
any pathology of the liver;
viral hepatitis.
Despite the huge number of home-made recipes, almost all cooking principles are common.
Alcoholic base, aromatic components and sugar are used in different combinations. Therefore, at home, you can easily cook and even come up with many different tinctures.
Via fishki.net & wiki