How does mint affect human health? Doctors recommend it!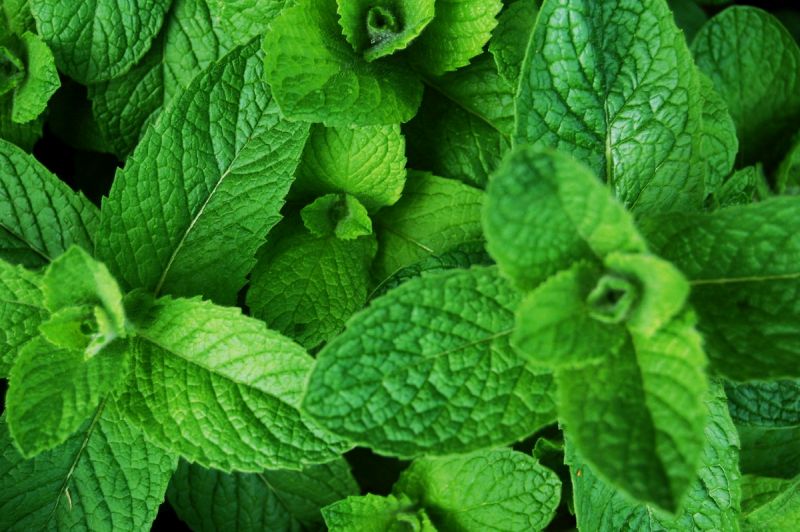 Peppermint (lat. Méntha) is a genus of plants of the family Lamiaceae. All species are highly aromatic, most of them contain a lot of menthol.
Mint plants differ significantly in chemical composition of volatile substances formed during metabolism - metabolites, the so-called LAV, which is manifested in a different smell and in a different composition of essential oils.
What is the use of mint? All about peppermint: beneficial properties for the heart, nervous system, sleep disturbances. Also, what is the use of mint for women for cosmetic purposes.
🌿 Mint recommended for stress and to improve sleep quality
We all know mint as a sedative that can effectively combat stress and have a beneficial effect on sleep quality.
However, miraculous mint is not limited to the sedative properties.
Mint is also an excellent sedative. Moreover, it is useful not only to take drugs or drinks with mint inside. Even the smell of mint helps to calm down and relax. It is also useful to drink mint to strengthen the whole body, as well as for beauty and weight loss, as evidenced by various studies of scientists proving the usefulness of this fragrant plant.
With regular use of mint:
sleep improves;
Depression and stress are faster;
mood remains good longer.
🌿 Peppermint stimulates weight loss and improves digestion
Scientists have proved that mint will not only relieve irritability and nervousness, but also help to lose weight.
This is evidenced by research results that have proven that by increasing muscle energy metabolism, mint can stimulate weight loss.
In addition, mint helps to reduce the feeling of the head and reduce the amount of calories consumed.
Thanks to mint:
the treatment of diseases of the digestive system is accelerated;
go through inflammatory processes;
nausea disappears;
digestion improves.
It is also important to note that mint is an excellent choleretic agent.
Many dishes and drinks are successfully complemented by mint leaves. The aroma of mint fills the room, and hygiene products often delight with a mint smell.
🌿 Peppermint holds gentle detox
With the help of mint, you can cleanse the body of unnecessary toxins and toxins.
Flavored peppermint petals help improve digestion, eliminate nausea, and are also an excellent aid in maintaining a healthy body during a diet, filling up the lack of nutrients and vitamins.
In addition, mint has a choleretic and diuretic effect.
🌿 Mint improves skin condition
Mint has a beneficial effect on the skin and helps to increase its elasticity and softness.
In addition, the beneficial substances included in the plant make the skin moisturized, and the external use of peppermint cleanses, relieves inflammation and has antiseptic properties that can eliminate acne and heal wounds.
🌿 Mint disinfects
Peppermint is a very useful and disinfectant for teeth and gums.
Thanks to the plant, inflammation passes, the breath freshens.
🌿 Mint improves productivity
One of the studies of scientists found that even just smelling mint can increase motivation and recharge your batteries.
In particular, experts argue that the smell of mint can be useful to increase alertness, motivation and productivity.
Scientists came to such conclusions after conducting a study that showed that the smell of mint can contribute to a general increase in attentiveness, as a result of which the participants in the experiment stay focused on the task longer and show better results.
🌿 Mint strengthens hair and stimulates its growth
Peppermint contains vitamins A, C and B12, the biologically active ingredient menthol and other nutrients that are beneficial not only for health but also for the beauty of our hair.
Mint effectively cleanses hair and scalp from impurities, has a calming and bactericidal effect, eliminating skin irritation, strengthens hair and eliminates brittleness.
In addition, the menthol contained in mint enhances blood microcirculation, as a result of which hair growth is activated, and the hair follicles receive more nutrients.
🌿 What is the use of mint for the heart and blood vessels
Mint is a vasodilator. In addition, it has a pronounced stimulating effect on the cardiovascular system.
But before consuming peppermint in large quantities, be sure to consult a cardiologist.
Thanks to peppermint:
pain syndromes and spasms in the area of ​​the heart muscle are relieved;
heart rate normalizes;
blood circulation is normalized.
It is not surprising that mint is often included in various medications for the heart.
🌿 What is the use of mint for women
In fact, mint is very beneficial for the skin - both women and men. Because peppermint is very widely used in cosmetology.
It is part of many creams, masks and especially shampoos.
Being an active component of the last mint helps to combat dry scalp, itching and dandruff.
the skin is cleansed;
skin cell regeneration is accelerated;
itching and irritation disappears;
dark circles under the eyes disappear.
In addition, mint has a tonic effect on the skin of any type. Not surprisingly, many women have cosmetics enriched with peppermint.
🌿 Peppermint helps
Peppermint helps in the treatment of:
colds and bronchopulmonary diseases;
motion sickness;
rheumatism;
arthritis;
gout.
❌ Contraindications to the use of mint
Firstly, mint should not be consumed by children under three years of age.
Secondly, peppermint should be used with caution when:
varicose veins;
reduced pressure;
driving a car for long distances.
Peppermint is not only a beautiful, but also a very useful plant. The main thing is to use it wisely, and then the beneficial properties of mint will only be beneficial. Be healthy and beautiful!
Mint (lat.Méntha)

Peppermint is a fairly popular plant that plays an important role in the life of almost every person. Many dishes and drinks are successfully complemented by mint leaves. The aroma of mint often fills the room. Yes, and many hygiene products are often pleasing with a mint smell.
The name of the genus comes from the name of the nymph Minfa (or Minta), the goddess of Mount Mente in Elis, the beloved god of the underworld of Hades. Hades Persephone's wife turned her into a plant - allspice.
Mint plants are widely used: in food preparation, in cosmetics - Japanese mint (Mentha japonica) and peppermint (Mentha piperita); in herbal medicine and aromatherapy - peppermint, mint (Mentha aquatica), mint (Mentha pulegium); in pharmacology - mainly peppermint.
Mint can be grown even at home - in a pot!
Via novosti-n.org & fountravel.ru & wiki