Micro-Green: Profitability and practical advice for farmers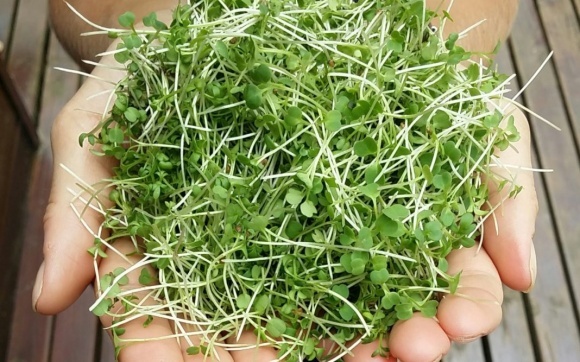 Now in a number of industries, such as vegetable growing, hothouse economy, public catering, etc., a new trend is rapidly being discussed - micro-green. Its advantages include particularly delicate taste properties and the fact that plants are able to develop without fertilizers, that is, only at the expense of their own stocks in the seeds.
Vadim Dudka, the director of the firm "AgroAnaliz", that in Kakhovka, and a consultant on agrotechnology, well-known among the vegetable growers, shared his experience of growing micro-plants.
What concerns microdating, and what does not? Vadim Dudka believes that only young plants in the phase of the cotyledon - the first real leaf - should be called microgreen. "In fact, this technology is not cultivation, but distillation," he says.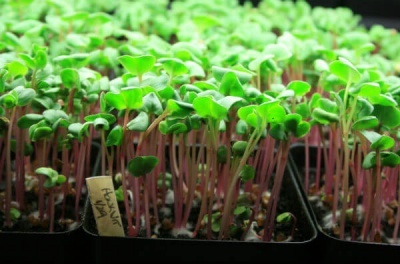 Cultures that are germinated by this principle are usually divided into 3 groups: spicy-flavoring, ornamental-deciduous and fillers. The most popular representative of the second type is Lolla Ross salad, which has a rich color and is famous not only for its excellent taste, but also for its attractive appearance. As for the third group - fillers - they are used so that the taste of the dishes is not too harsh. Most often as fillers are used alfalfa, peas, beans and the like. Micro-ash technology is increasingly being tested on new crops, such as sunflower and corn.
In recent years, the fashion for micro-greenery has significantly increased in Ukraine. First of all - due to its useful properties, because plant sprouts contain a lot of nutrients, vitamins and minerals. Promotes the popularity of micro-plantation and the ease and speed of growing not only on plantations, but also at home. Vadim Dudka advises everyone who has ventured to grow micro-green, first of all to choose not the etched seeds. That is, in the case of imported seeds, which come here only pickled, - take only organic.
It is best suited for micro-settlement, according to V. Dudka, a substrate of neutral reaction - such as coconut fiber or peat (the latter may be slightly acidic). And only small peat should be used. The thickness of the substrate layer in which the sowing is carried out should be about 1-1.5 cm.
As for the requirements for sowing, then different cultures are different. It is better not to sprinkle seeds on top of the substrate (for example, watercress), secondly - on the contrary, it should be covered by 3-4 mm (lettuce, beets, alfalfa in this case give more amicable shoots), for the third, this moment has no special significance for example, mustard).
It is also important to monitor the growing temperature. According to Dudka, this is a key success factor.
Microgreen requires higher temperatures in the greenhouse than conventional crops. Thus, a 2 ° C rise in temperature can accelerate the duration of forcing by 2-8 days, and stretching is micro-heating only for the benefit. Sensitive to the temperature change is the arugula arborea, the forcing period of which is shortened from 30 to 22 days for the increase of heat from 18 ° C to 20 ° C.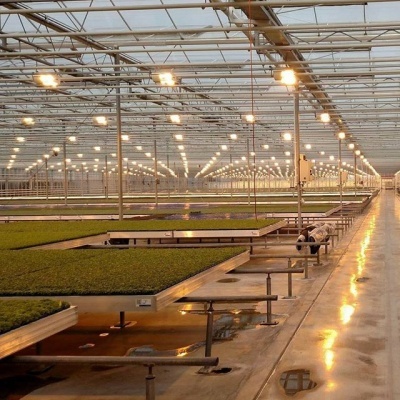 The optimum temperature for micro-settlement also depends on the phase of development of the plant. So, in the germination phase, cold-resistant micro-green (salads, mustard, beets, onions, chard, dill) develops well at a temperature of 17-19 ° C, and in the forcing phase - 22-25 ° C in daytime and 17-19 ° C at night . Heat-loving greens (alfalfa, beans, watercress) are grown at a temperature of 20-22 ° C in the germination phase and 22-25 ° C and 17-20 ° C, respectively, in the forcing phase.
As for the lighting, V. Dudka believes that it does not fit all cultures, and quite often does not pay off at all. An exception can be unless the cultivation in several tiers, or when the greenhouse was installed earlier. Also, backlighting makes sense when the crop needs to be obtained by a certain date, or in order for the plants to turn green before selling.
From his experience, Vadim Dudka says that it is better to grow micro-green in trays made of food plastic. True, they still need to make holes for drainage - at least 5 pcs tray at least 5 mm wide. He grew micro-green and in cassettes for 500 or 160 cells. As the expert says, there is no problem with drainage in this case. Yes, the yield is then less, but the greenery itself is much juicier and thicker.
In industrial production, for quick (within 10-15 min) cooling of the micro-district V. Dudka advises using a vacuum cooler, because the plant tissue is very tender. For beginners, in his opinion, enough and refrigerator. In this case, he recommends placing the trays in the refrigerator before cutting, cooling them to + 4 ° C, moistening, cutting and packing the products. "Under such conditions, the plants are kept fresh up to 7 days," the expert says. He also notes that it is very important to choose the right moment for cutting: you can not override micro-greening, because it will quickly turn yellow and wither.
The season of micro-settlement, as V. Dudka said, lasts from October to April. An outstanding role in selling products is advertising. The expert notes that the Internet should become the main sales channel, and this is quite logical, given the globalization.
The production location should be as close to the city as possible, because for this commodity group logistics plays a key role. The lots are usually small - up to 200-300 kg per day at best, so the delivery is quite troublesome. The accompanying product, on the recommendation of Vadim Dudka, may become vitrass, which is also now becoming fashionable.
It is worth using greenhouses with racks and sprayers (micro-irrigation), which will be switched on 4-6 times a day. Automation costs about $ 20. As noted by Vadim Dudka. subject to compliance with all the rules of production technology, you can do without refrigerators for finished products.
Costs and profitability of the farm in 10 acres (calculations by Agroanaliz):
| | |
| --- | --- |
| Amortization of the structure of the greenhouse | $ 2,600 |
| Amortization of the heating and watering system | $ 660 |
| Heating (October-April) | $ 6,480 |
| Seeds (assortment) | $ 7,700 |
| Water | $ 46 |
| Substrate | $ 480 |
| Trays for cultivation | $ 3 110 |
| Trays for packing | $ 3 110 |
| Salary | $ 2,100 |
| Logistics | $ 6,220 |
| Advertising | $ 900 |
| Other costs | $ 450 |
| TOTAL | $ 33,856 |
| Gross harvest, kg | 6300 |
| Sales price, $ / kg | $ 10 |
| Revenues | $ 63,000 |
| Profit | $ 29,144 |
| Profitability | 86% |
Margarita Malinovskaya Via propozitsiya.com