Using Data Saver on iPhone, iPad, and iPod touch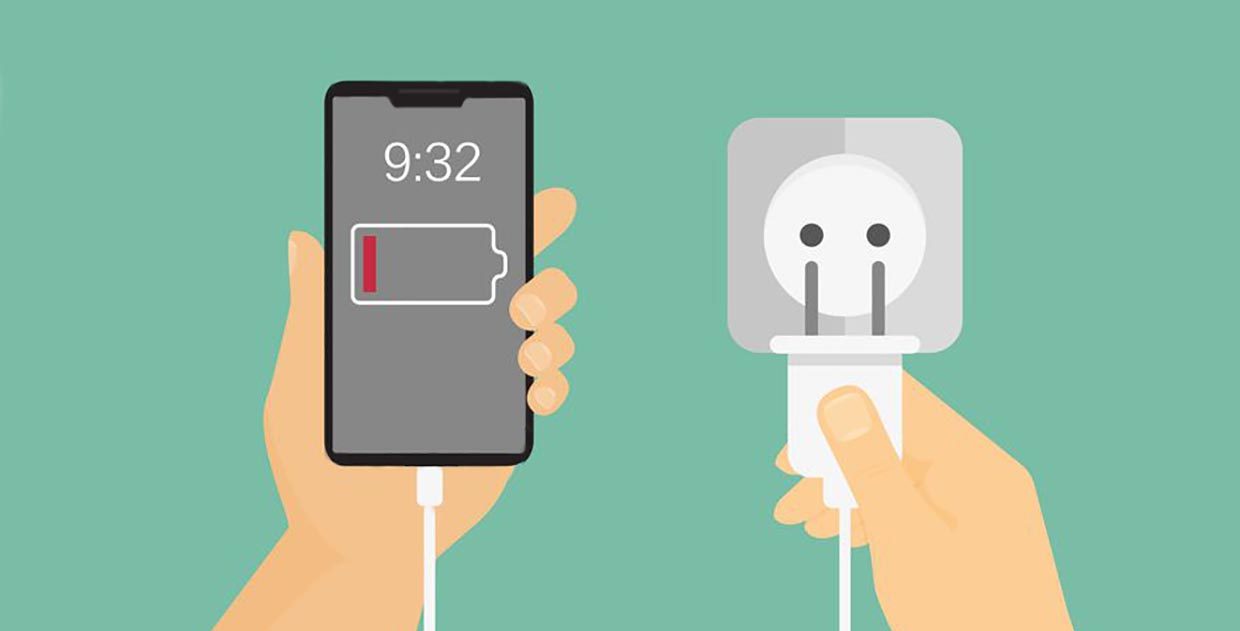 Power Saving Mode - It allows you to extend the battery life of your iPhone by disabling certain system features and reducing performance
In iOS 13, turn on data saver mode to limit the transfer of network data in the background to save cellular and Wi-Fi traffic.
You may need to enable the "Data Saving" mode if your operator or tariff plan provides for data transfer restriction or you are in an area with a low communication speed.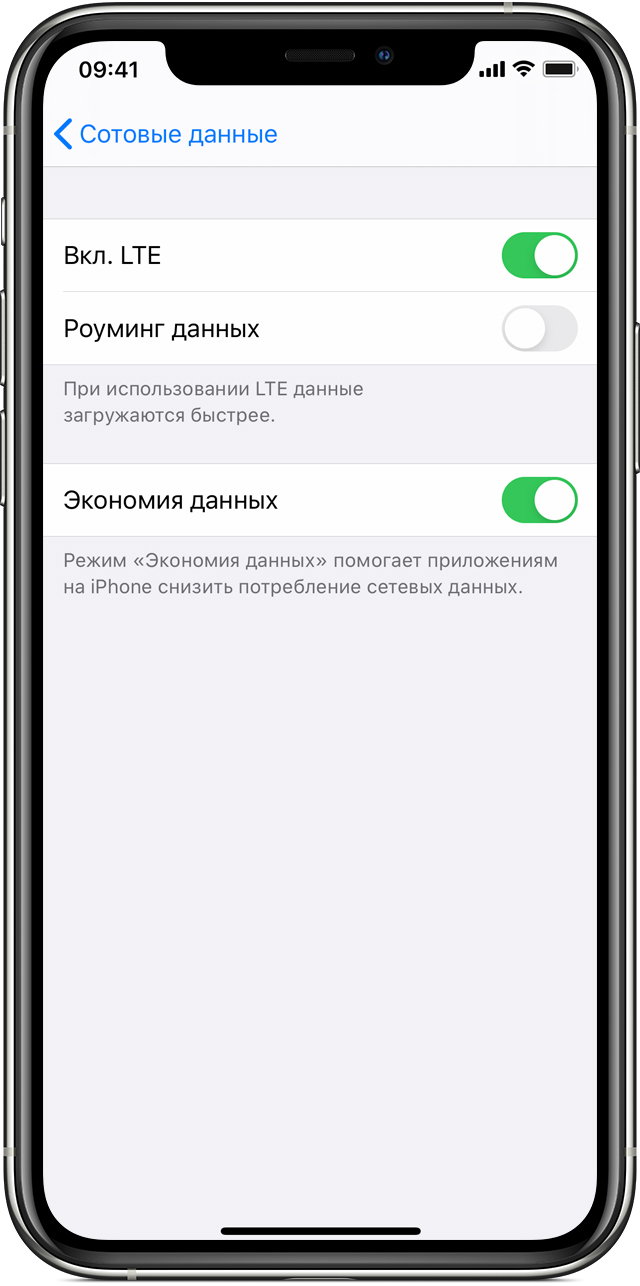 How to enable data saving mode
The "Data Saving" mode can be turned on separately for cellular communications and Wi-Fi.
cellular
Open the Settings program.
Click Cellular> Data Options.
Turn on Data Saver.
If you use a device with two SIM cards, you can enable the "Data Saver" mode for each.
Wifi
Open the Settings program.
Click Wi-Fi.
Click the details button next to the name of the connected Wi-Fi network.
Turn on Data Saver.
The settings of the "Data Saving" mode for each Wi-Fi network are synchronized between all your devices via iCloud.
What happens in Data Saver mode?

As you can see from the description, turning on data saving mode will turn off automatic synchronization and updates: for example, new versions of the application from the App Store will not be downloaded, photos taken to the cloud will be uploaded and iCloud synchronization will not work (including automatic backups). In general, in some situations this will really save traffic and also allow you to use the slower Internet more comfortably, so this function is not without meaning. Of course, it is quite possible that in the future this option will save traffic in applications from third-party publishers compatible with it: for example, when it is turned on, worse quality images will be downloaded. But so far, it only works with automatic updates and synchronizations.
Programs use data transfer restriction in Data Saving mode in different ways. Here's what happens next:
If programs are not used, data is not transmitted over the network.
Background software updates are disabled.
The quality of the content when streaming is reduced.
Automatic downloads and backups are disabled.
Services updates, such as iCloud Photos, are paused.
Built-in iOS programs and services work in the "Data Saving" mode as follows.
App Store: automatic video playback, automatic download and update are disabled.
Music: Auto download and high quality streaming are disabled.
Podcasts: Source updates are reduced and releases can only be downloaded over Wi-Fi.
News: article preloading is disabled.
iCloud: Updates are paused, automatic backups and the iCloud Photos update are disabled.
FaceTime: Optimize video bitrate for reduced bandwidth.
Via apple.com
How to extend iPhone battery life on any iOS
Modern smartphones are simply overwhelmed with chips, options and features. Many of them are practically not used by most users, but at the same time they consume battery power, reducing the autonomy of the gadget.
Disabling Wi-Fi, Bluetooth or LTE is unacceptable today, but correctly configuring or temporarily disabling other system parameters is quite realistic.
Here are a few steps that can significantly increase the battery life of your smartphone. For some, the device will begin to survive stably until the end of the day, and for some it will last a couple of days without recharging.
Step number 1. Set up notifications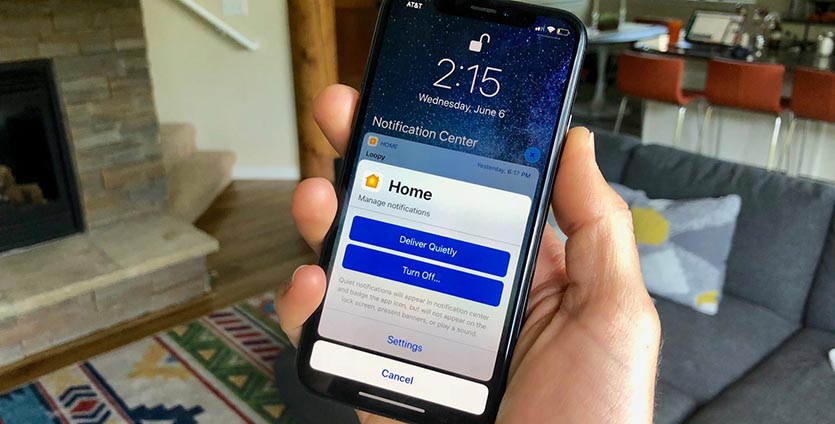 One of the main consumers of charge is notifications. With a large number of messages, the iPhone display may not go out, which does not affect the autonomy of the smartphone in the best way.
You can by old habit go to the Settings - Notifications menu and go through the list of applications, disabling unnecessary ones, or you can use the new iOS 12 chip.
In order not to view the list of tens or hundreds of applications, it is enough to manage new incoming notifications directly from the lock screen.
In this case, the side swipe brings up an additional menu with actions from which you can temporarily silence notifications or completely disable them.
After a few days of active monitoring and control, messages from unnecessary applications will be disconnected.
Step number 2. Turn off geolocation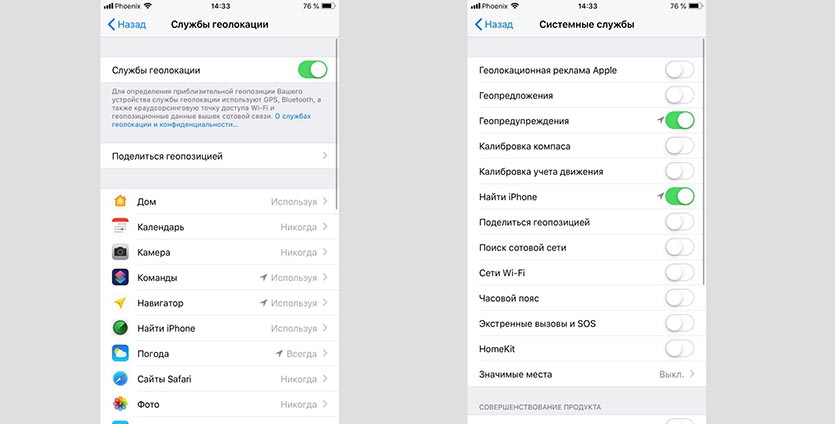 Another gluttonous chip is GPS. Positioning is increasingly becoming a basic option in any game or program. So they are trying to follow us, offering ads suitable for the region.
Any application at the first start asks permission to determine the location, if you accidentally were allowed to use GPS - go to Settings - Privacy - Location Services and disable access for most applications.
Leave should map services, weather applications and the camera (if you put tags on the photo). Most other programs do not need your location data at all.
Do not forget to look in the System Services section. The most important feature here is Find iPhone, the rest of the switches are customizable.
Step number 3. Adjust content update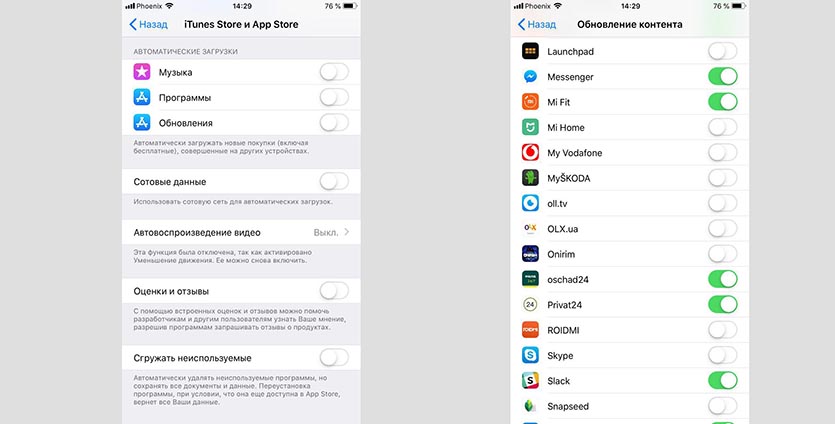 Background processes sometimes consume smartphone energy no less than active programs and games. This is especially noticeable on a smartphone with hundreds of applications and services.
To get started, go to Settings - iTunes Store and App Store. Here you can turn off the automatic downloading of music, programs, books and updates for applications.
Then we follow the path Settings - Basic - Update content and disable access for most applications.
Do not forget to leave the background update turned on for mail applications, instant messengers and other programs that really need it.
Step number 4. Turn off visual effects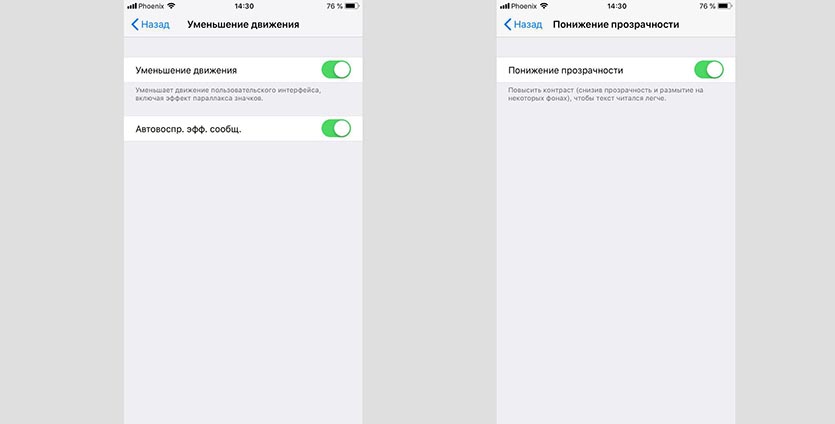 Since the release of iOS 7, this option has remained unchanged. The switch along the path Settings - Basic - Universal Access - Reducing movement allows you to remove smooth transitions, icon movements, animations and other decorations of the system.
The smartphone will visually work faster, this is especially noticeable on older iPhone models.
Do not forget about the switch Decrease transparency. This is another great way to speed up the gadget a bit and reduce the load on the battery.
Step number 5. Reduce auto-lock time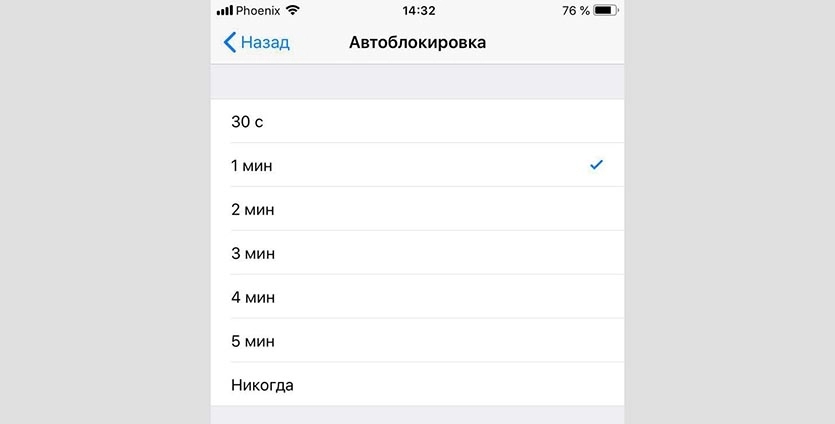 Another bearded, but very effective advice. It is especially useful for those who practically do not block the smartphone with a side button, but leave the device, allowing it to go into standby mode on its own.
In the Settings - Screen and Brightness - Auto Lock menu, you can reduce the current value to a minute or even 30 seconds. For most users this will be enough.
Step number 6. Disable Siri Quick Start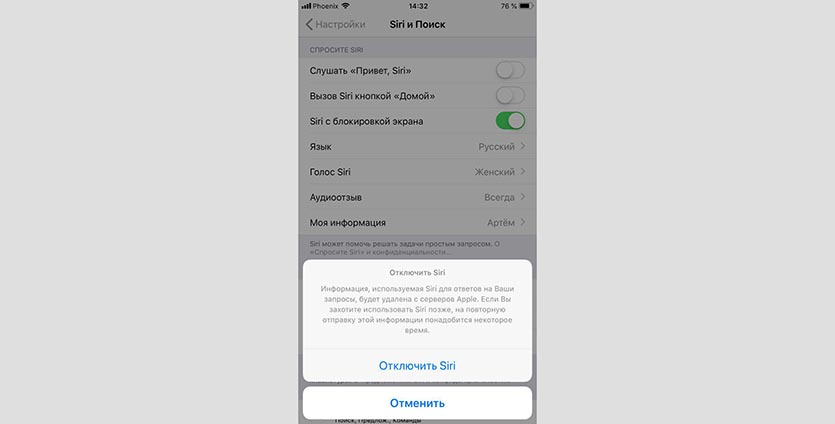 One of the features of the voice assistant allows you to activate it with a key phrase without touching the smartphone. It's fun and fun, but not everyone takes advantage of this opportunity.
At this time, a special module monitors what is happening and waits for the passphrase, consuming battery power.
We go to the Settings - Siri and Search section and turn off Listen to "Hello, Siri".
The voice assistant can be conveniently launched using the Apple Watch, HomePod, AirPods, CarPlay system, and Siri is also on the Mac so as not to drive the smartphone in vain.
Step number 7. We increase the interval for checking mail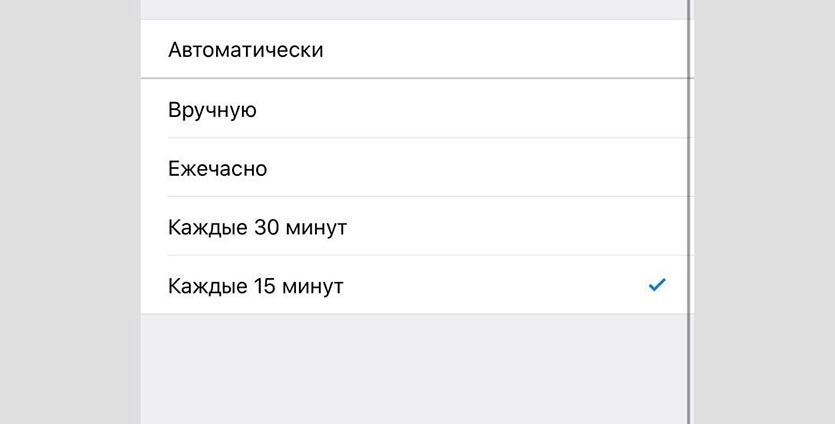 Now more and more communication is conducted through messengers, mail has faded into the background. It's time to increase the interval for checking emails to save a little battery power.
On the way Settings - Passwords and accounts - Data loading, you can change the interval to 15, 30 or 60 minutes.
You can even check mail manually when the application starts.
Step number 8. Disable physical activity tracking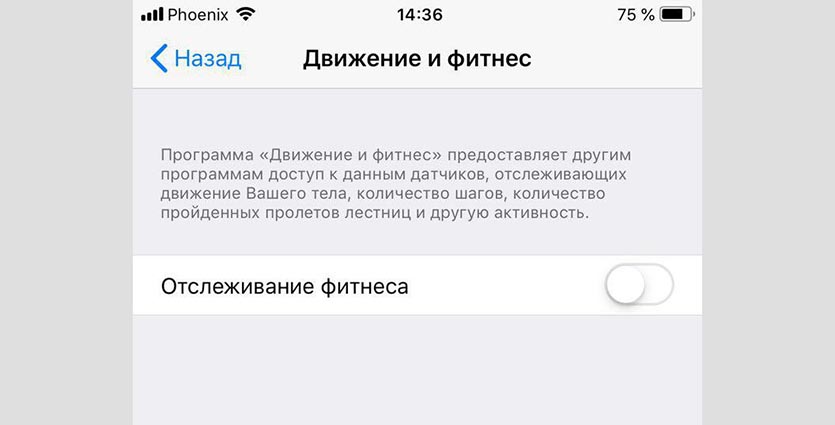 Are your iPhone counting steps and distance traveled surprised? Chip Fitness tracking along the path Settings - Privacy - Movement and fitness can turn a smartphone into a kind of pedometer.
This is used for some applications and statistics collection.
Everyone for such purposes has long had an Apple Watch or some kind of Mi Band. Feel free to turn off the chip to save power.
Step number 9. Using Screen Time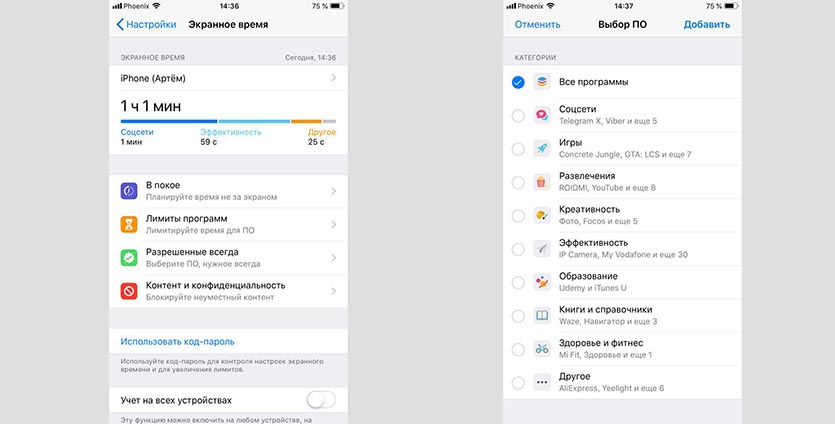 The new iOS 12 feature allows you to track the time spent in applications and set limits for certain programs.
This is done for self-control and is designed for responsible users.
We turn on the control system in the Settings - Screen Time menu and continue to use the iPhone. On Sunday we will receive a report on the time spent with the smartphone and the applications used for this.
We draw the appropriate conclusions and set a restriction on the use of the most addictive applications in the section Program limits.
So the system will notify about excessive use of the gadget, and we, putting the smartphone aside, will extend the battery life.
Step number 10. Configure Do Not Disturb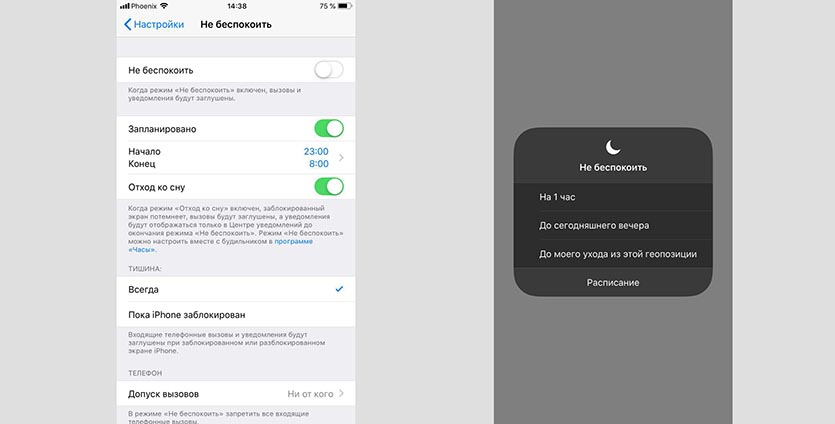 The already useful option in iOS 12 received several cool innovations.
First, turn on the chip on the path Settings - Do Not Disturb and set the time interval at night so that the smartphone blocks notifications during this period.
After that we get used to the new mode feature. A long tap on the Do Not Disturb button in the Control Panel allows you to turn on the mode until the end of the current event in the calendar, before leaving your current position, for an hour or until evening.
So you can immediately cut off a lot of untimely messages and save battery power.
Step number 11. Find the most gluttonous apps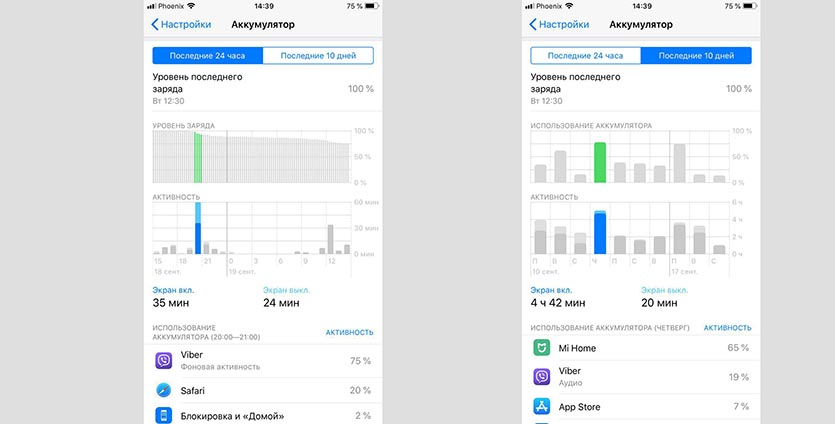 Another innovation in iOS 12 allows you to quickly identify the programs that consume the most battery power.
Battery usage statistics were in the previous version of the system, but a new and convenient graph was added in the new one. It is located in the Settings - Battery menu.
First, select a period of 24 hours or 10 days, after which we can click on the peak values ​​and see which applications consumed the charge at this time.
So it turns out to determine what the smartphone spends the most charge. A heavy messenger can be changed to a more optimized, voracious program, you can find a worthy alternative.
Almost always, you can refuse this or that service in favor of a smartphone more sparing for the battery.
Step number 12. Set the dark wallpaper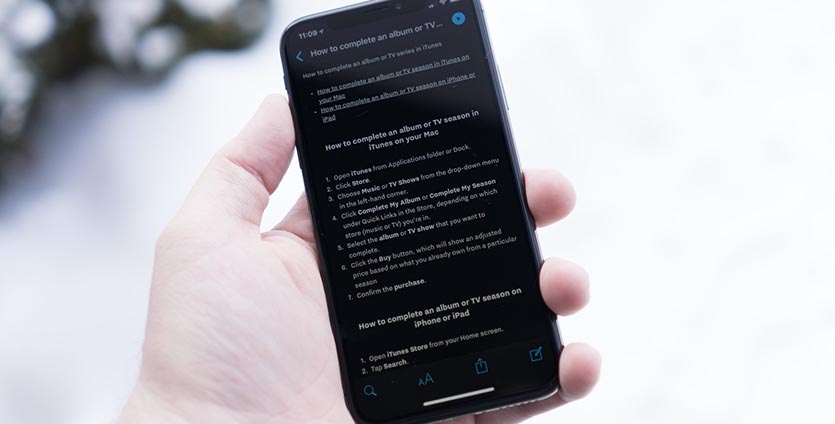 Models iPhone X, XS and XS Max are equipped with modern OLED-matrixes. The more black they display, the less energy they consume.
It has long been proven that wallpapers with a predominance of black on these iPhone models have a positive effect on autonomy.
The most daring may include a semblance of a dark theme - clever inversion mode. There is a switch along the path Settings - Basic - Universal Access - Display Adaptation - Color Inversion.
Using a few tips listed in the article, you can easily extend the battery life of your iPhone by several hours.
Via iphones.ru