Smartsheet online tool for working together in a company with any scale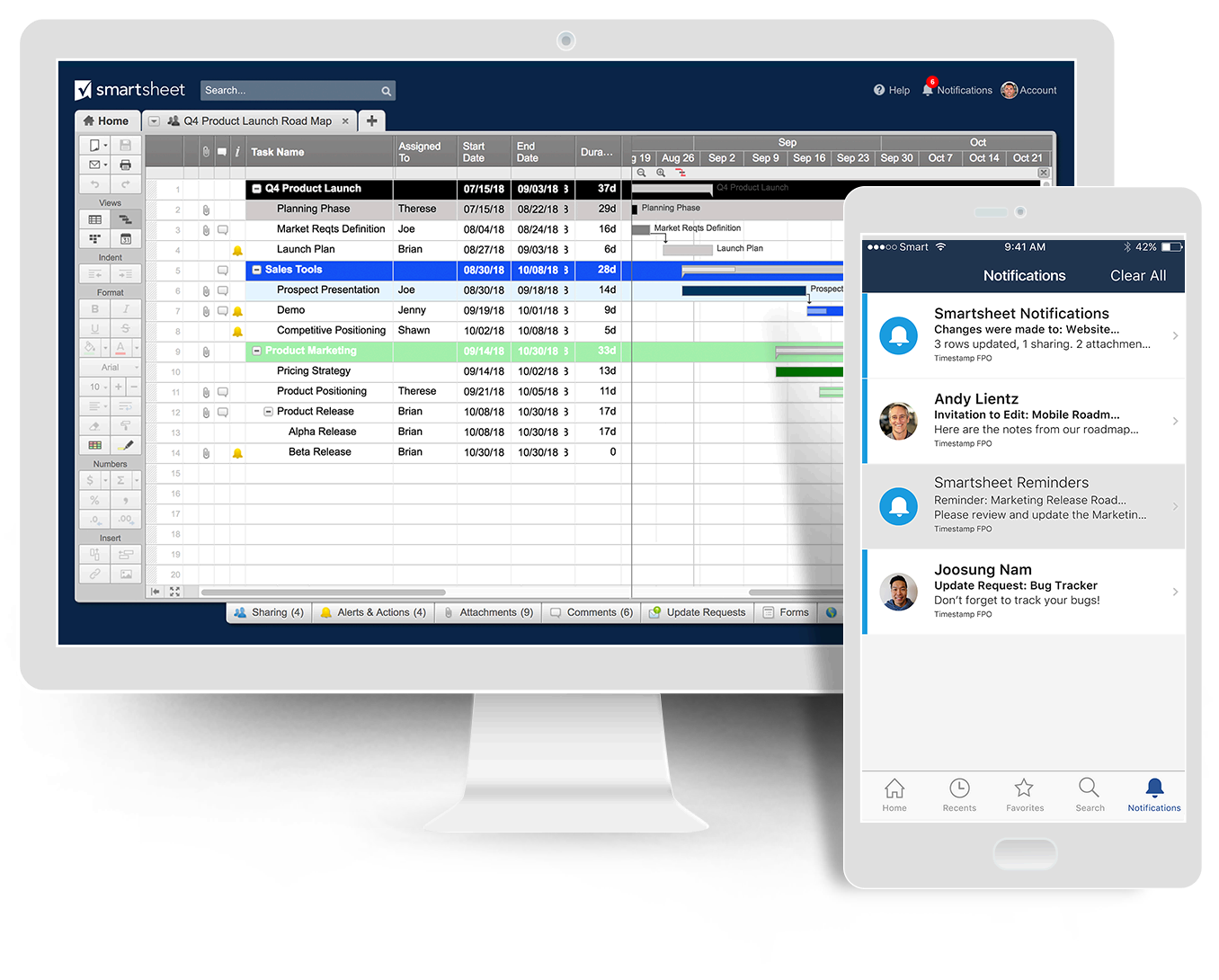 Enhance the flexibility of work - a simple, intuitive interface Smartsheet allows users to quickly configure, adapt and improve workflows for faster execution of tasks.
Get rid of factors that negatively affect efficiency - problem-free provision of access by all stakeholders eliminates the information vacuum and unites teams. A clear distribution of responsibilities contributes to the more involved participation of teams.
Smartsheet is an online tool for collaborating with the company at any scale. The service includes a lot of mechanisms for organizing the workflow.
Description of Smartsheet
Smartsheet is an online tool for implementing the most complete collaboration. The service is presented in the shell of familiar spreadsheets where shared file access is implemented, everything is configured to automate workflows with the addition in the form of Gantt charts. Smartsheet allows you to take control of any projects in your hands, from time-consuming processes to lists of small tasks.
The interface itself is simple, because it is presented in the form of tables. It is possible to achieve greater efficiency by adapting the service to your methods of work. Projects can be attached to files, set up notifications, view diagrams, etc. Smartsheet also took care of security, integration and control. You can start working with importing files from Microsoft Project, Excel or Google tables, or by trying one of the available templates, including the sales process templates, the task plan for the event, the product launch, the project schedule or budget, task management, marketing calendar,
According to the most advanced tariff plan, Smartsheet offers an unlimited number of tables, file storage without frames, alerts, change log, Gantt charts, mobile version, support, web forms, APIs, reports, resource and user management, single sign-on with SAML and other
From idea to result
Now, when organizational speed and first-class performance of tasks are crucial to achieving a competitive advantage, the performance of work, especially on a scale, is increasingly bogged down in outdated approaches and the use of traditional tools.
Designed to expose the benefits of greater flexibility, speed and accountability, the Smartsheet management platform is the best tool that companies can use to plan, track, manage and report on their work. Empower the team to perform work quickly, keeping responsibility for the actions performed, using Smartsheet .
Performance with huge capabilities
Companies of all sizes get a great time saving by starting to use Smartsheet . Not only do company managers see performance improvements, but the entire organization, including internal and external stakeholders, saves time through improved teamwork.
Via smartsheet.com