Free tools for creating infographics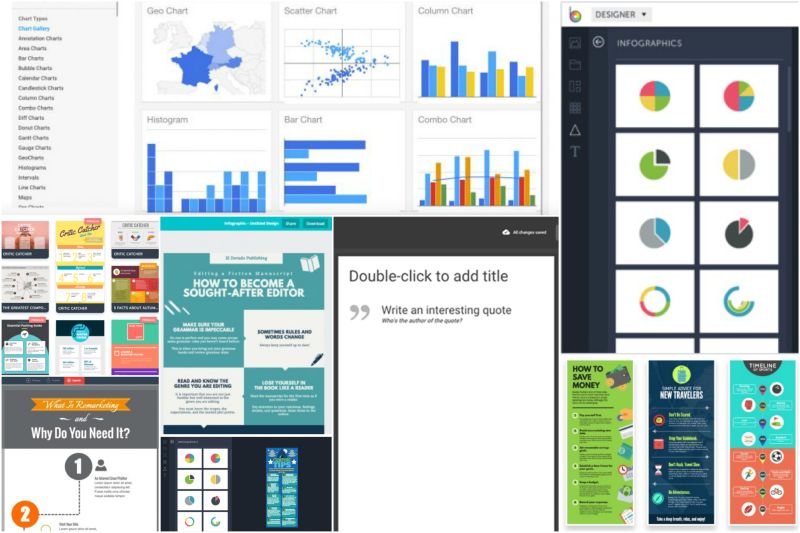 Infographics ( from the Latin informatio - information, explanation, presentation, etc. - Greek - written, from - write ) is a graphical way of presenting information, data and knowledge, the purpose of which is to quickly and accurately present complex information. One of the forms of information design. The range of its application is huge: geography, journalism, education, statistics, technical texts. Infographics can not only organize large volumes of information, but also more clearly show the ratio of objects and facts in time and space, and also show trends.
Infographics can be a great way to understand complex data. The best infographics turn complex information and data into a chart that looks good and is easy to understand. The only problem is that the infographic is difficult to do.
Fortunately, in the design world there are many tools that will greatly facilitate the creation of infographic and improve the quality of both the process and the result.
In addition, some copies of the collection are so easy to use, suitable for non-professionals. Some are completely free, but most offer extra cool features for a paid subscription.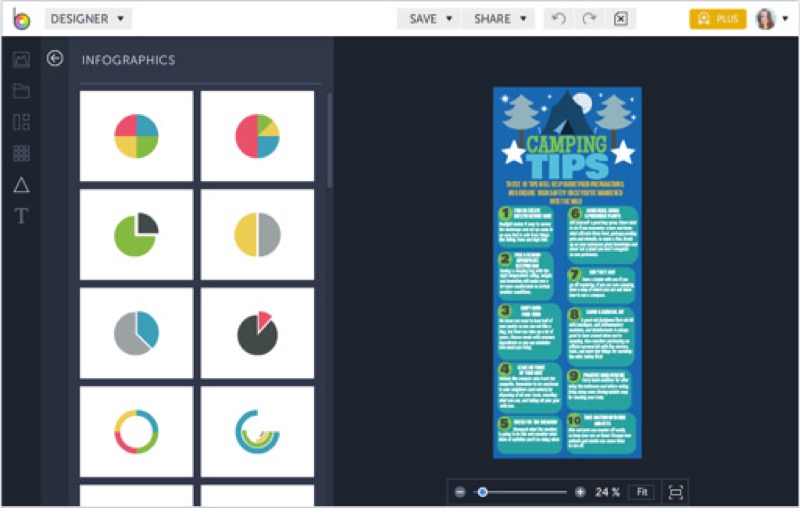 As a photo editor, BeFunky includes infographic. Template, customize the theme with images and icons and customize infographics by customizing text, colors and layout, and then just save and export. Everything is very simple.
Price: free (basic) $ 4.95 / month (BeFunky Plus).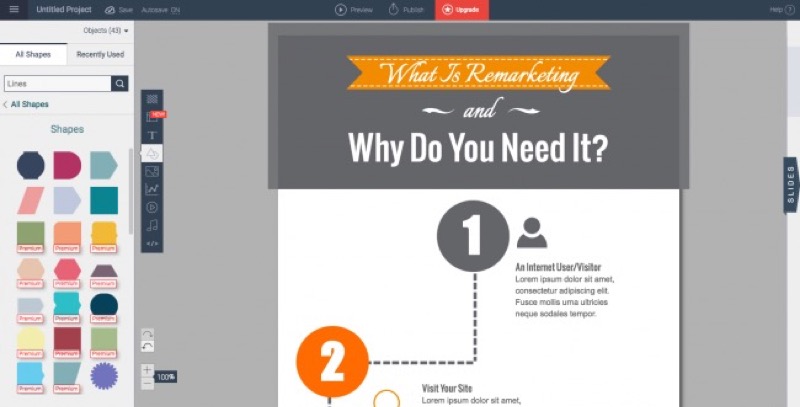 Visme promises to help you "speak visually". You can also use it to create presentations, but a more convenient application is suitable for creating interesting infographics.
This free tool contains over 100 free fonts, millions of free images and thousands of quality icons, as well as options for adding video and audio (including the ability to record directly in the editor). You can also animate your content. In short, just "Bimba", especially through:
Price: free.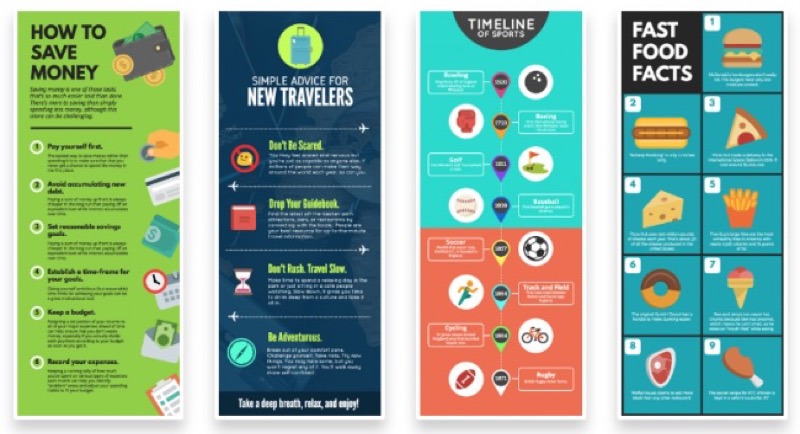 Snappa is a graphic design tool that includes free creation of infographics. This is for non-designers. You will not have such control over the composition, as most of the tools in this collection offer, but Snappa promises that you can create an infographic in 10 minutes.
The application offers pre-installed templates that are optimized for sharing on the Internet. There is a simple drag and drop interface, as well as access to thousands of free high-quality photos.
A free plan provides five downloads per month and two social accounts. With a paid subscription, you get unlimited downloads and the ability to add your fonts.
Price: free (Starter) $ 10 / month (Pro).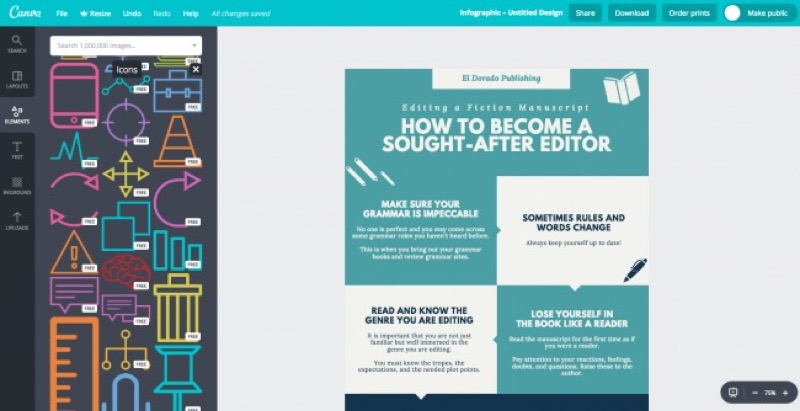 Canva is a powerful and easy-to-use online tool that is suitable for any design task, from brochures to presentations and much more. It also offers users a wide library of images, icons, fonts and functions to choose from.
It has a special tool for creating information technology that you can use for free, with hundreds of free design elements and fonts on your computer, as well as many other premium items that can be purchased for up to $ 1. You can use it in the browser or download the iPad Canva application.
Price: Free / $ 12.95 (Canva for Work).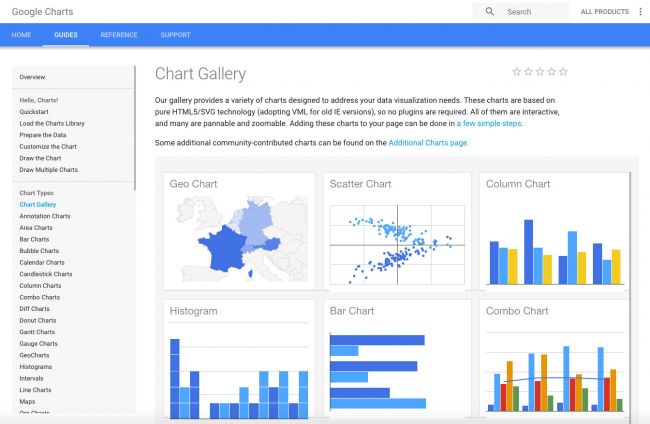 Google Charts - powerful and easy-to-use tools and also free. You can select different charts and configure a large set of parameters to match the appearance of your site.
Allowing to connect data in real time, Google Charts is very convenient for the infographic generator.
Price: free.
Piktochart is an infographic and presentation tool that allows you to turn boring information into infographics with just a few clicks.
The Piktochart user editor allows you to do things like modify color schemes and fonts, insert preloaded graphics and load basic shapes and images. Its grid-based templates also make it easier to align the graphic elements and resize the image proportionally.
Price: free (Basic) / from $ 15 per month (Lite) / $ 29 per month (Pro).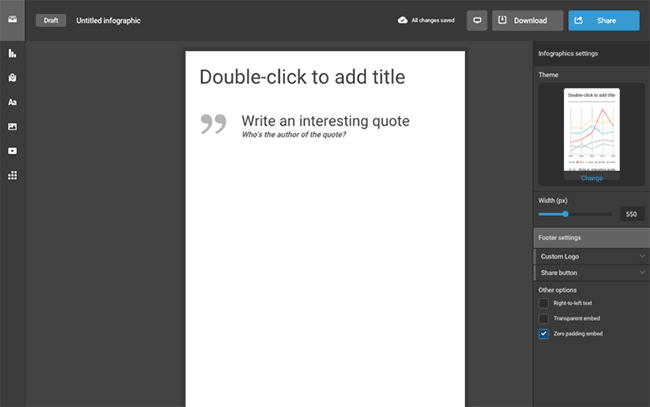 Infogram is an excellent tool with a wide range of graphs, charts and maps, as well as the ability to upload photos and videos to create interesting infographics. You enter and edit the data composing the information graphics in a tool reminiscent of Excel, the content of which is displayed in your design. The software will automatically change the appearance of the infographic to accurately reflect your data.
When you are satisfied with the type of infographic, you can publish it on the Infogram website so that everyone can enjoy it, insert it into your site or share it via social networks.
Price: free of charge (basic) / from $ 19 per month (Pro).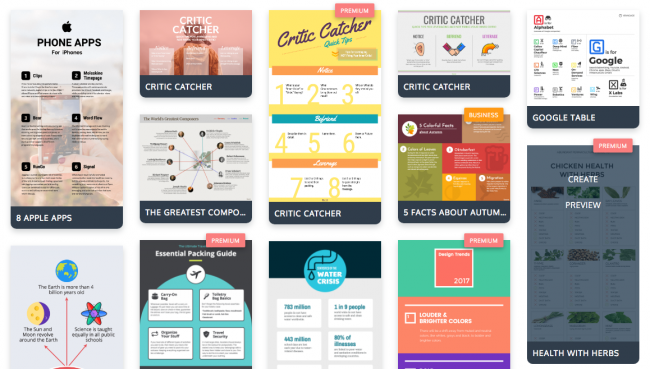 Venngage is a wonderful tool for creating and publishing infographics, because it's very simple and convenient.
You can choose templates, themes and hundreds of graphs and icons, and also upload your own images and backgrounds, or adapt the theme according to your identity. You can animate infographic.
Price: free (basic) / expanded for $ 19 per month.
Via designtalk.club & wiki & Internet