Home Reading: Books from the Mandatory List of the Harvard Business School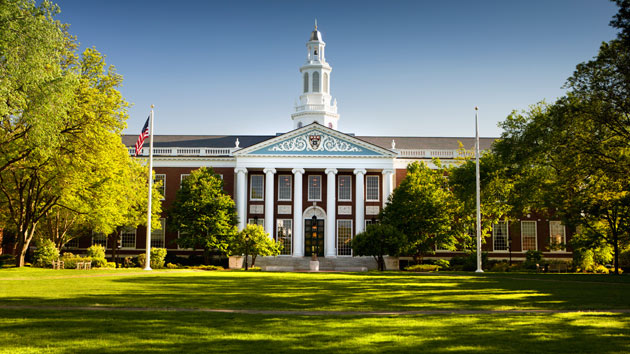 Harvard Business School (born Harvard Business School, also known as HBS) is an institution of higher learning located in Boston, Massachusetts, USA. Part of Harvard University. The school offers a complete MBA program (Master of Business Administration), as well as doctoral and many other advanced training and educational programs. The school owns Harvard Business School Publishing, which regularly publishes books on business topics, online management, corporate governance, case studies and other, as well as the monthly Harvard Business Review news magazine.
The school is in first place on the list of American business schools published in the US News & World Report, and third in the global list of the Financial Times (Financial Times Global MBA Rankings 2010), behind the London Business School and the Wharton School of Business. Wharton School of Business) University of Pennsylvania. Constantly located in the top ten of the American and world-wide list of business schools, one of the six business schools of Ivy League universities.
It is not necessary to enroll in the MBA program to learn the main lessons of the business! The current abundance of business literature is easy to get confused. To help with this choice, HubSpot author Loren Hinz studied the curricula of the Harvard Business School. To her surprise, most of the books were about leadership rather than economics, marketing, or best business practices. Here are 11 important and interesting books that she chose.
Lessons from Outstanding Leaders: How to Develop and Strengthen Leadership (True North: Discover Your Authentic Leadership)
The book explains how and why any person can become a real leader.
It is based on a serious study and a series of interviews with 125 well-known leaders.
In particular, one of the authors, former CEO of Medtronic, Bill George , reveals five steps to leadership: 1) to know the true self; 2) define your values ​​and leadership principles; 3) understand your motives; 4) build a support group; 5) keep an understanding of the most important things in life.
Talent on Demand (Talent on Demand)
Peter Capelli wrote this book to investigate common problems in managing people.
It sets out four management principles that will enable workers to transfer the necessary skills at the right time.
After reading the book, you will learn how to combine staff development with hiring, be able to better understand what people you need, and increase the productivity of your employees.
Inventors' money: how venture capital creates new wealth (The Money of Invention: How Venture Capital Creates New Wealth)
A practical guide written by two industry experts, Paul Gompers and Josh Lerner , talks about the problems entrepreneurs face in finding financing, and venture capital solves these problems.
The book also describes how corporations, government institutions, and non-profit organizations can (and should) take advantage of the venture capital model in their fields.
It doesn't matter whether the industry you are working in shows growth or decline, this book explains how to use venture capital to start or grow your business.
Inconvenient declarations: how one person turned over ideas about the most unpopular organization in america
In 1997, the US tax authorities had the largest "customer base" in America — and the citizens were the most dissatisfied with it.
It became known from the congressional hearings that the management constantly pressured the staff to levy more fines and add taxes.
Some of them anonymously admitted that tax inspectors were pulling out non-existent debts from taxpayers.
In 1997, Ch. Arles Rossotti became the first businessman to head the tax service, and he was assigned to restructure this body.
In this book, he told a fascinating history of leadership and transformation of this organization.
Ambition Curve: What is the Leader's Journey (The Arc of Ambition: Defining the Leadership Journey)
Can you guess what the difference is between a mediocre and an incredibly successful person?
Two international management experts, Jim Champi and Nitin Noria , say that the key ingredient is ambition.
Their book is a practical guide to using your personal and professional ambitions.
The book tells in detail about dozens of leaders from various areas.
How a cup after cup was built by Starbucks (Pour Your Heart Into It: How It Started
Starbucks CEO Howard Schulz is an outstanding and highly respected leader.
His book tells in detail about one of the most victorious business stories of the last decades.
Starbucks started with a coffee shop in Seattle and grew into an international corporation.
In this book, Schulz reveals the underlying principles that define Starbucks, and shares his wisdom.
Give freedom to innovation: how Whirpool turned the industry around (Unleasing Innovation: How Whirlpool Transformed an Industry)
The book presents the background of one of the most successful innovative turns in American history.
Its author is Nancy Snyder , Whirpool 's vice president of innovation.
Snyder tells how Whirpool made radical changes, built changes and innovations into her daily life, which ultimately made her profitable.
Sticky: Why do some ideas survive, and others die? (Made to Stick: Why Some Ideas Survive and Others Die)
Why do some ideas flourish while others don't even have a chance for survival?
And how to breathe in the idea of ​​the ability to fight?
This book, written by excellent teachers Chip and Dan Heath , contains answers to complex questions related to how ideas become popular and how to ensure their survival in the future.
9. The Blue Ocean Strategy (Blue Ocean Strategy)
This book is based on the study of more than 150 strategic decisions, including the experience of companies with more than a century of history, working in thirty industries.
Authors Chan Kim and Rene Moborn convince the reader that a successful business is being built by creating "blue oceans" - untapped new markets.
More than one million copies of this book have been sold worldwide, this is a "must-read" for entrepreneurs and managers.
Extending Excellence: Getting More, Not Contented With Less (Scaling Up Excellence: Getting Risen)
The author of a number of business bestsellers Robert Sutton and his colleague from Stanford Huggi Rao write about the inevitability that any company faces sooner or later - expansion.
It is about making your company bigger, faster, and even more efficient than before.
The authors have devoted about ten years to learning how to achieve exemplary work from employees and how to make excellent organizations even stronger. The book describes case studies and research from a wealth of areas, from finance to high-tech and education.
Data Science for Business
A book written by two internationally recognized data science experts Foster Provost and Tom Fawcett explains the underlying principles of data science.
Step by step, it shows how the analytical thinking is organized, necessary to benefit from any data the organization collects.
It is based on the MBA course of one of the authors at New York University, which he has been conducting for ten years, and it lists many of the problems that the business faces.
Via yaamilliarder.ru