International Bank Account Number (IBAN) is now in Ukraine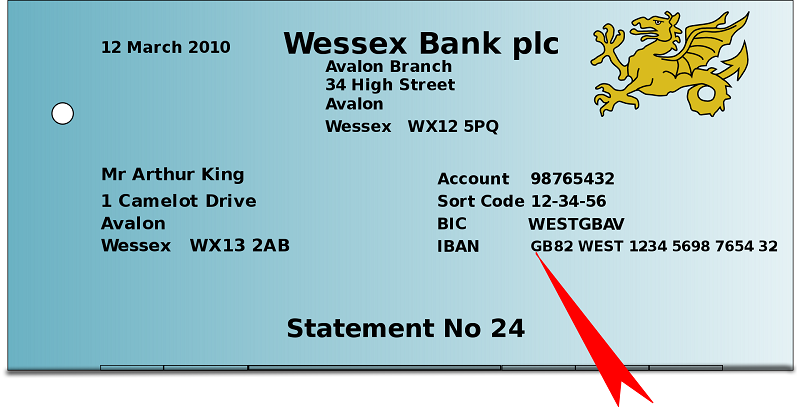 IBAN (English International Bank Account Number), standard No. 13616 of the International Organization for Standardization ISO (ISO, International Organization for Standardization) and the European Committee for Banking Standards ECBS, European Committee for Banking Standards - an international bank account number.
Starting August 5, 2019, Ukraine introduces an international bank account number (IBAN), which consists of 29 alphanumeric characters!
Appointment
The introduction of the IBAN code was originally intended to standardize interbank payments in the European Union, but now it is used in other countries of the world.
Its use allows you to speed up and reduce the cost of interbank payments. There is also a process of integration into the settlement system using the IBAN code of the American interbank settlement system. Officially accompanying this ISO standard is SWIFT.
IBAN code format includes
UA + XX + XXXXXX + SSSSSSSSSSSSSSSSSSSSS
UA (two letters, country code)
XX (two control digits)
XXXXXXX (MFI of the bank in which the client's account is open)
ССС ... ССС (19 digits, customer account number. If the number is less than 19 digits, the required number of zeros is added)
1-2 characters - code of the country where the beneficiary's bank is located (in accordance with ISO 3166-1 alpha-2)
3-4 characters - unique control number IBAN calculated according to the standard (ISO 7064)
5—34 characters - Basic Bank Account Number (BBAN), the basic number of the bank account, including at least the account number itself, as well as the beneficiary's bank code (including the code of the bank branch).
The length and content of this part of the IBAN depends on the choice of a particular country, but is limited to a maximum of 30 characters.
The total length of an IBAN may not exceed 34 characters. For the convenience of human perception, the IBAN code is written, as a rule, in groups of 4 characters, separated by spaces, starting with the first.
In payment and other documents in electronic format, IBAN is entered without spaces. .
In this case, the code should not begin with any designations (for example: IBAN, A / C, Account No, etc.)
Application
Payments using the IBAN code (as of 04/01/2013 - in 62 countries) are made by: Austria, Azerbaijan, Albania, Andorra, Belgium, Bulgaria, Bosnia and Herzegovina, British Virgin Islands, United Kingdom, Hungary, Guatemala, Germany, Gibraltar, Greece, Denmark, Dominican Republic, Israel, Ireland, Iceland, Italy, Kazakhstan, Cyprus, Principality of Liechtenstein, Kingdom of Bahrain, Costa Rica, Kuwait, Latvia, Lebanon, Lithuania, Luxembourg, Mauritius, Mauritania, Macedonia, Malta , Moldova, Monaco, Netherlands, But Vega, United Arab Emirates, Palestine, Pakistan, Poland, Portugal, Romania, San Marino, Saudi Arabia, Serbia, Slovak Republic, Slovenia, Tunisia, Turkey, Ukraine, Finland, France, Croatia, Montenegro, Czech Republic, Switzerland, Sweden, Estonia.
05/03/2010 Georgia joined the IBAN system. Since June 7, 2010 IBAN has become mandatory for use in domestic and international payments and in Kazakhstan. In Ukraine, IBAN was adopted as one of the options for the account format for international transfers from 01/01/2011. The Ukrainian IBAN format was registered at the company accompanying the SWIFT standard in 2016, the use of IBAN in Ukraine is optional and depends on the particular bank. Starting from January 1, 2013, the use of the code is mandatory for all banks in international transfers in the Republic of Moldova; from January 1, 2016, it is introduced for national transfers. In Azerbaijan, the accounts of clients of commercial banks have been brought to the IBAN structure since January 3, 2013. In Brazil, the introduction of IBAN is planned from July 1, 2013. In Belarus, the transition to IBAN was carried out on July 4, 2017.
IBAN Examples
| A country | Example IBAN in print format |
| --- | --- |
| United Kingdom | GB29 NWBK 6016 1331 9268 19 |
| Germany | DE89 3704 0044 0532 0130 00 |
| Kazakhstan | KZ75 125K ZT10 0130 0335 |
| Netherlands | NL91 ABNA 0417 1643 00 |
| Ukraine | UA85 3996 2200 0000 0260 0123 3566 1 |
| Finland | FI21 1234 5600 0007 85 |
| Sweden | SE45 5000 0000 0583 9825 7466 |
| Estonia | EE38 2200 2210 2014 5685 |
| Moldova | MD68 EX 0700 0002 2515 9105 EU |
Question answer
What does it mean?
From 08/05/2019, all accounts are opened only in IBAN format. Statements, account information, references, etc., are provided subject to IBAN.
Do I need to draw up a new contract or additional agreement?
No, you do not need to sign anything.
How can I find out an IBAN of an existing account?
If you are registered in an online bank, you can be there, or you can find out by calling your bank.
What happens if the money is sent to the old account number?
Until November 1, money can come to the old account number. Starting November 01, sending money to your old account will be impossible. Money will only go to IBAN.
If the account is open until 08/04/2019 inclusive?
It will work as usual until the date of transition to the new IBAN format. The exact date of the transition will be announced later.
Via Wiki & bankvostok.com.ua