What makes a woman stylish and attractive, secret stylists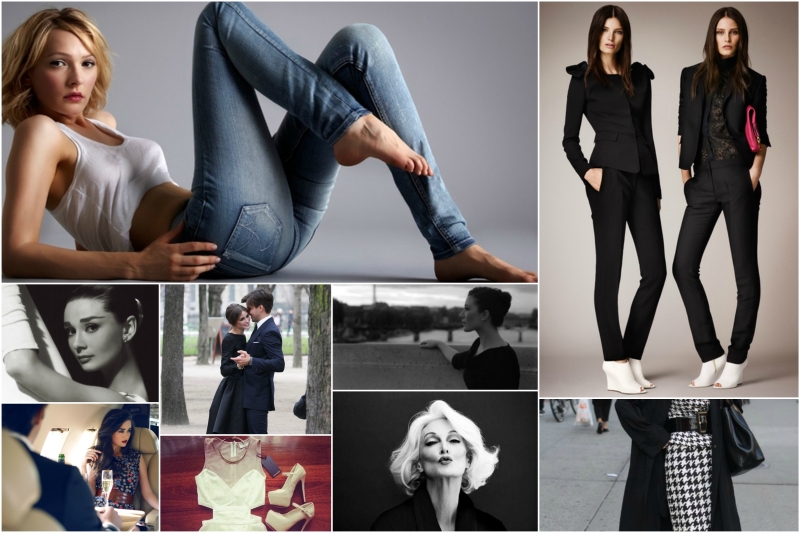 Fashion (fr. Mode, from the Latin. Modus - measure, image, method, rule, prescription) - a set of habits, values ​​and tastes, adopted in a particular environment at a certain time. Establishment of ideology or style in any area of ​​life or culture. Fashion can determine the type or form of clothing and accessories, a set of ideas, principles of behavior of people in each other's society and etiquette and concepts of norms in stylization and organization of space. Sometimes the concept of fashion is extended to ideas about lifestyle, art, literature, architecture, cooking, entertainment and leisure, consider its influence on the type of human body, etc. The concept of fashion, as a rule, implies a fragile and rapidly passing establishment. The desire to strictly follow the conventional fashionable rules and trends often attracted the attention of caricaturists.
Clothing - a product or set of products worn by a man and carrying utilitarian and aesthetic functions. Clothing can be made of fabric, knitted fabric, leather, fur and other materials. It protects the human body from the negative influence of the environment and performs aesthetic functions - it creates the image of a person, demonstrates its social status. Clothing may be supplemented with decorations and accessories.
Fashion in clothes is a change in the forms and patterns of clothing that takes place over relatively short periods of time. This usage (to be dressed "in fashion", Fr. à la mode) dates back to the 17th century, when French court fashion became a model for all European countries. Fashion involves a combination of different elements: hairstyle, elements of clothing, cut, color, accessories that take part in creating a fashionable image.
The secret to success is simple solutions. Black pants, white shirt, bright scarf or scarf. Here is the secret of impeccable taste.
The best simulator that will help you get rid of a man's walk is a skirt for two or three palms below the knee.
Remember the law: voluminous sleeves - smooth hair, short dress - tight tights, "eloquent" clothes - "silent" shoes. Let there be only one active zone in your image. It may even be your eyes.
Even Yves Saint Laurent noticed that a high neck turtleneck is an excellent way out of any delicate situation. It beautifully covers and emphasizes the chest, while hiding all the details from prying eyes.
The choice of tight jeans is a very important matter. Jeans, as a plastic surgery, can either fantastically improve a figure, or completely spoil it.
Moms must teach their daughters to dress. The opinion that a woman by nature knows how to dress, dress and comb her hair is wrong.
Any clothes can tell about a person much more than she herself could do it.
If you dream of finding a soul mate, imagine the man of your dreams, what he is wearing and what his companion looks like. This exercise will help you when choosing clothes in the store.
Flat sole - a sign of housewives and oligarchs. If you do not belong to either one or the other, urgently replace the flat sole with heels.
By the way schoolgirls in the wardrobe of his wife badly characterizes a person.
Coco Chanel said: "In order to look great, it is not necessary to be young."
Absolutely perfect beauty does not appeal. In order to attract attention, there must be some small defect in absolutely perfect beauty.
Wedding ceremony - or day, or morning event. Therefore, all the invited ladies should be dressed in dresses of pastel colors, palm-length below the knee. The only woman to wear a long white dress on this day is the bride.
If you have neither the time nor the desire to do makeup, then you can wear sunglasses and tie a head scarf in the style of the sixties.
In the wardrobe of any woman, clothing is divided into three categories - for yourself, for girlfriends and for men. Do not confuse these images. If you are going on a date, your clothes should emphasize the chest, waist and hips.
Revise your collection of scarves, shawls and lipsticks. If the scarf and lipstick create a harmonious duet, you will look great, even if you put on the color that you like, but not very suitable.
If your skirt or dress is pulled up while walking, you will definitely need either a different style or a larger size.
Wonderful day look for the blonde - a dress of beautiful blue color with white shoes. But remember, white shoes are worn only up to five hours.
There are no massive legs, there are bad tights. There are no ugly women, there are inept hairdressers.
Do not be afraid of high heels. In the shops you can find very comfortable shoes or boots with high heels that can be worn from morning to evening.
Good taste needs to be trained every day. When you stop doing this, then no matter how old you are, 19 or 75, old age begins.
Shoes should be not only comfortable, but also elegant. If you pick up shoes of the same color with pants, it visually lengthens the legs.
A classic suit can be not only office but also evening, for walking, and for breakfast with her husband.
If you are wearing an expressive dress, be sure to make a small smooth hair, so as not to distract attention from the decor of the dress.
It is in vain, many women are afraid to put on work satin and velvet things, considering them too elegant. If they are neutral colors, then they can be safely called a work suit.
Feel free to your forms. All that gave you is beautiful. And if it's beautiful, you need to emphasize their forms. The main thing is to do it wisely and with taste.
When the fur and hair merge, the fur actually becomes your hair. And this, you see, looks ridiculous.
For an evening set there is a rule: one thing should shine: either a dress or accessories.
If you are concerned about the problem of excess weight, heels, those that play a crucial role in helping to hide the flaws of the figure. If there are no such defects, the heel may be completely absent.
Fashion is not feathers and rhinestones, fashion is when the skirt fits well, the pants lengthen the legs, and the woman put on a dress and flies above the ground.
When a woman picks up a new bag, her life changes. When a woman buys shoes for money, set aside for a "rainy day", "rainy day" will never come. In this coordinate system, a new dress is a tool for improving oneself, cheaper and safer than psychotherapists and antidepressants.
"... You need to believe that you really deserve the best. You need to stop listening about the bad, you need to stop communicating with people who constantly complain, because all these household problems are contagious. If you are healthy, you have no problems at all: just a lot work and everything will work out.All solutions are very simple.Tolstaya? Try the Maya Plisetskaya diet: "Do not eat!" - and lose weight instantly. Is there a prince? First, love yourself and jump on a whole regiment on white horses. And don't look for a way "to yourself, to success, to harmony" or to other nonsense. Keep it simple. And buy new shoes. "
As a rule, out of two equal competitors to the same position, rather, it comes to the one that goes on the heels.
Have you ever noticed that when you wear tight trousers, men immediately notice your beautiful eyes and dazzling smile? A well-dressed man — and whose clothes are ignored. The personality, its personalities, face, beautiful hairstyle comes to the fore. This is the role of classic basic things.
In order to look sexy and elegant at any age, refer to the classics: black pencil skirt, tuxedo, heels, tiny clutch bag ...
If you want to climb the career ladder, dress like you are already there.
Gray is the most French color in the world. There is no doubt that the gray knitwear can be seen on a street in Paris in the afternoon.
Via uamodna.com