What can be taken in hand luggage in a plane: the new rules of 2017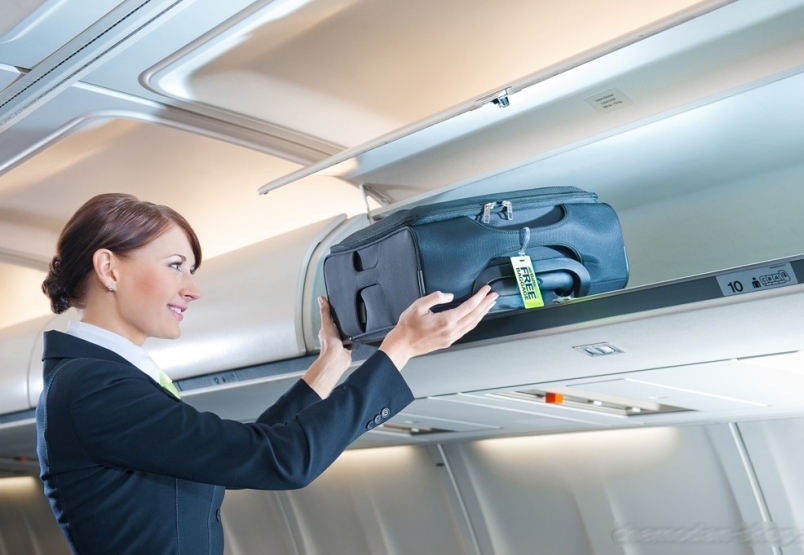 Baggage is a cargo (things, other material values) packed for transport and transported separately from the passenger.
When transporting by rail, luggage is called things and other valuables, transported for personal domestic needs. Such baggage is transported in a baggage car to the destination station specified in the travel document of the passenger.
In passenger air transport, the size and weight of baggage, as well as the number of pieces of baggage that accompanies a passenger, is strictly regulated by airlines based on IATA recommendations. Luggage, which the passenger takes with him on board, rather than handing over for transportation on registration, is called hand luggage.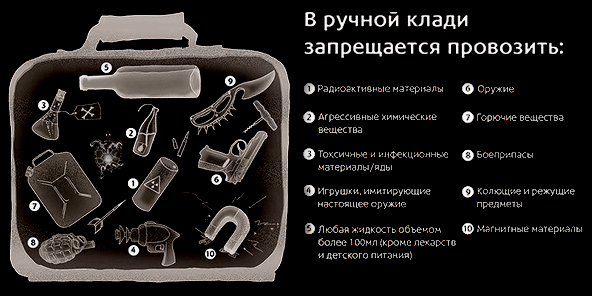 Hand luggage is a cargo that a passenger takes with him on board a passenger vehicle, not being handed over to the luggage compartment.
In the case of carriage by sea, baggage is any item (including a motor vehicle) carried under the contract of carriage by sea of ​​the passenger. In this case, things that are carried under contracts of sea transportation of cargo or animals are not considered as luggage.
What can be taken in hand luggage in a plane: the new rules of 2017
In 2017, new rules for the transport of hand luggage in an airplane appeared. Before air travel, we advise you to carefully and carefully study the new list, which can be taken in hand luggage and what not. Ignorance of such subtleties, alas, can cloud your rest.
1. Food products
On board the aircraft you can carry any products, except for liquid and jelly-like food.
You can take with you:
Nuts; biscuit; fruit; Sandwiches; Chips, etc.
For the child, you can take baby food. But from yoghurts, juices, jellies and similar products, refrain, otherwise you will be confiscated. They will also take canned food and cans in cans. All authorized products are best packaged in transparent bags. This will significantly speed up the inspection.
It is important to take into account the specifics of the carrier and the airport. So, in the Parisian airport. Charles de Gaulle is forbidden to carry cheese in hand luggage.
Products from Duty Free can also be taken with you. The main thing is that the shop packaging is left without damage (the seller must pack the goods in a special package with a capacity of 2 liters). In addition, keep a check - it can be demanded while passing control.
2. Medication
On board the aircraft you can carry such medicines:
pills; Various drops; Dressings; hydrogen peroxide.
It is better, if the drugs will be in intact original packaging, with instructions for use. Otherwise, when boarding customs officers, there may be suspicions that you are carrying prohibited substances under the guise of analgin.
If you have an injury, you can supplement hand luggage with crutches or other orthopedic appliances.
By rules, the volume of liquid in hand luggage should not exceed 100 ml. Therefore, if the drug is liquid or in the form of a spray, make sure that the volume does not exceed what is permitted. You can not take syringes with you on board.
3. Digital technology
What technical devices you can take with you on board are determined by the safety rules of the country to which you are heading.
Usually it is allowed to take into hand luggage:
a laptop; the tablet; mobile phone; Mp3 player; camera; Electric razor and toothbrush; Charging to devices; Volumetric electrical appliances (for example, a hair dryer).
On board, you can (and need to) take more and headphones. If you are going to listen to music or watch a movie on a laptop, it's unlikely that other passengers will be happy to share this pleasure with you.
Although it is not forbidden to take a mobile phone with you, it may not be useful to you during the flight. Often before take-off phones are asked to disconnect altogether, because they can interfere with the operation of the electronic systems of the aircraft.
If you are going to take a cumbersome technique with you, remember the standards. Usually the length of things in hand luggage should not be more than 56 cm, height - 45 cm, width - 25 cm. The maximum weight varies within 3-15 kilograms. The exact figure depends on the airport.
4. Documents, valuables and ornaments
In addition, in hand luggage should be taken:
Expensive ornaments; documentation; valuables; Wallet with money.
Passport and other important papers should be taken with you - it's calmer, you will not worry about their safety all the way. In addition, if your baggage is suddenly lost, you will not remain in a foreign country without documents.
5. Cosmetic products
On board, you can carry any dry cosmetics:
Shadows; Mascara; Pencils for eyes and lips; Rouge; Powder, etc.
Liquids, jelly-like substances in cans and bottles of more than 100 ml are strictly forbidden to be carried on board the aircraft in hand luggage. Pack them in a baggage bag, otherwise you risk staying without your expensive jars.
With balloons under pressure on the plane, too, can not. Therefore, from the shaving foam and deodorants will have to get rid of.
Remember that usually the total volume of liquids should not exceed 1 liter. So if you take more water besides shampoo and shampoo, and their total volume exceeds the allowable value, think what will be more important for you on board.
6. Personal hygiene items
From personal hygiene items can be taken in hand luggage:
Toothbrush and paste (although about the latter you need to specify - in some airports, you can not take paste with you); wet wipes; Shaver; Comb without a sharp handle (sometimes forbid to transport metal combs); Liquid for removing lacquer without acetone with a volume of not more than 100 ml.
It is strictly forbidden to take in hand luggage only piercing-cutting objects, for example, manicure sets (especially scissors).
7. Clothes
Experienced travelers recommend taking a blouse with them. In a light T-shirt or blouse, it can be cool - during the landing in the cabin is usually hot, so after take-off can turn on air conditioners.
You can take it to the salon:
Jacket or sweater; coat; plaid; shawl.
In addition, you can carry a purse, an umbrella and a cane.
8. Other
If you are traveling with children, you can take in addition to hand luggage, on board a portable carrying cot or stroller. It is not forbidden to take newspapers, magazines and other printed publications with you (without fanaticism, of course).
It is strictly forbidden to take with you into hand luggage:
Weapons, and everything that seems to him (if you have a fashion accessory in the form of a grenade or a pistol - can take away); Stitching and cutting objects (this includes everything, even what you do not even think of as an instrument for inflicting pain on another person, for example, knitting needles); Animals; Gas cartridges; toxic substances.
A complete list of prohibited items is often indicated right on the ticket. If this list is not there, ask this question directly at the airport.
Specify the rules about the dimensions, they vary for each airline. Particularly serious about this issue are low-cost. Budget airlines have a strict rule: one person - one place of hand luggage. Therefore, all you have to put in one bag or package. The exception is only permissible for folding prams, crutches and outer clothing.
Norms of transportation of hand luggage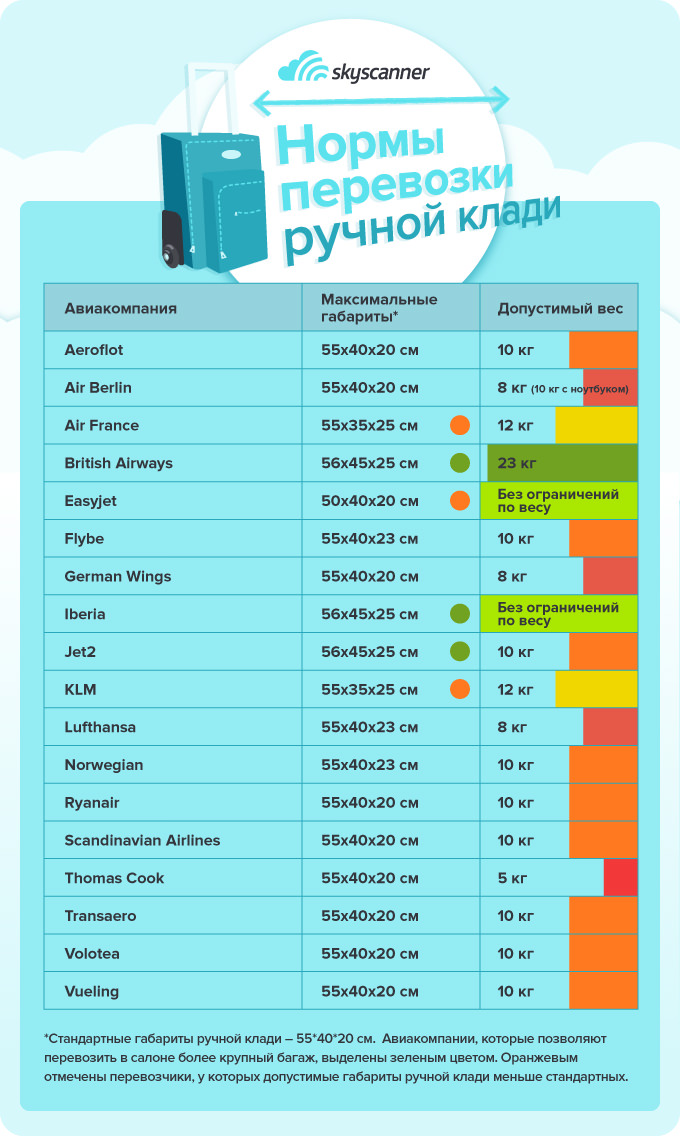 Choose the right seat on the plane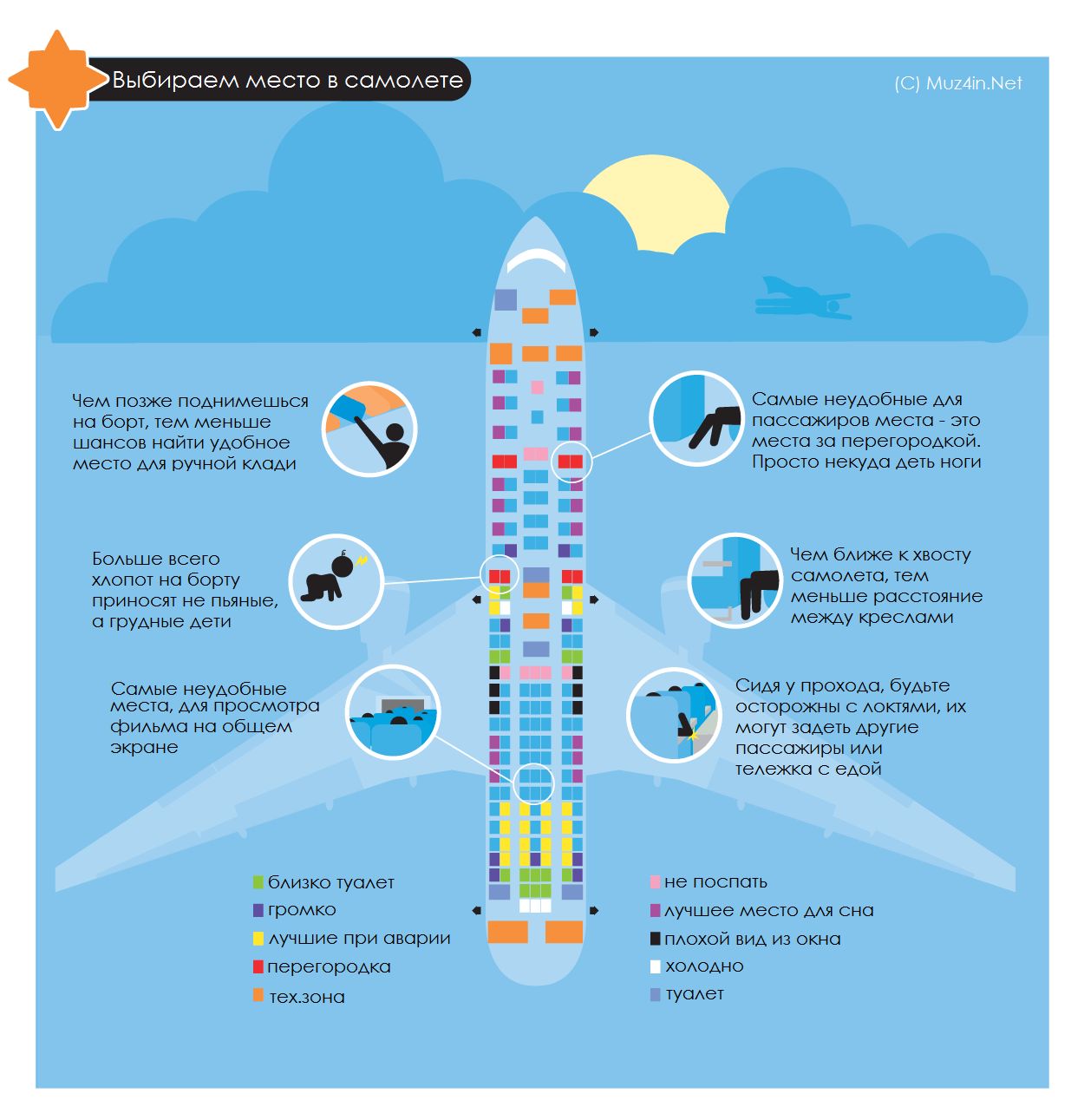 Via smi2lady.ru & wiki