For a month and a half, the Russian Federation sent 402 armored cars, 256 tanks, 138 Grads, 5 Bukovs and 4 U-Points, the NSDC (Infographics)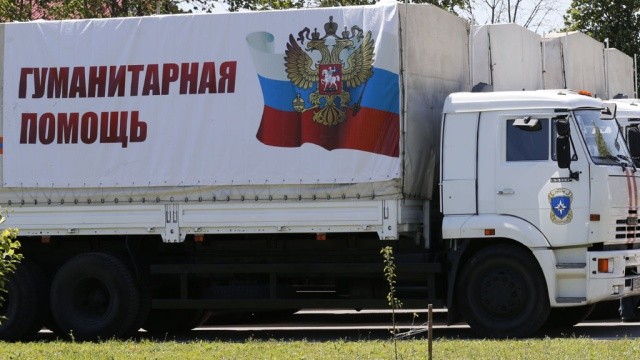 The NSDC told us what Russia is actually importing into its convoys to the Donbas.
Well-known Russian "humanitarian" convoys are attracting media attention around the world. In fact, their appearance is aimed at diverting attention from real convoys, which cross uncontrolled sections of the Ukrainian border daily, the NSDC information center said.
The NSDC information and analysis center published intelligence data on the continuous flow of military convoys supplying "live" force and heavy armament of terrorists. Intelligence shows the amount of technology that crosses the Russian-Ukrainian border in areas that do not control Ukraine and does not monitor the OSCE.
The largest number of convoys illegally crossed the border at the Izvarino checkpoint (Lugansk region), as well convoys seep through the terrain around the Queen, the border of the Korolyovka-Chasse border, some were seen in the settlements of Dyakovo and Esaulovka - all located on the territory of the Lugansk region. In the Donetsk region, there are also several locations for illegal entry, they are in the Mariupol direction and pass through Maksimov and Veselye-Voznesenka in Russia, through the Uspenka checkpoint, and convoys also penetrate deep into the Donbass through the settlements Dmitrovka and Dubrovka.
None of the above-mentioned settlements near the border or checkpoints are controlled by Ukraine, and the OSCE does not monitor. The mandate of the OSCE Observer Mission was limited to only two Russian checkpoints on the Russian-Ukrainian state border - Gukovo and Donetsk, Moscow repeatedly obstructed the decision to monitor the entire border in the ATU zone by OSCE observers.
According to the report, 256 tanks, 138 Grads, 402 armored vehicles, 35 self-propelled artillery systems, 42 artillery pieces, and 5 Buk missile systems were recorded.
Also, 1,903 trucks, 205 cars and minibuses, 20 buses with personnel, and 242 tank trucks illegally entered the Donbass from Russia.
In addition, the movement of 4 tactical missile systems "Tochka-U", 4 multiple-launch rocket systems "Uragan", 4 heavy flamethrower systems "Buratino", 5 automated radio reconnaissance complexes "Taran", several electronic warfare complexes "Mercury-BM" 3 radar complexes and one radar station.