USSR coin price catalog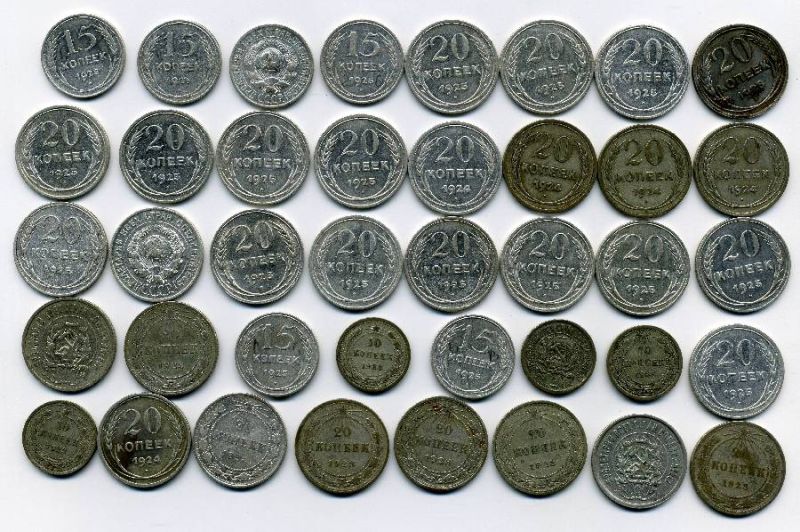 Coins of the USSR are all coins issued by the State Bank of the USSR from the moment of its creation in 1923 until the collapse of the USSR in 1991 and coins of the RSFSR (1921-1923). During this time, as a result of a series of economic reforms, the coins several times changed the appearance, composition of the denominations, as well as the metal from which they were minted. In the USSR, coins in denominations of 1/2 kopecks (in the 1920s), 1, 2, 3, 5, 10, 15, 20, and 50 kopecks, as well as 1 ruble coins, were in regular circulation. Commemorative and jubilee coins of various denominations were also issued.
Over the seven decades of the existence of the era of the USSR, surprisingly much metal money was issued. For minting, base alloys were used, most often copper-nickel. Products appeared both in the mint of Moscow and in Leningrad. On the reverse was almost always the emblem of the Soviet Union with a hammer and sickle in the center.
The circulation was large, so the price of many copies is low. There are also enough expensive coins. For example, pennies - 50, 20, 10, 15 of 1921 are rare and in good condition are estimated at 5 thousand rubles each. The ruble of the same year can be sold for 10 thousand. A coin with the same face value of 1922 is even more expensive - 15 thousand rubles. 2 kopeks of 1927 cost 70 thousand, and 3 kopeks of 1926-1934 with elongated or rounded letters "C" in the word "USSR" - up to 20 thousand rubles.
Numismatists are interested not only in the cost of old, rare copies, but also in the prices of coins of Russia and the USSR, which are constantly changing. In most cases, they are not high, since the money of these times is still young, but there are already some rare, valuable copies, even among modern coins in circulation. Of course, everyone can find them in their own wallet, which makes them popular among collectors.
A small catalog on coins of the USSR - both rare and expensive, and ordinary.
All prices in the table are in dollars and US cents. This is the average price.
In each case, the coin will cost differently - depending on the condition, stamps and alloy.
You can find out more exact cost on specialized forums and communities. The best thing is to photograph your penny and put it on display for specialists - they will definitely tell you how much it can be sold.
The price for the most expensive passes for 1 thousand.
| | | | | | | | | | |
| --- | --- | --- | --- | --- | --- | --- | --- | --- | --- |
| Year | 1 cop. | 2 kopecks | 3 kopecks | 5 cop. | 10 kopecks | 15 kopecks | 20 kopecks | 50 kopecks | 1 rub. |
| 1921 | - | - | - | - | $ 13.00 | $ 10.00 | $ 13.00 | $ 5.00 | $ 24.00 |
| 1922 | - | - | - | - | $ 1.67 | $ 1.67 | $ 1.33 | $ 5.00 | $ 150.00 |
| 1923 | - | - | - | - | $ 0.83 | $ 0.83 | $ 0.67 | - | - |
| 1924 | $ 1.67 | $ 3.33 | $ 6.67 | $ 11.67 | $ 1.67 | $ 1.67 | $ 1.00 | $ 4.17 | $ 15.00 |
| 1925 | $ 58.33 | $ 833.33 | - | - | $ 0.50 | $ 0.50 | $ 0.67 | $ 4.17 | - |
| 1926 | $ 3.33 | $ 0.50 | $ 0.83 | $ 5.83 | - | - | - | $ 4.50 | - |
| 1927 | $ 2.50 | $ 1,250.00 | $ 33.33 | $ 91.67 | $ 1.00 | $ 0.67 | $ 1.33 | $ 9.17 | - |
| 1928 | $ 1.67 | $ 0.83 | $ 0.50 | $ 2.50 | $ 0.67 | $ 0.67 | $ 0.67 | - | - |
| 1929 | $ 5.00 | $ 1.00 | $ 0.83 | $ 8.33 | $ 0.67 | $ 0.83 | $ 0.67 | - | - |
| 1930 | $ 6.67 | $ 0.50 | $ 0.33 | $ 1.67 | $ 0.83 | $ 0.83 | $ 0.67 | - | - |
| 1931s | - | - | - | - | $ 1,583.33 | $ 1,583.33 | $ 1,083.33 | - | - |
| 1931n | $ 2.50 | $ 0.33 | $ 0.33 | $ 2.00 | $ 1.67 | $ 1.17 | $ 0.83 | - | - |
| 1932 | $ 4.17 | $ 1.33 | $ 0.50 | $ 3.33 | $ 0.83 | $ 0.83 | $ 0.50 | - | - |
| 1933 | $ 1.17 | $ 8.33 | $ 2.50 | $ 200.00 | $ 1.33 | $ 1.33 | $ 0.67 | - | - |
| 1934 | $ 2.50 | $ 1.17 | $ 1.67 | $ 75.00 | $ 4.17 | $ 4.17 | $ 1,583.33 | - | - |
| 1935s | $ 3.33 | $ 1.67 | $ 1.67 | $ 75.00 | - | - | - | - | - |
| 1935n | $ 8.33 | $ 5.83 | $ 2.50 | $ 11.67 | $ 2.50 | $ 1.67 | $ 1.33 | - | - |
| 1936 | $ 0.67 | $ 0.33 | $ 0.67 | $ 10.00 | $ 0.50 | $ 0.50 | $ 0.50 | - | - |
| 1937 | $ 0.83 | $ 0.50 | $ 0.83 | $ 13.33 | $ 5.00 | $ 4.17 | $ 2.00 | - | - |
| 1938 | $ 0.33 | $ 0.33 | $ 0.50 | $ 3.33 | $ 2.50 | $ 1.00 | $ 1.33 | - | - |
| 1939 | $ 0.67 | $ 1.33 | $ 0.50 | $ 4.17 | $ 1.83 | $ 2.33 | $ 3.33 | - | - |
| 1940 | $ 0.33 | $ 0.33 | $ 0.33 | $ 1.67 | $ 2.50 | $ 1.67 | $ 1.67 | - | - |
| 1941 | $ 2.00 | $ 1.67 | $ 0.50 | $ 5.83 | $ 2.50 | $ 0.83 | $ 0.83 | - | - |
| 1942 | - | - | - | - | $ 75.00 | $ 91.67 | $ 2.67 | - | - |
| 1943 | - | - | $ 0.67 | $ 1.67 | $ 0.83 | $ 0.50 | $ 0.50 | - | - |
| 1944 | - | - | - | - | $ 41.67 | $ 3.33 | $ 2.67 | - | - |
| 1945 | $ 2.00 | $ 3.33 | $ 10.00 | $ 13.33 | $ 0.67 | $ 0.83 | $ 0.67 | - | - |
| 1946 | $ 0.17 | $ 0.17 | $ 0.25 | $ 0.83 | $ 0.25 | $ 0.25 | $ 0.25 | - | - |
| 1948 | $ 0.33 | $ 0.50 | $ 0.50 | $ 2.50 | $ 0.33 | $ 0.17 | $ 0.17 | - | - |
| 1949 | $ 0.17 | $ 0.17 | $ 0.25 | $ 0.83 | $ 0.83 | $ 5.00 | $ 0.17 | - | - |
| 1950 | $ 1.33 | $ 0.33 | $ 0.25 | $ 2.50 | $ 0.17 | $ 0.33 | $ 8.33 | - | - |
| 1951 | $ 1.67 | $ 2.50 | $ 3.33 | $ 8.33 | $ 1.33 | $ 1.33 | $ 1.33 | - | - |
| 1952 | $ 0.17 | $ 0.17 | $ 0.33 | $ 0.67 | $ 0.17 | $ 0.17 | $ 0.17 | - | - |
| 1953 | $ 0.17 | $ 0.17 | $ 0.33 | $ 0.67 | $ 0.17 | $ 0.17 | $ 0.17 | - | - |
| 1954 | $ 0.17 | $ 0.17 | $ 0.25 | $ 0.67 | $ 0.17 | $ 0.17 | $ 0.17 | - | - |
| 1955 | $ 0.17 | $ 0.17 | $ 0.25 | $ 0.67 | $ 0.17 | $ 0.17 | $ 0.17 | - | - |
| 1956 | $ 0.17 | $ 0.17 | $ 0.25 | $ 0.67 | $ 0.17 | $ 0.17 | $ 0.17 | - | - |
| 1957 | $ 0.17 | $ 0.17 | $ 0.25 | $ 0.67 | $ 0.17 | $ 0.17 | $ 0.17 | - | - |
| 1958 | $ 833.33 | $ 1,000.00 | $ 416.67 | $ 1,166.67 | $ 416.67 | $ 1,166.67 | $ 1,000.00 | $ 1,166.67 | $ 1,166.67 |
| 1961 | $ 0.83 | $ 0.17 | $ 0.17 | $ 0.17 | $ 0.02 | $ 0.02 | $ 0.02 | $ 2.00 | $ 1.00 |
| 1962 | $ 0.67 | $ 0.33 | $ 3.33 | $ 0.33 | $ 0.02 | $ 0.02 | $ 0.02 | - | - |
| 1963 | $ 0.67 | $ 0.17 | - | - | - | - | - | - | - |
| 1964 | $ 2.50 | $ 3.33 | - | - | - | - | - | $ 0.08 | $ 0.17 |
| 1965 | $ 0.17 | $ 0.33 | $ 4.17 | $ 18.33 | $ 18.33 | $ 18.33 | $ 18.33 | $ 0.50 | $ 1.67 |
| 1966 | $ 0.83 | $ 1.33 | $ 2.00 | $ 18.33 | $ 18.33 | $ 18.33 | $ 18.33 | $ 0.83 | $ 3.67 |
| 1967 | $ 0.17 | $ 0.17 | $ 0.17 | $ 5.83 | $ 5.00 | $ 5.00 | $ 5.00 | $ 5.83 | $ 1.67 |
| 1968 | $ 0.08 | $ 0.03 | $ 0.08 | $ 6.67 | $ 5.00 | $ 5.00 | $ 5.00 | $ 0.50 | $ 1.67 |
| 1969 | $ 0.08 | $ 0.03 | $ 0.03 | $ 16.67 | $ 0.50 | $ 16.67 | $ 16.67 | $ 0.50 | $ 2.00 |
| 1970 | $ 0.08 | $ 0.03 | $ 0.03 | $ 83.33 | $ 0.17 | $ 133.33 | $ 58.33 | $ 45.00 | $ 3.33 |
| 1971 | $ 0.02 | $ 0.03 | $ 0.08 | $ 15.00 | $ 0.08 | $ 41.67 | $ 36.67 | $ 45.00 | $ 2.50 |
| 1972 | $ 0.02 | $ 0.03 | $ 0.03 | $ 18.33 | $ 0.08 | $ 41.67 | $ 40.00 | $ 2.00 | $ 2.50 |
| 1973 | $ 0.02 | $ 0.03 | $ 0.03 | $ 3.33 | $ 0.08 | $ 38.33 | $ 55.00 | $ 1.67 | $ 2.50 |
| 1974 | $ 0.02 | $ 0.03 | $ 0.03 | $ 0.67 | $ 0.08 | $ 11.67 | $ 11.67 | $ 0.83 | $ 1.67 |
| 1975 | $ 0.08 | $ 0.17 | $ 0.17 | $ 0.67 | $ 0.17 | $ 12.50 | $ 14.17 | $ 20.00 | $ 2.50 |
| 1976 | $ 0.02 | $ 0.03 | $ 0.03 | $ 0.67 | $ 0.05 | $ 0.17 | $ 46.67 | $ 5.83 | $ 2.50 |
| 1977 | $ 0.02 | $ 0.17 | $ 0.17 | $ 0.33 | $ 0.05 | $ 0.05 | $ 0.08 | $ 0.33 | $ 2.50 |
| 1978 | $ 0.02 | $ 0.08 | $ 0.08 | $ 0.33 | $ 0.05 | $ 0.05 | $ 0.08 | $ 0.67 | $ 2.50 |
| 1979 | $ 0.02 | $ 0.02 | $ 0.02 | $ 0.33 | $ 0.02 | $ 0.05 | $ 0.08 | $ 0.33 | $ 5.00 |
| 1980 | $ 0.02 | $ 0.02 | $ 0.02 | $ 0.02 | $ 0.02 | $ 0.02 | $ 0.02 | $ 0.25 | $ 4.17 |
| 1981 | $ 0.02 | $ 0.02 | $ 0.02 | $ 0.02 | $ 0.02 | $ 0.02 | $ 0.02 | $ 0.25 | $ 4.17 |
| 1982 | $ 0.02 | $ 0.02 | $ 0.02 | $ 0.02 | $ 0.02 | $ 0.02 | $ 0.02 | $ 0.25 | $ 4.17 |
| 1983 | $ 0.02 | $ 0.02 | $ 0.02 | $ 0.02 | $ 0.02 | $ 0.02 | $ 0.02 | $ 0.25 | $ 4.17 |
| 1984 | $ 0.02 | $ 0.02 | $ 0.02 | $ 0.02 | $ 0.02 | $ 0.02 | $ 0.02 | $ 0.25 | $ 1.33 |
| 1985 | $ 0.02 | $ 0.02 | $ 0.02 | $ 0.02 | $ 0.02 | $ 0.02 | $ 0.02 | $ 0.25 | $ 1.33 |
| 1986 | $ 0.02 | $ 0.02 | $ 0.02 | $ 0.02 | $ 0.02 | $ 0.02 | $ 0.02 | $ 0.25 | $ 1.33 |
| 1987 | $ 0.02 | $ 0.02 | $ 0.02 | $ 0.02 | $ 0.02 | $ 0.02 | $ 0.02 | $ 0.33 | $ 2.00 |
| 1988 | $ 0.02 | $ 0.02 | $ 0.02 | $ 0.02 | $ 0.02 | $ 0.02 | $ 0.02 | $ 0.33 | $ 1.33 |
| 1989 | $ 0.02 | $ 0.02 | $ 0.02 | $ 0.02 | $ 0.02 | $ 0.02 | $ 0.02 | $ 1.67 | $ 1.67 |
| 1990 | $ 0.02 | $ 0.02 | $ 0.02 | $ 0.02 | $ 0.02 | $ 0.02 | $ 0.02 | $ 1.67 | $ 1.67 |
| 1990m | - | - | - | $ 100.00 | $ 50.00 | - | - | - | - |
| 1991m | $ 0.02 | $ 0.02 | $ 0.02 | $ 0.02 | $ 0.02 | $ 0.02 | $ 0.02 | $ 1.67 | $ 1.33 |
| 1991l | $ 0.02 | $ 0.02 | $ 0.02 | $ 0.02 | $ 0.02 | $ 0.02 | $ 0.02 | $ 1.67 | $ 2.00 |
| 1991bb | - | - | - | - | $ 10.00 | - | $ 266.67 | - | - |
| Year | 1 cop. | 2 kopecks | 3 kopecks | 5 kopecks | 10 kopecks | 15 kopecks | 20 kopecks | 50 kopecks | 1 rub . |
Via xabar.in.ua & wiki