50 kopecks. 1 GAM33. Estimated cost from 1500 UAH.
Coins of Ukraine are coins issued by the National Bank of Ukraine from 1991 to the present.
The first coins of modern Ukraine ( 1, 2, 5, 10, 25 and 50 cents ) appeared in circulation since September 2, 1996 - together with the introduction of the hryvnia. However, their design was approved in 1992, and they were minted at the end of 1993. During the period of the Kovybovan's conversion (1992-1996), which was formally divided into 100 kopecks, neither coins nor paper currency notes in kopecks were converted into circulation. Since March 12, 1997, a coin with a nominal value of 1 hryvnia (a sample of 1995 and trial coins of 1992 ) entered circulation. Until 1993, a number of coins ( 1, 5, 10 and 25 cents ) were issued at the Mint of Italy; Later all coins were produced at the Lugansk cartridge factory.
At present, the National Bank of Ukraine issues coins with a nominal value of 1, 2, 5, 10, 25 and 50 kopecks , as well as exchange (turnover) coins of 1 hryvnia .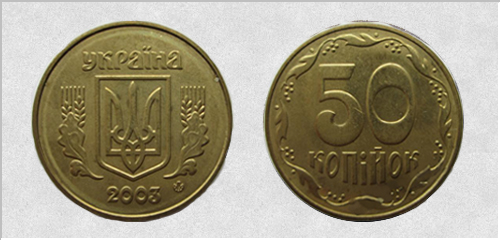 Price for catalogs: 1500 hrn.
Description: 50 kopecks in 2003 in Ukraine were minted in limited quantities especially for souvenir sets. Since the circulation is small, and the demand is large, the coin is quite expensive.
50 copecks of 2003 you will not meet in everyday life and it will not be given for delivery in the store. Therefore, leave all the ventures to find a coin in your piggy bank. Buy these 50 cents at auctions or collectors.
Circulation: 5 thousand copies
Metal: aluminum bronze.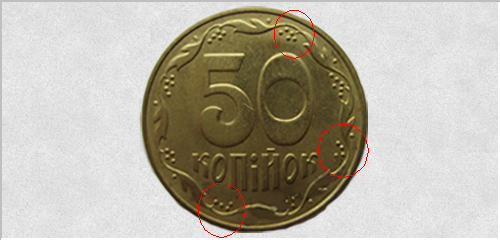 Features: the wreath is slightly removed from the cant, in the bunches number 1 and 3 - five berries. In the fifth cluster, the first on the left berry comes with a stalk.
50 copecks of 2003 is a rare coin, and if you find it, in the future it will be very expensive to sell. The main thing is that the coin is well preserved.
General form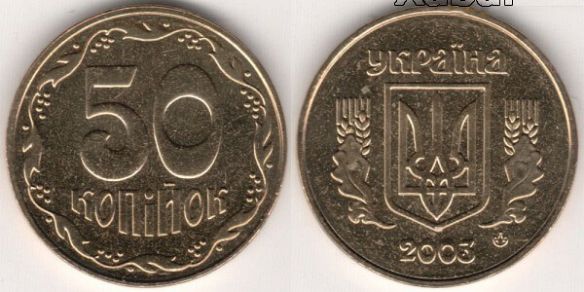 Externally: it is more precise than the usual 50 kopecks.
There is only 1 stamp (1 GAM33).
Alloy: aluminum bronze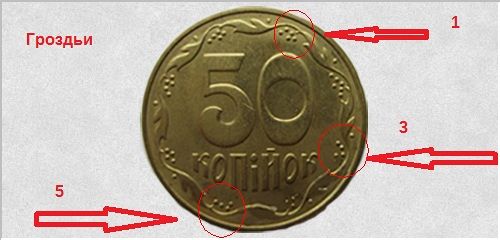 Font: relief, small berries, in clusters one and three - five berries, in cluster No. 5 - the stem approaches the first on the left berry.
The size of the picture: 20.3 mm, (the wreath is removed from the edge).
Price: starts from 700 UAH and above - up to 1300 UAH.
Via monety.in.ua | Xabar.in.ua | Pictures from the catalog Kolomiytsa I.T.