home

Management

Lecture notes

Managing Human Resources - Krasnoshapka V.V.
Managing Human Resources - Krasnoshapka V.V.
TOPIC 7 ESTIMATION OF RESULTS OF DIALOGUE TO STAFF
7.1. Zagalny position about an assessment of results
Evaluation of the effectiveness of the practice of the skin of the skin є a compulsory element of the control system in the organization. Evaluation of the results of the staff's relocation
1. Adminіstrativnі.
2. Information.
3. Motivation.
Administering win the reaction to the results of evaluating the dyalnosti, to my own expense, reacting to the results of the robot. The following reactions can be used:
service notice;
focus on the next day, but pass-through;
desires (material or moral);
transfer to the robot;
knowing at the plant;
tightening (caught up);
Having cut the contract (zvіlnennya).
Інформаційні цілі . To secure the need of the practitioner for information about evaluating their practice through correcting their behavior.
Motivational values ​​are based on the fact that by itself, judging by the result of duality, an important factor is to stimulate robots.
The main elements of assessment for offensive personnel :
1. Subscriber evaluation, so that assessment (student of the civil service, independent expert).
2. The subject of evaluation, to whom it is estimated (pracnik, group pracnivnik).
3. The subject of evaluation, so that the results of dyalnostі.
4. Assessment procedure.
5. Praise of the decision of the results of the evaluation.
The process of assessing stockpiled from the upcoming stages :
recognition of robots;
Estimation of the Vikonannya, that is, the reappointment of the Vikonan of the working shrines, which was established by the national standards, which are installed on the first stage;
hello zvjazyubka, so that carried out spivbesidi p_dleglimi, pid d hour of good negotiate the results of the robots of the lawyer of the same achievement, and vystanovlyuyutsya falsely dіyalnostі, the results of the norm.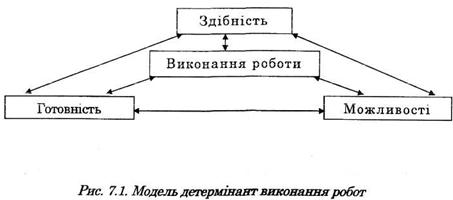 Determіnanta "health":
Вік працівника.
Health.
Vitrivival.
Stamina
The knowledge.
Skills.
Energy.
Determіnanta "mozhlivostі":
Tools.
Overnight.
Wash your hands.
Organizational policy.
Rules and procedures.
Hundreds with trousers.
Information.
Hour.
Payment pracі.
Determіnanta "readiness":
Motivation.
Satisfied with the robot.
Dumka about your own mozhlivostі.
Values.
Take the characteristics of robots.