Cartridges in section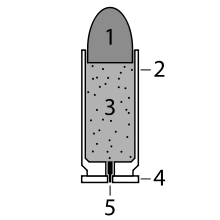 Everyone dreamed of cutting their favorite thing and understand what it was made of? The most interesting thing was always in the forbidden, namely in weapons. Here, for example, cartridges ... It turns out that they have an amazingly rich inner world, not that of poets and intellectuals of all kinds. After all, you cut the poet in a biology lesson - what is there to look at?

These bullets will hit you in the heart, no one will leave them indifferent. From the inside, military toys look so terrible that you do not even know whether to love them or adore them.
The cartridge (unitary cartridge, Latin unitas - "unity") - a munition of small arms and small caliber (up to 76 mm) guns, with which the weapon is charged in one receive.
A unitary cartridge may be an artillery shot or cartridge in which a projectile (bullet, canister or charge of shot), a charge of gunpowder, an igniting element (primer-igniter) and, sometimes, additional elements are united in a single piece by means of a sleeve. The term "unitary cartridge" appeared in the XIX century - the design of earlier cartridges did not include a capsule that was charged separately.
Cut cartridges
Next on the list are training cartridges. As you know from the movies with Schwarzenegger, the rifle bullet remains lethal at a distance of several kilometers. At a miss on the target or its penetration (guaranteed at a distance of training fire of one and a half hundred meters), the bullet can mess things up. To simplify the construction of shooting galleries, during the training of personnel, special cartridges with a destructible light bullet or a reduced amount of gunpowder are used.
The killer beauty of the cartridge in the photographer's lens Sabina Perlman
The photo project of Sabina Perlman, called "Ammunition", shows an unusual angle of bullets. Even if you have already encountered firearms, you are unlikely to be lucky enough to see her that way. Each cartridge has its own unique design. Symmetry of forms in combination with different types of charge makes each bullet a real work of art.
As Sabina herself says, the section allows you to see all the complexity and beauty of the form, along with the enormous force of destruction. This manifests the whole essence of man: create the beautiful, and then destroy it.
At the moment, the photographer's collection contains about 900 pictures of various types of bullets.