Tricks and Card Games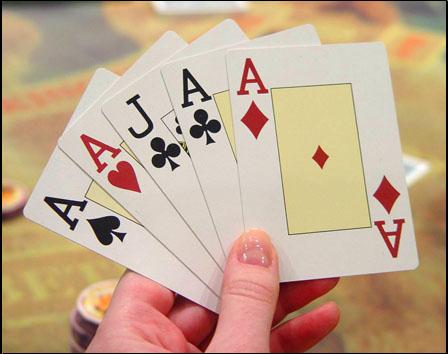 Playing cards is one of the interesting forms of recreation. In it there is excitement, elements of risk, the desire to win. Without the above, playing cards would be boring and not interesting. The card game gives a wide scope of improvisation, creativity, training of emotions, develops logical thinking, memory, develops a number of qualities that are mandatory in everyday life.
The desire for gambling is inherent in the human soul by nature itself, and it is in vain that the profound pedantas claim that the excitement is created by culture, or rather, by the desire of a person, without effort to ensure that they can enjoy the benefits of life. True, excessive gambling almost always ends sadly, and sometimes tragically for those who are very addicted, who lose the ability to really assess the situation.
Card games
Card games - the site contains descriptions and rules of 582 children's, family, gambling and intellectual card games. Most of which were translated from English, about 30 percent of the games are a logical translation of the rules of the world famous card game site pagat.com.
It is told about the game Preference on the basis of the book of AG Utyatsky Preference from A to Z.
There are descriptions of all the most famous games in Russia: Bezik , Bura , Burkozel , Eights , Nine , Deberts , Domino , Fool , King (King) , Lotto , Donkey , Poker (Poker) Ochko , Polignac , Skip , Drunkard , Minesweeper , Terz , Tuzatu , Hearts , 31 , Thousand (1000) , Bridge , Vist , Rams , Cribbage , Finch , Goat , Picket , Belote , Canasta , Mariage , Gypsy , play 777 Blackjack and all card games in the list .
Card games are classified into 41 subsections.
Solitaire
Solitaire - 524 solitaire collected in a library of card games.
The section is classified into 21 subsections: by the number of decks, the method of unfolding, the degree of difficulty, popularity, the presence of a joker, by the coincidence of cards, by the size of the board, for solitaire-fortune telling, with or without re-throwing, etc.
Such known solitaires as Accordion , Joker , Well , Solitaire , Memory , Spider , Pyramid , Shawl , Solitar , and many others are described and available for download.
Solitaires today can be called the number one game, they are available today in almost all operating systems and on every computer, tablet and mobile phone.
Divination on the cards
Guessing on the cards - 72 card divination is described in the library.
Here you can get answers to complex and important questions, regardless of whether or not you believe in the predictive power of the cards.
If you follow certain rules of divination, you will make sure that a bit of truth is present in this, besides divination serves as an interesting pastime.
Particular attention should be paid to fortune telling: Immediate fate, Marital fortune telling, New acquaintance, Pyramid , Divination for a loved one , Divination for desire , Divination for love , Traditional ways of fortune telling , Maria Lenormand , etc.
Card Dictionary
Card dictionary - more than 1500 card terms were collected in this dictionary.
The largest number of terms falls on the games in Poker, Preference and various cheat games.
Popular shulersky terms, thieves' jargon and conditional expressions that use kataly.
Here you will find the most well-known card expressions today: go all-in, I pass, distort, rub glasses, stick, wear a suit, prepare a passenger as soon as your old number, etc.
Card tricks
Card tricks - 138 card tricks form the basis of this section.
Most card tricks collected from books and the Internet. Some of the tricks you have sent.
I myself took apart more than half of the tricks myself and tried to perform them, but I lacked performing skills.
The photos that were published on the site were made by me in 2004, so I don't strongly blame for the quality.
Pages with foci are quite large due to heavy photos. The section is divided into: standard techniques, florishi, simple and complex tricks.
Shuler
Shuler - who, if not sharper, brought fame to card games and made them gambling, and also brought their thieves to the communication of card players.
Almost all the basic ways of cheaters are described in this section.
These are techniques such as marked , punctured , cut cards, finger and speech alarm systems, hidden conditional gestures .
Since the high-tech electronic equipment was used by real-time sharper, these are mini cameras and microphones embedded in the ears, it makes no sense to describe these techniques, as it is easier to go to any site selling spy radio equipment and see for yourself the wonders of technology, though this applies only to high-cheats. Sharper acting in the old manner using all the methods that are described in this section.
Movies about card games
Movies about card games - this section just describes 57 famous world movies about card games.
This and Card debt , and trump cards , and Gambling House , and others.
In fact, for those who are seriously keen on cards there will be four or five films that will tell the whole truth about the game. All other films are lyrics.
There are no films on the site, only their description and picture from the teaser or the cover of the tape or disc.
Jokes about card games
Jokes about card games - about 74 of the most popular jokes collected on the page jokes.
These are jokes about Preference, about rolling, about Vovochka, a few jokes from Yuri Nikulin, about lieutenant Rzhevsky, about Chukchi, about Yasha Rabinovich, Sherlock Holmes, Petka and Vasily Ivanovich, etc.